Deontay Wilder can still agree to face Anthony Joshua at Wembley in April, says Eddie Hearn
By Richard Damerell
Last Updated: 29/06/18 8:33am
Deontay Wilder's contract for the Anthony Joshua fight is "still live" and the unification clash can be staged at Wembley on April 13, says promoter Eddie Hearn.
Talks for a massive showdown between Joshua and Wilder broke down this week after the WBA ordered the unified world champion to make a mandatory title defence against Alexander Povetkin.
WBC king Wilder reacted angrily on social media, questioning Joshua's desire to battle for all the world heavyweight belts, but Hearn insists the fight can take place after the next title defence against Povetkin.
Hearn told Sky Sports News: "Anthony Joshua has got four world championship belts. Deontay Wilder has got one. We're going to make him a new belt, it's called the Instagram world champion. Now we get to see the truth.
"They seem so devastated about not getting the Anthony Joshua fight and that we definitely don't want the fight.
"The contract is still live, it's still valid, it's sitting on your manager's desk. Apparently you only had two minor comments that you couldn't even send us, so send them now, or sign the contract and we will sign the contract before your ink is dry.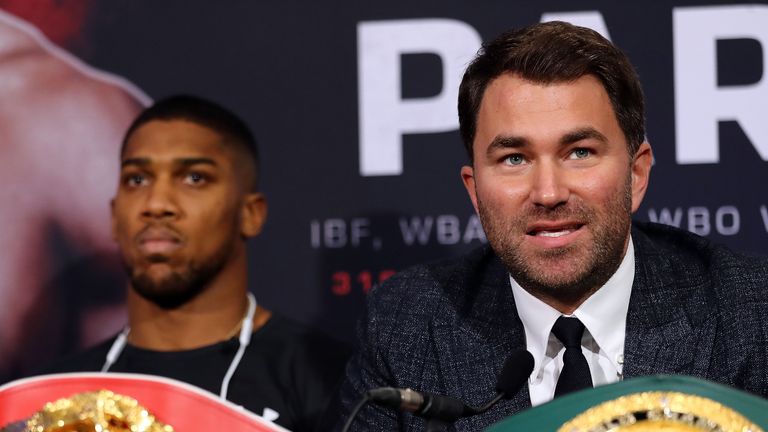 April 13th at Wembley Stadium, Deontay Wilder can give the fans what they want.
Eddie Hearn
"So stop fooling the fans, and ask the fans and the media to put pressure on Deontay Wilder, because if you really want this fight, it's still there, sign it.
"April 13th at Wembley Stadium, Deontay Wilder can give the fans what they want, so don't worry about us, certainly don't worry about Anthony Joshua, he will fight any man."
Former WBA champion Povetkin returns to the UK after a destructive win over David Price in March.
"We want to beat Povetkin, we want it to be the undisputed fight, but this is a tough fight against Alexander Povetkin, but I believe Joshua beats every heavyweight," said Hearn.
"I can't wait until the day he gets in the ring with Deontay Wilder and nor can he. But one side in my opinion is real, and one is not. If you want to prove you're real, sign the contract.
"Really frustrating, but Joshua has got to do what he always does, just handle business, and this Povetkin fight is a tough fight.
"He's only lost once to [Wladimir] Klitschko on points and Klitschko hit him with everything, couldn't budge him. He's got an Olympic gold medal, he's got great pedigree, he's got power, he's got speed, he's technically good. This is a dangerous, dangerous fight."