Anthony Joshua's world title commitments analysed ahead of his next fight
By Richard Damerell
Last Updated: 17/07/18 10:29am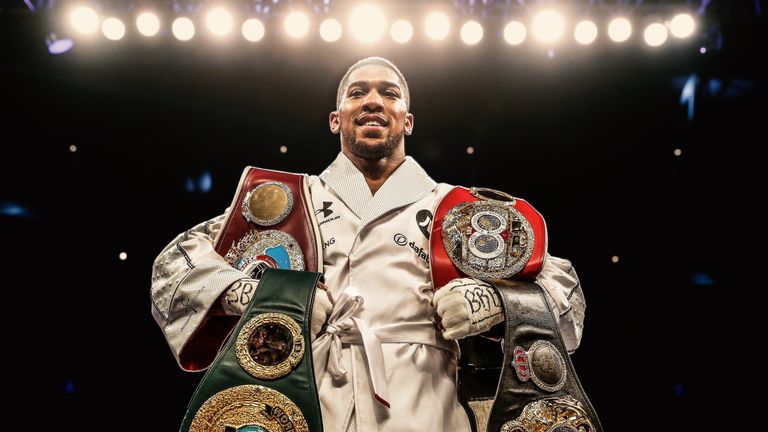 Anthony Joshua has unified three of the world heavyweight belts, but how will he fit mandatory title fights into his ambitious plans for 2019?
The unbeaten 28-year-old will put his IBF, WBA 'super' and WBO titles on the line in his next fight, which is expected to be against Alexander Povetkin at Wembley Stadium on September 22.
Joshua was ordered to make a WBA mandatory title defence against the Russian, delaying a possible unification clash with Deontay Wilder. But when will the other governing bodies enforce fights on their champion?
AJ's promoter Eddie Hearn explains the timeline and possible challengers for the next sequence of title defences...
WBA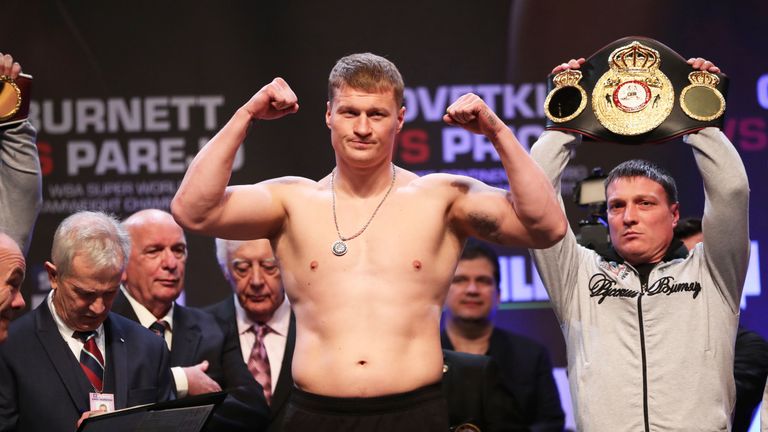 He's known about Povetkin for a long time. AJ studies fighters.
Povetkin is extremely tough, he's dangerous, he has a big team behind him. Not just [promotional team] World of Boxing, Andrey Ryabinskiy, but some big players in Russia.
They see this as an opportunity of Russia versus England, but more importantly a Russian fighter becoming the world heavyweight champion. There's a lot in play.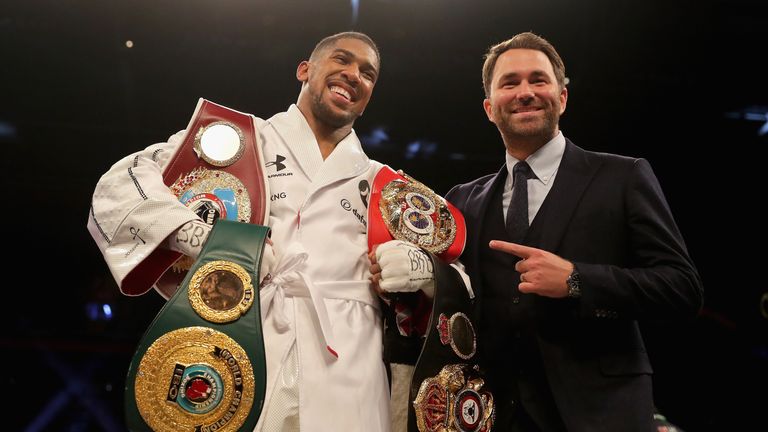 I think he has the power to hurt Povetkin. I think Povetkin has the power to hurt AJ as well.
Eddie Hearn on WBA mandatory challenger
I think he wants to trade leather with Povetkin. I think he has the power to hurt Povetkin. I think Povetkin has the power to hurt AJ as well. I think it will be a really interesting fight, an exciting fight.
It will be a really dangerous fight and obviously people are talking about April 13 and stuff like that, so it makes it even more dangerous, but AJ won't take his eye off the ball.
IBF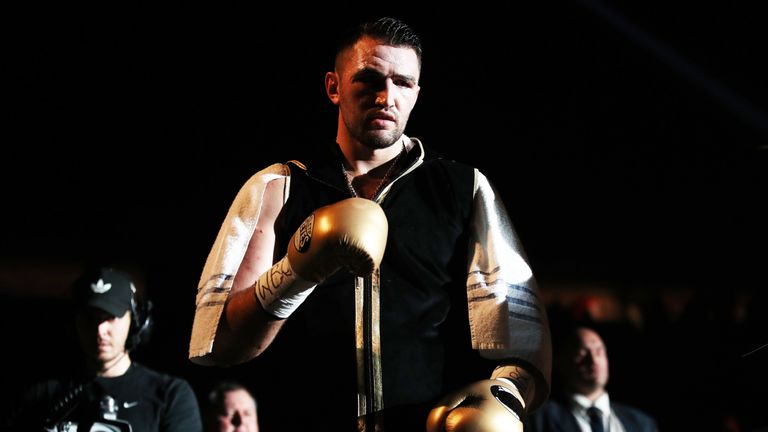 The IBF [final eliminator] fight will take place in, potentially, October. It looks like Hughie Fury against Kubrat Pulev.
The problem is that the IBF have ruled, when you do an eliminator, the only way you can get in No 1 or No 2 is by fighting an eliminator with the IBF, and if you're one or two, and you fight someone outside the No 2, it's a 75-25 split, which is ludicrous.
The first one [ordered eliminator] with Dillian Whyte against Pulev, it should be 50-50. Neither of them are champions. If it was, we would have made the fight, easy. Then the same with Jarrell Miller, 75-25 again. Hughie Fury is going to get, I don't know, $100,000, or $200,000 to go to Bulgaria, but if he wins, he will be mandatory.
He hasn't earned the money yet of a Whyte, or a Miller, so it might be attractive for Hughie, and Hughie Fury's got a chance against Pulev.
WBO
There is no final eliminator on that. It sort of goes in order, so the first one is WBA, then it will be the IBF. There is no WBO mandatory.
Basically what is going to happen is - we're going to fight against Povetkin, which is WBA mandatory, and then we'll ask for an exception to fight Wilder for the undisputed title, or we can ask for an exception to fight someone else. It's just a game of navigation now.
Unification fight for WBC belt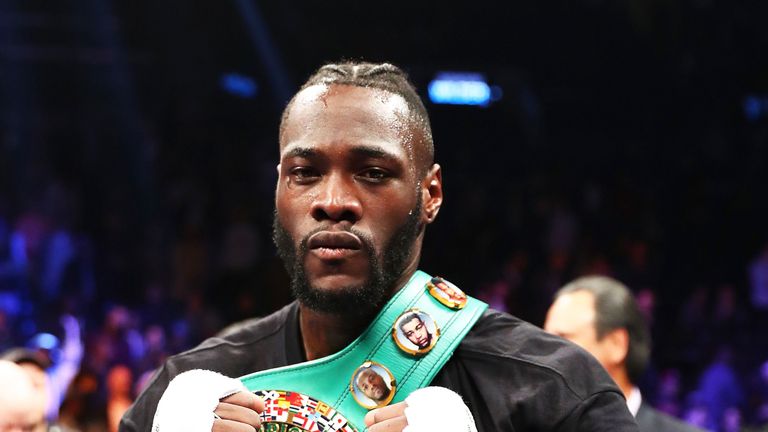 Joshua's focus is 100 per cent on Povetkin. I think it's the toughest fight of his career, so far, bearing in mind what people are talking about, and what's on the horizon.
I think that's why Josh wants to sign this [Wilder] contract now, and say 'I've done it', so now I'm focusing on Povetkin. Not for me to come to him in four weeks, and go 'oh, Wilder's signed'. As long as it's signed by probably the Povetkin fight, or shortly after.
There's no rush but we just want to smoke them out basically, and just give them the contract and say 'we've done it, we've signed it'.