Tony Bellew says his showdown with Oleksandr Usyk is "inevitable" - but it has to happen this year.
The former WBC cruiserweight holder's team have begun negotiations for a fight that will see all four recognised titles on the line.
Eddie Hearn met Usyk's promoter Alexander Krassyuk in Paris, on Monday and Bellew, who is back in training, is confident he will get the chance to take on the unbeaten, undisputed champion.
"The first meeting was good and it looks inevitable at this stage," he exclusively told Sky Sports.
"Things can change though, you just don't know how it all lands. We'll see. We haven't agreed a venue yet and other things, but it's looking likely now.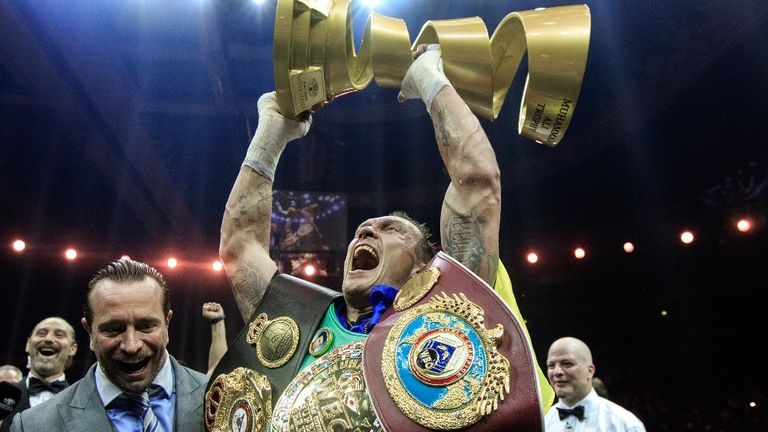 "It is moving in the right direction. We've got to agree something and get it written down on paper and we'll take it from there. Eddie is happy, I am happy and there has been no major demands on my part, as I don't feel there needs to be.
"Without sounding like a big head I've done alright out of the game; financially, I've won a world title and I have done everything I could have possibly dreamed of - and a bit more.
"So now I am chasing greatness. I dare to be great, are the words I am going to use."
Bellew admits it will be "a job" getting back down to the 200lbs cruiserweight limit but insists he is at his physical peak, following back-to-back wins over David Haye.
The Liverpudlian has already stated that facing Usyk will be his final fight but with Hearn pencilling in a November date, the 35-year-old will hang up his gloves rather than be left in limbo again.
"It has to be done this year, this year is my last year in the sport," he said.

"I won't be fighting in 2019, I'm done at the end of this year. I should've been done in March this year.
"My plan was always to fight David Haye and beat him on December 17 - but he pulled out. The plan was to beat him on December 17 then go out on a high, against Joseph Parker, winning the world title.
"David Haye pulled out, Anthony Joshua got matched with Joseph Parker and it just destroyed my plans. People will now look back in hindsight and say I would've beaten Parker.
"I think I would've schooled him, out-boxed him, and I honestly think I could've stopped him. But for me, personally, this [being the undisputed cruiserweight championn] is better than becoming a heavyweight world champion."