David Haye and Dereck Chisora outline the logic behind their surprise link-up
Their grudge, their respect, their alliance and their plans...
Last Updated: 17/10/18 6:05pm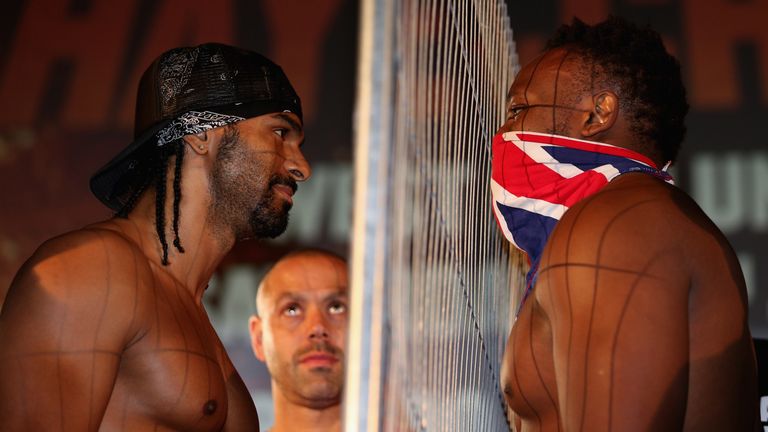 David Haye and Dereck Chisora are an unlikely alliance but it's so crazy that it just might work. James Dielhenn asked both men how Haye has become Chisora's manager…
The rivalry
Haye crashed a post-fight press conference in Germany moments after Chisora had lost to Vitali Klitschko in 2012. Mouthing off, Haye was confronted by Chisora and a brawl erupted. Punches were thrown and their respective trainers, Adam Booth and Don Charles, were left injured. Haye and Chisora's licences were revoked but, a few months later, they agreed a fight at West Ham's stadium that would be sanctioned by the Luxembourg Boxing Association. Haye won via fifth-round KO.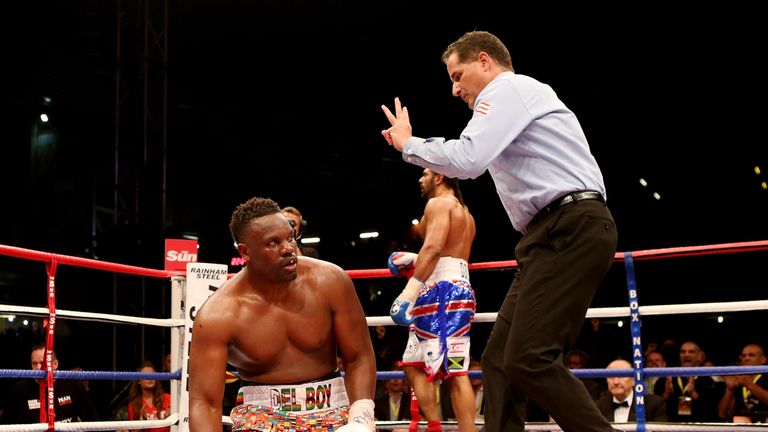 David, what was your reaction when Dereck first mentioned that you manage him?
Haye: When he asked for a quick meeting I thought: 'what the hell could this possibly be about?'
We met and he said that he respected what I've done in my career, and that he needs an infrastructure around him to take care of everything, because all he wants to do is to become the heavyweight champion of the world.
Chisora: We had lunch. We spoke. He played hard to get! He said: 'let me think about it' but he was already hooked.
Haye: I had to think: 'do I want this task?' No disrespect but Dereck is not the easiest to work with!
The recent bickering
Haye and Chisora argued at ringside earlier this year. Haye was then promoting Joe Joyce, and tried to match him against Chisora which reopened old wounds…
So has the bad blood been squashed?
Chisora: I lost [to David]. I got knocked out. After that, there's nothing to say anymore. You brush yourself off. You get up. You say: 'a great fighter won'. I didn't have excuses after I lost to David. I moved on.
Haye: That's the only time we've had any words. But it was only banter. We've seen each other at events and boxing shows - we always shake hands, catch up, he asks me about my son. It's all amicable.
So, David - what can you add to Dereck's career that he has been missing?
Haye: The plan is to get Dereck in the best possible physical condition. You can have all the plans for fights but, if you're not in the best possible shape, things won't go your way. For me, this is the most imperative thing.
The 'War Chisora' that steps through the ropes for his next fight will be the best possible version of himself.
We've spent the past couple of weeks setting up an infrastructure - eat, sleep, train, eat, sleep, train.
Chisora: I saw how David did it for himself and I want to do it myself.
David, you returned from two retirements - can you help Dereck to add longevity to his career?
Haye: I want to do for Dereck what I have done for myself. I've seen every trick in the book, I've worked with every promoter and manager.
Looking back at how he has done things in the past, it could have been done a little better.
This is the perfect scenario for Dereck at this stage of his career, when he doesn't have time to waste.
It's taken me 16 years of training, getting injured, going through rehabilitation, working with different coaches and different training, to get the knowledge that I have. Now it's about imparting that knowledge to Dereck.
How has Eddie Hearn taken the news?
Haye: Me and Eddie have worked well in my last couple of fights as co-promoters.
The plan
Chisora, 34, shone with a comeback KO against Carlos Takam in July. Dillian Whyte beat Joseph Parker on the same card. Negotiations have since taken place to for a rematch between Chisora and Whyte, who won their first fight by split decision two years ago. Chisora and Haye would not be pressed on their plans beyond Whyte.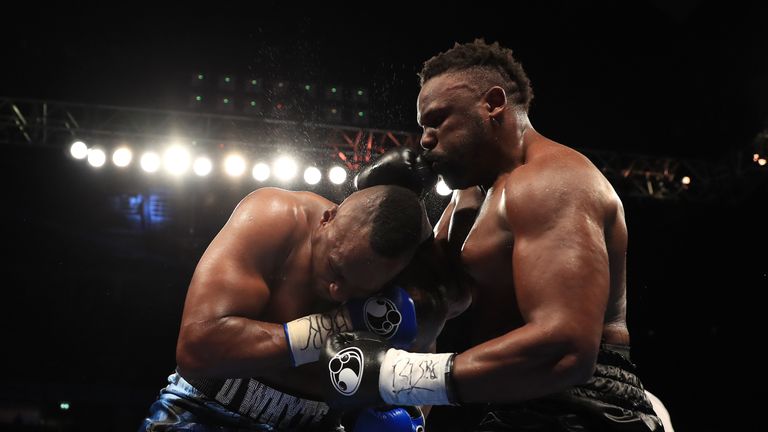 There is nothing else. I want the rematch. We are going to make it happen for the fans.
Dereck Chisora
It wasn't long ago that David thought Dereck was finished…
Haye: I wrongly thought his best days were behind him after his fight in Monaco where he really underperformed. I thought that's all he had, until the last fight against Carlos Takam when he came through a shellacking. He turned the tables against a guy who went rounds with Anthony Joshua. Joshua couldn't put a dent in Takam and Chisora knocked him out.
Chisora: I trained hard but my confidence was low when I walked to the ring because I was reading every press article about myself. People didn't believe in me.
Haye: During the [Takam camp] I spoke to his trainers. Dereck had been living the life like a professional athlete should live. Now it's about fine-tuning that. He needs the right nutrition, movement coach, osteopath.
His last performance proved that, if he puts in the work, he will get the results. He has lost fights where the other guy has not been better, but has worked harder.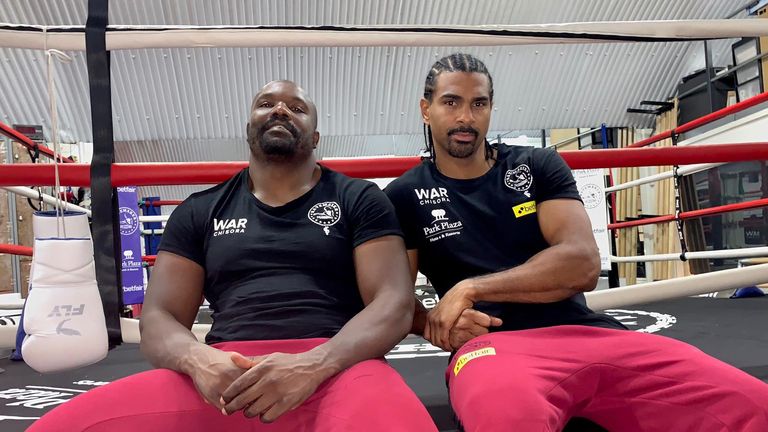 Dereck - when was the lightbulb moment when you realised you could work with David?
Chisora: Everything changed at the beginning of this year for me when I became Born Again. I changed loads of things in my life. I needed a great manager who knows boxing inside out. David was the right man.
How will the training work on a day-to-day basis?
Haye: He will still be working with his trainers, but adding my trainers, to overhaul and maximise everything. He will be training out of my gym. He has trained six times in two days so is taking this seriously, which hasn't been in the case in years gone by.
Could these new training conditions improve Dereck?
Haye: He is a real, big, strong heavyweight. I am a cruiserweight, really. But I able to get world-class results at heavyweight and a lot of that is down to what happens behind closed doors. If you can give a real heavyweight the training facilities that I've had, he can become a force.
Is the ultimate ambition a fight against Anthony Joshua?
Chisora: Why not? It's business. But right now I am not looking at that - I am only looking at Whyte.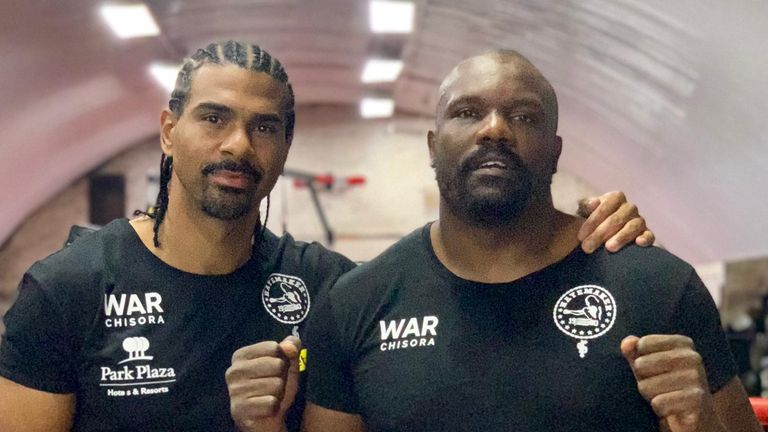 David, this seems like the perfect project to keep you involved in boxing post-retirement?
Haye: I couldn't have done this for Dereck at any other stage in my career - I'm managing his training, coordinating all the people that need to be involved so he can focus. I know lots about boxing and I like to help people. We've had our differences in the past but we are grown-ups. Dereck has changed his life and is focusing on getting the best out of himself. He wants my help, and I like to help.
Watch the action from Boston with Demetrius Andrade vs Walter Kautondokwa, Katie Taylor vs Cindy Serrano, Tevin Farmer vs James Tennyson, with Kid Galahad, Tommy Coyle and Scott Quigg on Sunday morning, from 12am, live on Sky Sports Action.