Ricky Hatton retires from boxing after defeat to Vyacheslav Senchenko
Ricky Hatton has announced his retirement from professional boxing following his loss to Vyacheslav Senchenko.
Last Updated: 26/11/12 5:58am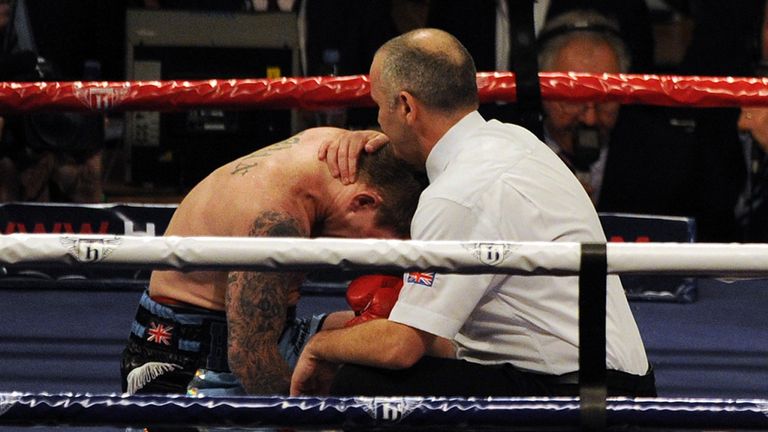 After a three-and-a-half year absence from the sport, the 34-year-old was stopped by a vicious left hook to the ribs that left his plans for a world title challenge in tatters.
An emotional Hatton said he would devote his future to his family and his promotional activities after deciding to call it a day despite having initially suggested he may consider fighting on.
He said: "I needed one more fight to see if I had still got it - and I haven't.
"I found out tonight it isn't there no more. I'm a straight-shooter and I tell the truth. I can look at myself in the mirror and tell myself I did my best, but there is always an excuse to find.
"I got in the best shape I possibly could but if I hadn't been hit with that body shot I would have just scraped over the line with a points win and I honestly think I would still be telling you all the same thing.
"A fighter knows and I know it isn't there any more. It's too many hard fights, I've burned the candle at both ends, I've put my body through the mire in and out of the ring but it doesn't matter how hard I train, I couldn't have done any better.
"I'm a happy man tonight. I don't feel like putting a knife to my wrists. I have got the answers I needed. I got the opportunity and I got the answers and no matter how upsetting it is, I have got to be a man and say it is the end of Ricky Hatton."
Heading for victory
Hatton had not impressed on his return to the ring after a three-and-a-half-year absence but he did look to be heading for a points victory.
But Ukrainian Senchenko had begun to dominate the later rounds and a brutal left hook to the body was enough to stop Hatton, with the Mancunian hitting the canvas and failing to beat the count.
In his first fight since losing in two brutal rounds to Manny Pacquiao in Las Vegas in May 2009, the 'Hitman' did not show enough to suggest he could return to somewhere near the top of the welterweight division.
The 35-year-old Senchenko is a former WBA welterweight champion - losing his crown in April to Paulie Malignaggi in his only defeat before this.
Hatton was made to look distinctly ordinary at times by a man fighting outside eastern Europe for the first time in his 33-fight career, but roared on by his army of fans, he started predictably fast and dominated his opponent in the opening exchanges.
His punches were occasionally wild but he landed enough to edge the first four rounds.
But by the fifth round Hatton was starting to look a little ragged and Senchenko landed a straight left and then a jolting straight right to rock Hatton back.
The later middle rounds created some concern amongst Hatton's corner and in the crowd as their man began to show signs of weariness and his head movement dropped noticeably.
Senchenko began to have more success, particularly with the right hand, although Hatton continued to press boldly forward.
That proved to be his downfall as he walked into a juddering left hook to the ribs that dropped him to the canvas and left him writhing in agony.