Boxing: Darren Barker beats Daniel Geale on a split decision
Darren Barker has won the IBF world middleweight title after claiming a split decision success over Daniel Geale.
Last Updated: 03/12/13 12:59pm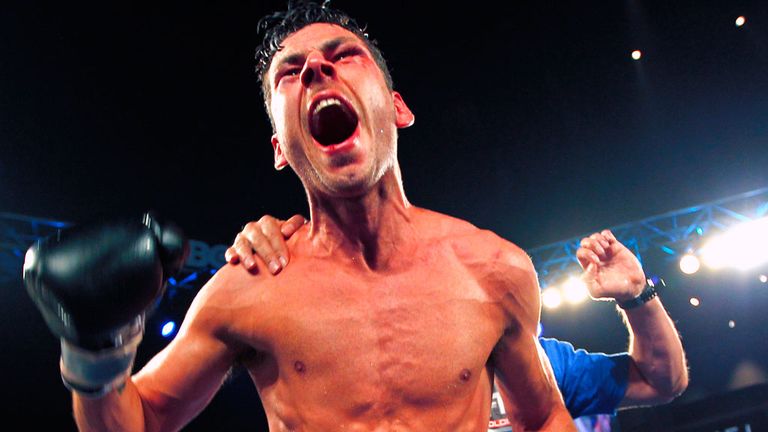 The 31-year-old Barnet fighter was knocked down in the sixth but recovered to secure an emotional victory, which he dedicated to the brother he lost in a car accident in 2006.
Barker fell short against Sergio Martinez in 2011 in his previous world title attempt but started this fight in determined fashion, landing early shots and having the better of the early rounds.
But Geale sent him to the floor with a left hook to the body and seemed set for a stoppage win as he rained punches in on his dazed opponent.
However, Barker somehow survived the onslaught and went on the attack again in the seventh as the fight turned into a gruelling slugfest.
The Brit landed a fine combination in the 10th and was on the front foot again in the 11th but Geale then landed some nice punches in the final round.
But two judges scored the fight in favour of Barker, 116-111 and 114-113, while just one favoured Geale by a margin of 114-113, prompting Barker to hit the canvas again, this time due to a surge of emotion.
"Not many people know the journey I've been through," he said. "It's been a real Rocky story. I dedicate this to my late brother. Everything I've done is for him. Gary, this is for you, mate.
"I take my hat off to Daniel Geale. He's a great champion and a tough, tough man. He caught me right in the solar plexus and completely took my breath away from me.
"I was in absolute bits, I was gone. But, as the seconds went on, my brother and daughter, they got into my head. I showed I've got heart and a lot of people didn't think I did."
Geale said: "I'm not going to whinge and cry and carry on. I worked so hard, I did everything I had to do.
"I could tell he was throwing a lot of punches, whether he was catching me or not, that's to be seen. I felt in control but it wasn't my best performance. Darren's a great fighter and I knew it was going to be tight. I'm very disappointed."