Lucas Browne stops Richard Towers in fifth round of eliminator for David Price's Commonwealth heavyweight title
Australian Lucas Browne stopped Richard Towers in the fifth round of their Commonwealth heavyweight title eliminator.
Last Updated: 03/11/13 2:05pm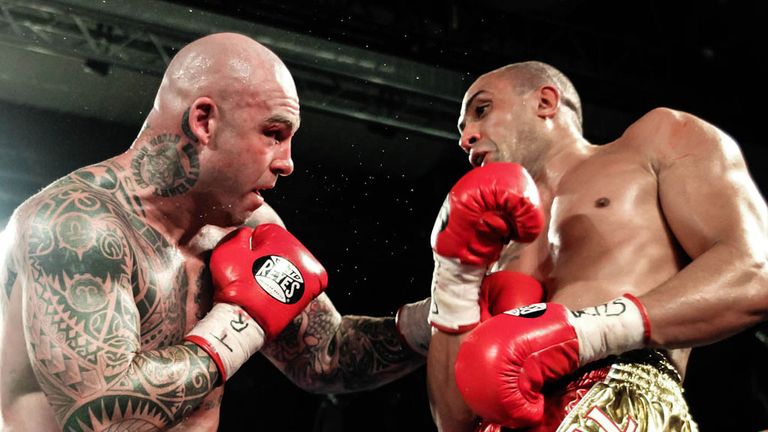 Both men headed into what looked an explosive contest with unbeaten records, but there proved to be very little action in the opening two rounds as a tentative Towers tried to keep things at range behind his jab.
Browne finally tagged his man at the end of third with a short right hook and sent Towers wobbling back across the ring and on to the ropes, with the bell eventually saving the Englishman.
But that warning was not heeded and Browne got the job done in devastating style at the start of the fifth as he trapped his man on the ropes and then unloaded with a spiteful barrage.
After clinging on to the ropes to remain upright, Towers was given a standing count but was in no fit state to defend himself, leading the referee to call a halt.
The win earns Browne the right to fight for David Price's Commonwealth strap, but the powerful Aussie is unconvinced the Liverpudlian will fancy taking him on.
"I'm ready for it, to be honest I don't know if David Price is? He's lost his last two by TKO so will he want to take on a big puncher like me? I'm not so sure," Browne told Sky Sports.
"But I'm willing to fight him, I'm willing to fight anyone, line them all up... Chisora, Tyson Fury, even David Haye eventually."
Warrington claims title
Earlier on the bill, Josh Warrington produced a superb display to wear down Samir Mouneimne and claim the Commonwealth featherweight title.
The unorthodox Mouneimne made the early running but ran out of steam as Warrington gradually got on top before claiming the first stoppage of his career in the 12th and final round.
Switching stances at will, Mouneimne unloaded with plenty of big, wild shots in the early stages and did not allow his more measured opponent to settle.
But after that opening barrage, the fight began to turn in the fifth as Mouneimne's pace dropped noticeably allowing Warrington to dictate behind his jab and take control of proceedings.
From that point he dominated, producing much the more accurate work and managing his work-rate far better than his rival who looked increasingly leggy as the fight wore on.
It looked like Warrington would have to go to the cards to claim victory, but referee Howard Foster opted to step in with just over half of the final round remaining with Mouneimne looking unable to defend himself after being tagged with a flurry on the ropes.
A delighted Warrington told Sky Sports afterwards: "It's my first stoppage, I think I was due one! There's no better time to get one than in my first 12-rounder.
"Part of the gameplan was to get into him in the second half. He's a very good boxer and he knows how to move, so we thought we'd take him into the second half.
"It was all about being patient mentally even when he was moving about and when I wasn't having much success and I'm happy with how it went."