Carl Frampton has revealed he is ready to move on to "bigger and better things" after defeating Scott Quigg on Saturday night.
The Belfast fighter beat Lancastrian Quigg on points in Manchester to add the WBA super-bantamweight title to his IBF crown.
Quigg is hoping for a rematch after fighting with a broken jaw for two-thirds of the bout and Frampton remains open to the possibility, but only if the public demand it.
Frampton reckons he won the fight convincingly, despite one judge awarding it to Quigg, and has other irons in the fire for his next contest, including the possibility of moving up to featherweight to take on Leo Santa Cruz after the Mexican defended his WBA title by beating Kiko Martinez on Saturday.
Frampton told Sky Sports News HQ: "I think I won the fight pretty convincingly, pretty clearly - I think I won it by about four or five rounds. For a judge to give it against me I couldn't fathom it, I don't know what he was watching really.
"They say it was a split decision, it doesn't really reflect the fight. I thought I won it convincingly.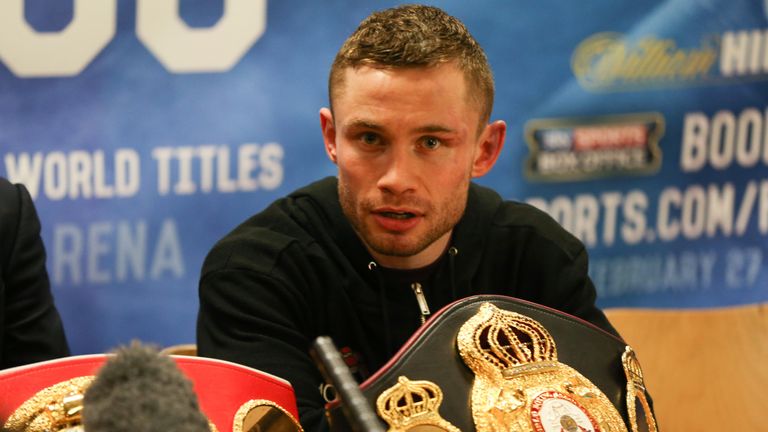 "If the public demand [a rematch] - I don't think they will, but if they do - then we will do it again. But if not we move on to bigger and better things.
"I see Leo Santa Cruz won last night. That's obviously an easy fight to make because he's with [Frampton's US-based advisor] Al Haymon and so am I. That's a big fight, a potential blockbuster.
"I think it will be an exciting fight, a real exciting fight. It's all about styles matching together. I think me and Santa Cruz would gel very, very well and it would be a barnstormer."
Frampton also revealed he is not contractually obliged to have a rematch with Quigg, leaving him free to look at other potential opponents.
"There's nothing in the contract, no," he added. "We kind of had an agreement that if the fight is good enough we will do it again in Belfast.
"But we will see, if the people want to see it again we can do it again, and I am open to all options really."
Tyson Fury was stripped of the IBF heavyweight belt after beating Wladimir Klitschko after refusing to face mandatory challenger Vyacheslav Glazkov and Frampton admits he may find himself in a similar situation.
Guillermo Rigondeaux is the WBA's mandatory challenger, while the IBF have ordered the 29-year-old to face Shingo Wake.
Frampton said: "The IBF are going to force me into fighting Shingo and the WBA are going to force me into fighting Rigondeaux. I obviously can't fight two guys at the same time, so I will probably have to vacate one of them, if not both, and maybe move up to featherweight.
"But I need to sit down with my team and see what the options are and what the fights are really.
"I wouldn't go to featherweight unless there was a big fight there and a big name - the likes of Santa Cruz. I wouldn't go up for a 10-rounder against a guy no one has heard of.
"It needs to be for a world title, but I believe those fights can be made now."