Anthony Joshua was always going to enter an illustrious top 10 of the world's fastest heavyweight title winners but he has now smashed his way in.
It has taken him just two-and-a-half years to do it and while there are some stunning speed successes that are unlikely to be beaten, the north Londoner wins the British award.
Lennox Lewis and George Foreman have been pushed out of the Top 10, while Muhammad Ali is still in there. And if there is a small consolation for Charles Martin, he's in too.
Here's the quickest heavyweight world champions... 
10. Muhammad Ali - three years & four months, 1964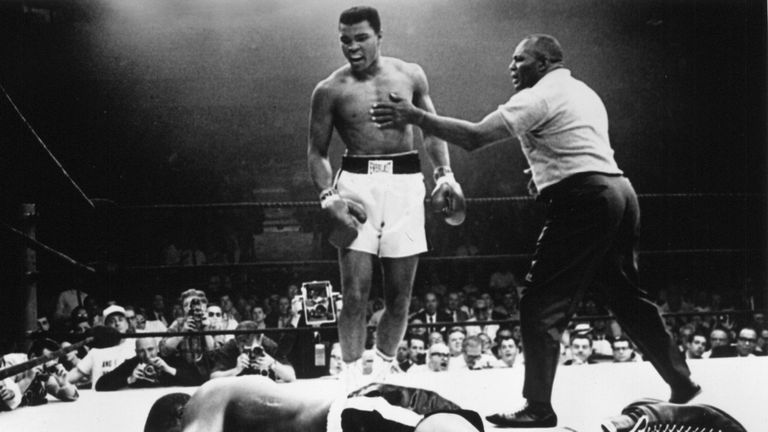 Having won gold as a light-heavyweight at the 1960 Rome Olympics, Ali (then Cassius Clay) started life as a professional with a points victory over Tunney Hunsaker in October of the same year.
Just over three years later, Ali got in with the fearsome Sonny Liston and announced himself to the world with a stunning six-round stoppage that, in his own words, 'shook up the world'.
9. Charles Martin - three years & three months, 2016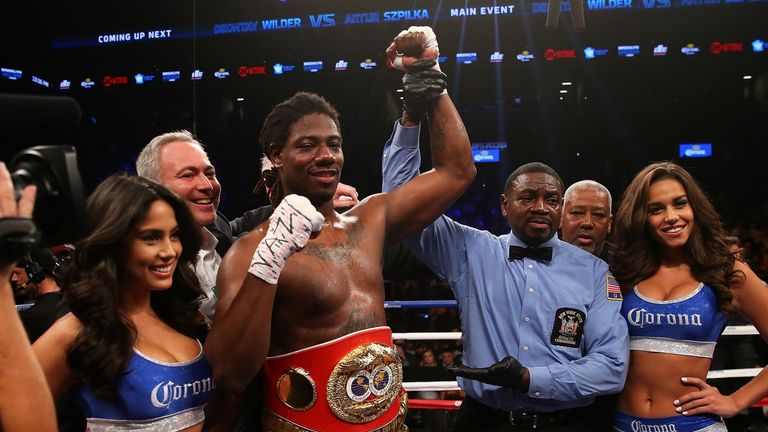 What's most remarkable about the former IBF world heavyweight champion is that he didn't start competitive boxing until he was 22.
After a short and unspectacular amateur career, Martin turned professional with a first-round knockout of Vashawn Tomlin in October 2012. In January of this year, he fought for the vacant world title and won the title when Vyacheslav Glazkov withdrew with a knee injury.
8. Joe Louis - two years & 11 months, 1937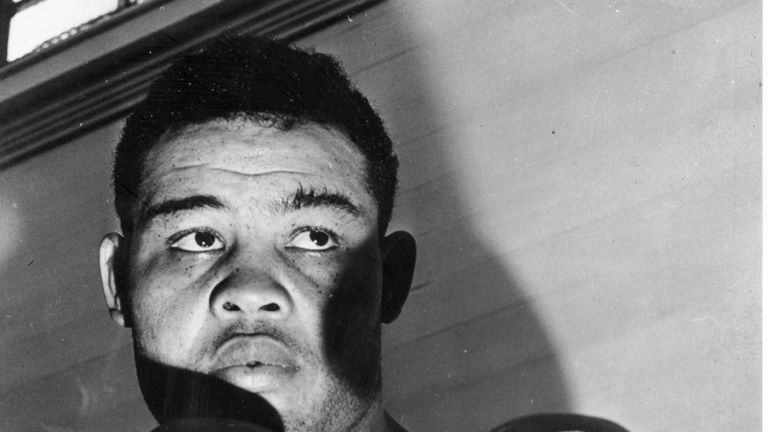 The legendary Louis impressed as an amateur in both Detroit and Chicago before knocking out Jack Kracken inside a round of his professional bow in July 1934.
He had suffered only one defeat in his first 32 pro bouts by the time he stopped Jim Braddock in the eighth to claim the world title - beginning a reign that would last all the way through until 1949.
6= Vitali Klitschko - two years & seven months, 1999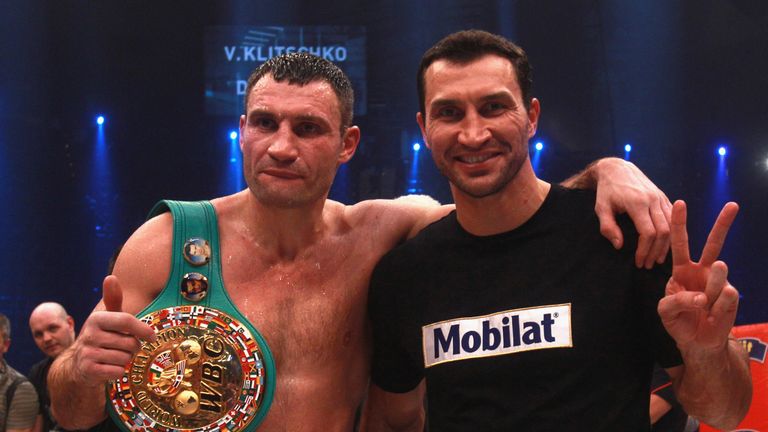 Originally a kickboxer (and a six-time world champion at both amateur and professional level), Vitali turned to professional boxing in October 1996 with a second-round knockout of Tony Bradham in Hamburg.
Nobody was able to take him the distance in his first 24 bouts and the same went for his 25th, in which he knocked Herbie Hide out in the second round in London to clinch the WBO world heavyweight crown.
6= Joe Frazier - two years & seven months, 1968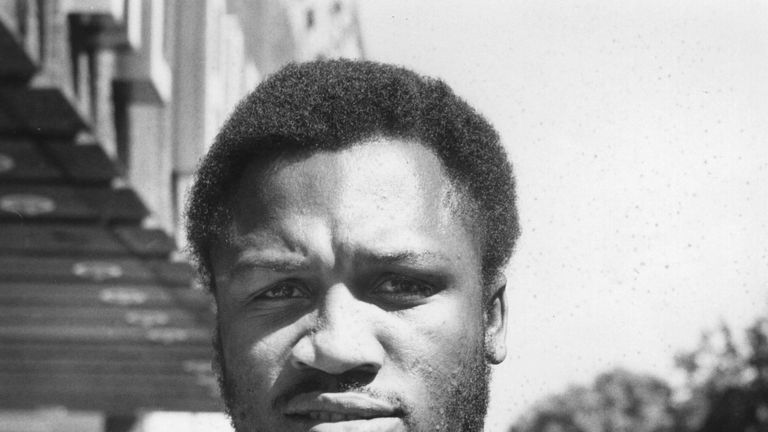 'Smokin' Joe' won heavyweight gold at the 1964 Tokyo Olympics and introduced himself to the professional game with an emphatic first-round stoppage of Woody Goss the following year.
After overcoming the likes of Oscar Bonavena and George Chuvalo, Frazier beat Buster Mathis via 11th-round stoppage to win the vacant NYSAC world heavyweight title before taking Jimmy Ellis' WBC and WBA belts in 1970.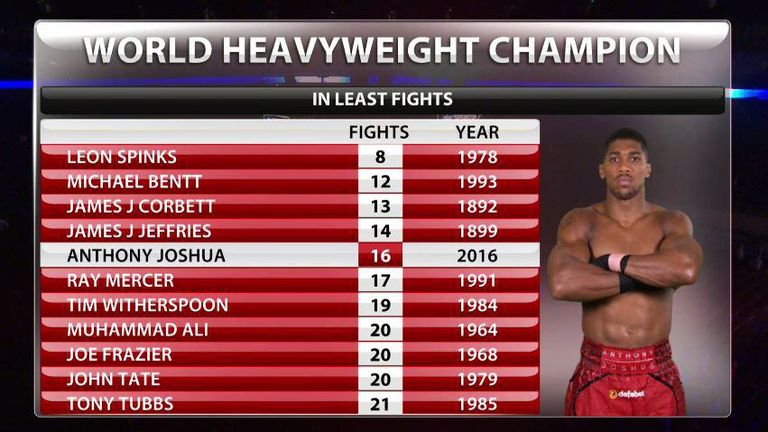 5. Anthony Joshua - two years & six months, 2016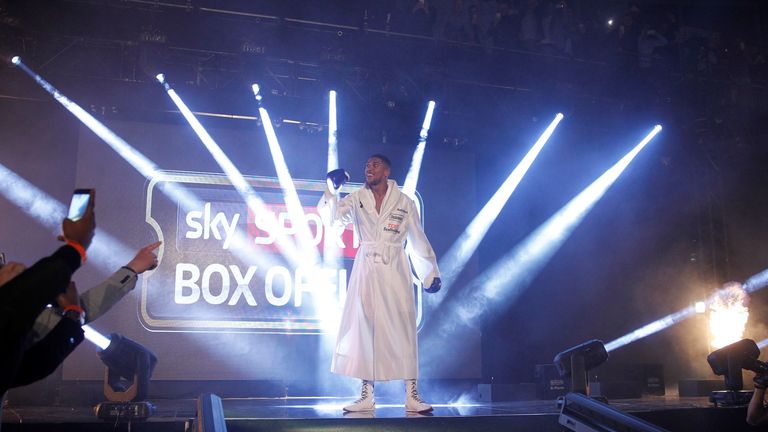 It was always going to happen sooner rather than later for the British Olympic hero but even he admits that he is still has plenty to learn after this short space of time and only 16 professional fights.
Leon Spinks and Ray Mercer still pipped him when it comes to striking gold then adding the world title to his collection but straight after the two-round demolition that took the IBF belt away from Charles Martin, AJ admits he is only a quarter of a way 
4. John Tate - two years & five months, 1979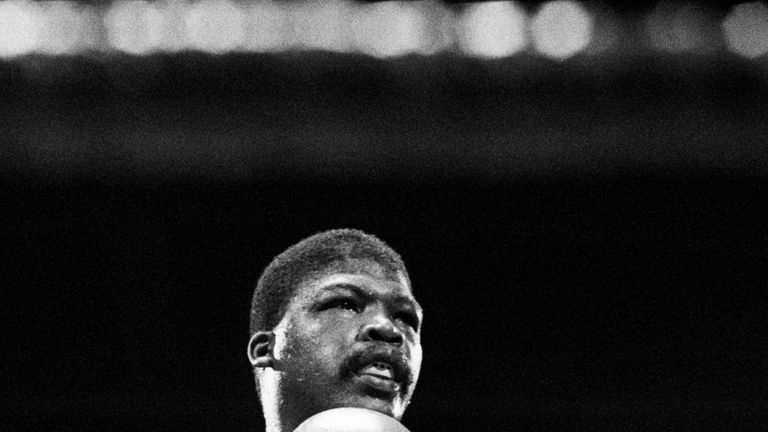 Tate claimed the heavyweight bronze medal at the 1976 Montreal Olympic Games and turned professional by beating Jerry Tompkins via fifth-round stoppage less than a year later.
In just his 20th professional bout, Tate found himself travelling to South Africa to clash with Gerrie Coetzee for the WBA heavyweight title vacated by Ali. Tate won by unanimous decision only to lose it the same way to Mike Weaver five months later.
3. Ray Mercer - one year & 11 months, 1991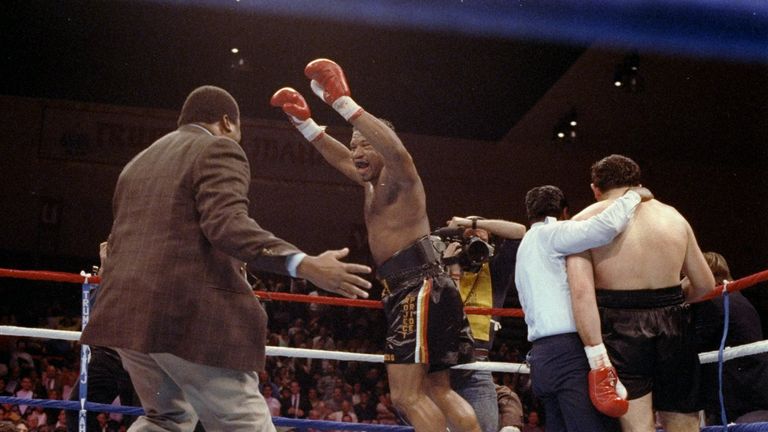 While Lewis won the super-heavyweight title at the 1988 Olympics, Mercer was busy picking up heavyweight gold and turned pro four months sooner with a third-round stoppage of Jesse McGhee.
Italy's Francesco Damiani was the first man to hold the WBO world heavyweight title - but he handed it over to Mercer in Atlantic City when he was stopped in the ninth.
2. Mike Tyson - one year & eight months, 1986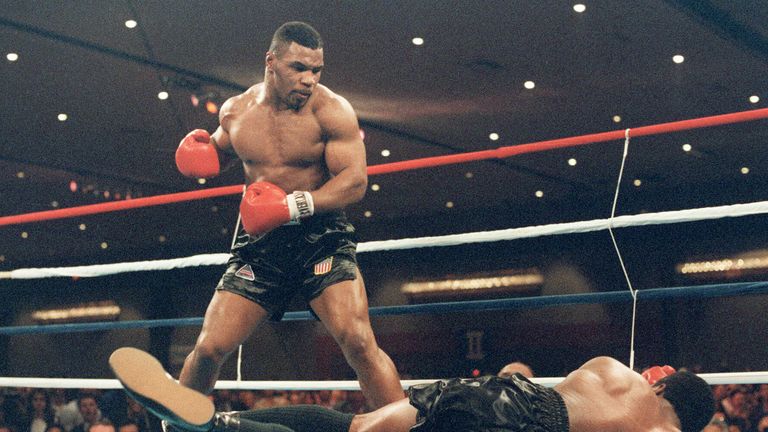 After an amateur career that saw him win the Junior Olympics with a run of knockouts, Tyson began his march as a pro by sweeping Hector Mercedes aside in the first round in New York.
Twenty-seven fights and 25 knockouts later, Tyson climbed in to the ring with WBC champion Trevor Berbick and, after less than two rounds, climbed out again with the belt having administered a brutal stoppage.
1. Leon Spinks - one year & one month, 1978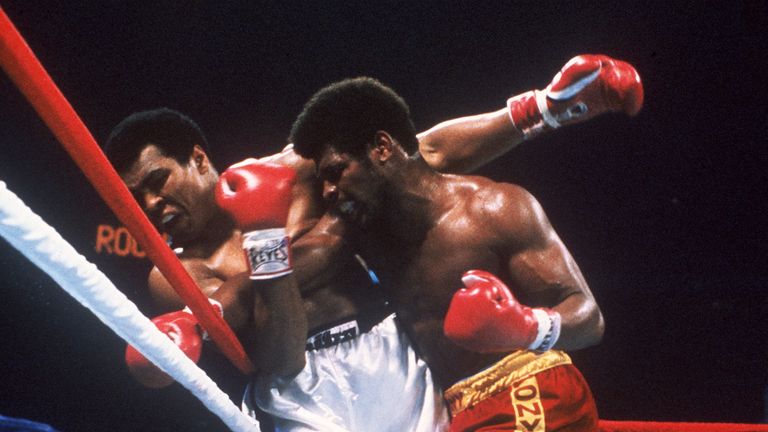 A gold medallist at the 1976 Montreal Games at light-heavyweight, Spinks stopped Bob Smith in the fifth round of his debut in Las Vegas.
In just his eighth professional bout, Spinks pulled off one of the biggest shocks in boxing history when he won a split decision over Ali. He would lose the rematch and his career never scaled the same heights again.