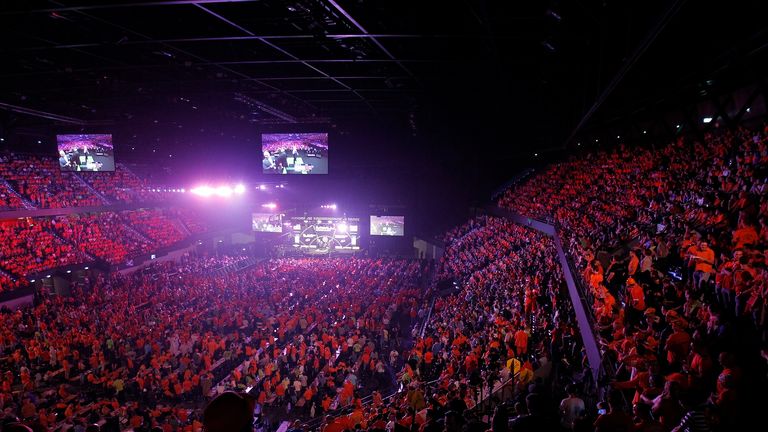 After a memorable first year in mainland Europe, the Premier League is back on continental shores with week seven rolling into Rotterdam - we hear from the three home favourites on display.
There is an additional Dutchman in the Premier League this year and all play a high-profile match with Jelle Klaasen kicking off the evening, Raymond van Barneveld taking on two-time world champion Gary Anderson and then in the final match of the night the current world champion meets Phil Taylor.
Van Gerwen, Van Barneveld and Klaasen are all assured of a memorable reception that may even affect the timings if Barney's entrance last year is anything to go by.
Choruses of 'Barney Army' rang out for what seemed like an age, while Michael van Gerwen's name to the tune of White Stripes' 'Seven Nation Army' was similarly spectacular.
With the crowd in Rotterdam encouraged to dress in orange, or should that be oranje, the atmosphere was the first question asked of all three Dutchmen ahead of Thursday night's return to the Ahoy Arena.
Premier League Night Seven - Fixtures
| | | |
| --- | --- | --- |
| James Wade | v | Jelle Klaasen |
| Peter Wright | v | Dave Chisnall |
| Raymond van Barneveld | v | Gary Anderson |
| Kim Huybrechts | v | Adrian Lewis |
| Phil Taylor | v | Michael van Gerwen |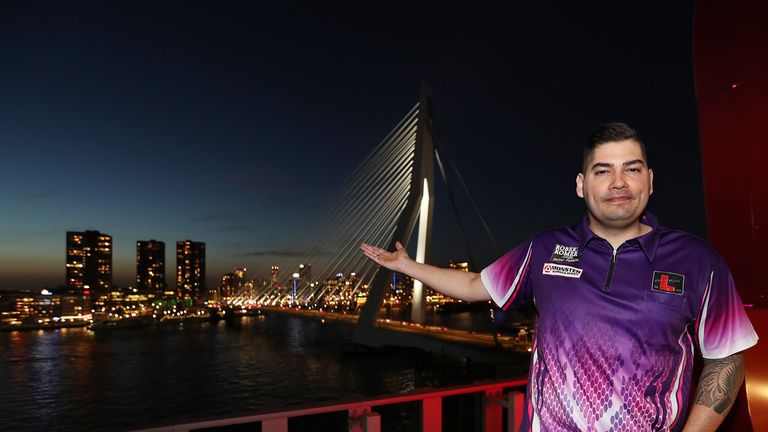 Klaasen will get the night going when he takes on James Wade in a match he needs to win and being the first Dutchman in as he makes his Rotterdam debut promises to be a memorable moment.
"It's the biggest crowd I've played in front of and it's going to be awesome," said Klaasen.
"I heard from Raymond that it was his best experience ever last year and even Michael was a little bit nervous. I just want to enjoy it. The Premier League this far isn't how I imagined it would be but I feel good and it's nice to play in Holland."
Barney is perhaps the best person to ask, his spine-tingling, never-ending entrance was something to behold last year and the five-time world champion cannot wait to get going again.
"It was incredible in Rotterdam last year and I've been thinking about it a lot recently," said Van Barneveld who will be dressed to impress.
"I could never have expected it to be like it was last year and it's going to be even better this year. I'll be playing in my orange shirt, and if I start thinking about it I get emotional!
Van Gerwen has already had one rapturous homecoming, in front of a packed PSV Eindhoven crowd and there's likely to be more of the same for MVG as he plays The Power in a rematch of last year's clash which van Gerwen won 7-5 to the delight of the crowd.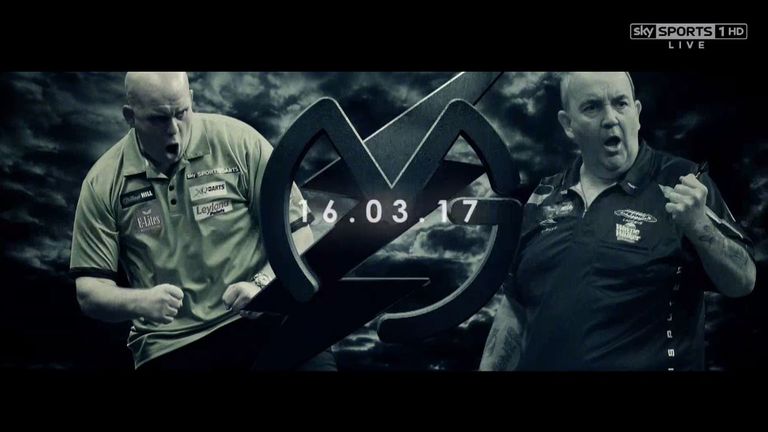 "It will be really special and I'm really looking forward to it," said Van Gerwen.
"It's massive in Holland, and I'll have goosebumps and also enjoy myself.
"I put more pressure on myself because I want to perform for my home crowd and I don't want to let them down. You always try a little bit extra but we'll see what happens.
As Van Gerwen points out there is business to be attended to with Premier League points up for grabs and the world number one will be keen to re-take top spot after Peter Wright moved to the summit last week.
"I'm just going to try and play as well as possible, like I have done all year, and I want to keep that consistency going. I played quite well last week and I'm feeling good."
Klaasen remains bottom of the pile but such is the congested nature of the table, a win over Wade in his homeland will take him to within a single point of The Machine, but he is still battling a problematic wrist injury.
"I had two more anti-inflammatory injections in my wrist this week, and if it's not better in the next two months I need surgery," he said.
"It's all about how long I can play without the pain; normally about five or six legs into the game I feel it hurting even more and then my level drops.
"I've heard all the comments that I can't close out games, but it's not about that it's just that my wrist is getting tired. I hope I can have a good day and get to seven legs."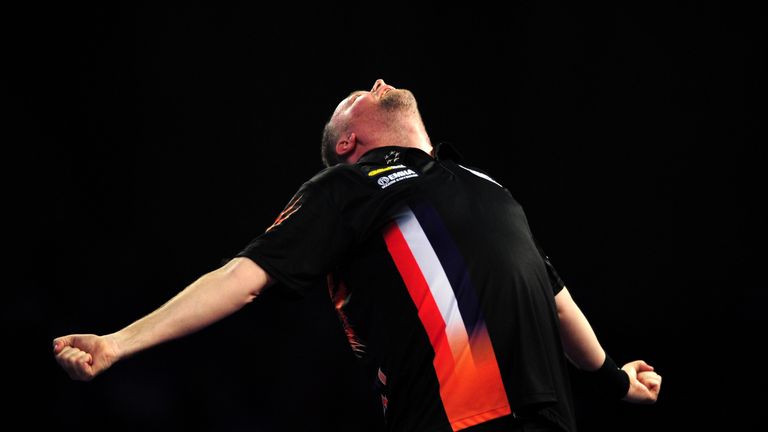 The final word goes to Barney, who takes on Anderson knowing a win will take him above the Flying Scotsman in the table and keep him in the mix for a play-off place.
"Gary's a tough competitor but I'll enjoy it this week and I'm more relaxed now," he said.
"I've said to myself that I won't put pressure on myself any more, just enjoy the crowds, enjoy that I'm a popular player and to try and make myself proud."
You can watch all the action from Rotterdam on Sky Sports 1 from 7pm and keep up to date via our live blog here on www.skysports.com/darts and follow us @SkySportsDarts