Rob Cross reflects on world title with focus on becoming the best in the sport
Voltage claimed world title with victory over Phil Taylor in a spectacular 7-2 triumph on New Year's Day
By Paul Prenderville
Last Updated: 03/01/18 12:27pm
The Rob Cross story is something to behold: a player who has shown remarkable poise and sensational ability in his debut year. Paul Prenderville found a man, 12 hours after becoming world champion, who insists he is only just getting started.
Cross strolled in for the world champion's traditional media duties in the same relaxed manner with which he has taken to everything in his debut year.
"I don't think winning last night has really sunken in yet - it will when I go home and relax and then I think I will get a bit emotional," he tells Sky Sports Darts.
Speaking to his manufacturer, the PDC team and the Sky Sports experts over the last fortnight, it is hard to believe it has sunk in for any of them. It is a remarkable story of a former electrician who is not even 12 months a professional.
"It's my profession now and I know how to push through the gears," he says.
"I have had to do it for years and I think that is a good aspect for me to have. In life you cannot expect things to fall into your lap, you have got to work hard. The harder you work the more you will deserve and that is the attitude I have."
Cross earned his spot on the PDC after a couple of years' hard work on the Challenger and Development Tours but not so long ago he was helping his friend's Superleague team before embarking on life as a professional.
"I stopped for three years but I had a mate towards the end of those three years who asked me to help him out when his team was short," Cross adds.
"I used to finish work, get off the train, rush down there, play one game and then 'See you later I've got to be up at 4.30am in the morning.
"I was consistent but over the longer distance, I am a lot better. In the Superleague, you play one game and it's best of seven and it's hard to get your best that quickly. Give me seven sets, 13 sets and there is a change, I have time to relax and to be the best I can be."
Not everyone has such talent, but Cross feels he is only just getting started, with more titles and the world No 1 ranking in his sights.
"The win is going to help unlock a lot more inside me, I think I can play harder and I think I have another 30 per cent," is his ominous warning to the rest of the game.
"The sleep modes I had earlier in the tournament, I can get rid of them as the longer the tournament went on they didn't happen - I can practise harder and take my practice game and floor game onto the stage.
"If I can get that out, I can bridge the gap to Michael [Van Gerwen] and win as much as him and eventually I want to be the No 1 - I believe I can be."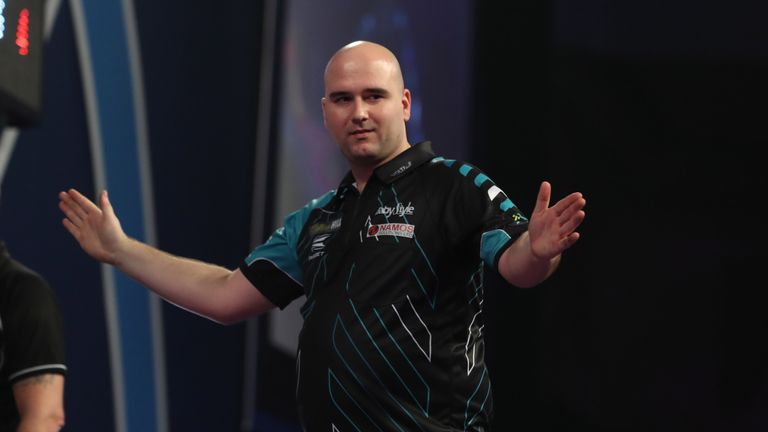 "When I go home I will ask myself what do I want to improve and I will keep working on my all round game until I am happy with it and when I am happy I will be number one in the world - then the challenge is to maintain it.
Rob Cross
Ruthless. Relentless. Robotic. That was Wayne Mardle's verdict at various stages during commentary on Cross' spectacular 7-2 victory over Phil Taylor to claim the world title and half an hour in his company underlines those sentiments.
"On my day off, I asked myself if I was ready. I knew I was ready, I knew I was going to play well. I am good at separating emotion from reality.
"I have watched Taylor for years and years and the way he has dominated, that is what I want to. I believed it was my time and that I was going to win and that is what I was able to do."
The 27-year-old is driven to be the very best he can be and it is that ability to separate himself from the moment, to assess the situation in front of him, that makes you think this could be the start of something very special and, dare we say, Taylor-like.
"Michael has that desire to improve and he has had it for years. He has been phenomenal and deserves all his success, but if you want to you have to go and take it," Cross says.
"And I want it, I want to be the best I can be for me and my family - but you have to that go-get attitude like Taylor had."
For that to happen, he will have to conquer Van Gerwen again, as he did in thrilling fashion during their semi-final shoot-out that will go down as a World Championship classic.
It's worth pointing out again that this was Cross' debut. It involved long, draining matches that went the distance against Dimitri van den Bergh and Michael Smith before his MvG shoot-out - the longest match of his short career.
One of the more remarkable stats of a whole host surrounding his triumph is that his win over Van Gerwen was also the Dutchman's longest-ever match. It is telling Cross feels his rise up the rankings is down to playing in bigger tournaments, having been given a reality check with a first-round exit at the World Grand Prix in Dublin
"I've always played well against Michael but to beat him on the biggest stage is a monkey off my back," says Cross.
"Any good player will be better over distance, it's about the consistency and the focus - it's long compared to what I have been used but I feel it's worth it.
"No one wants it tight but it doesn't always work - those two matches before I have played Michael were pivotal - when you do come through them it gives you the confidence."
Cross' four titles on the PDC floor tournaments had him down as a dangerous outsider but it wasn't until October that he began to turn his TV performances around.
"When I played in Dublin I lost to Steve Beaton. He did a job on me and I was disappointed as in the week leading up to it I had won a Pro Tour and I knew I was playing well.
"I don't know if it was the double start but I didn't feel myself, I was a bit uncomfortable and when I came home I told my wife that if I'm going to play like that I am not going to bother!
"So it was a kick in the backside at a good time, a spark that just told me I'm not unbeatable and I didn't perform and I felt a bit vulnerable - I don't usually feel like that but I didn't play well.
"But from there I was making finals, including a first televised final, and I started to get my floor game out on that stage."
Attention turns to 2018 for Cross, now the world's No 3, who will make his debut in the Premier League and be introduced wherever he goes as the world champion.
"Darts has changed my life but it won't change me as a person - if anything, winning has put more hunger in me, I want to win more," he says with focus.
"I was going into things believing I can win it but now I know I can it - the difference in that is massive for me and it will make me work harder.
"I am now thinking to myself, I had a decent year last year, but I've got a nice platform, let's go forward and conquer and see how far we can go."
After a whirlwind 12 months, Cross wants to find out how far he can go and with a desire and dedication to go with his ability, it's going to be fun finding out.
The 2018 Premier League is the next major darting event on Sky Sports, running from February to May. Dublin's hugely popular 3Arena will open the 2018 season on Thursday, February 1 from 7pm on Sky Sports Action with the season concluding at the Play-Offs on May 17 at The O2 in London.
Keep up to date with the latest darts news, previews, reports, reaction and expert analysis. Get all the latest at www.skysports.com/darts and join in the conversation @SkySportsDarts- don't forget to use #LoveTheDarts