Phil Taylor and Martin Adams could face-off at Grand Slam of Darts
Last Updated: 05/11/15 4:26pm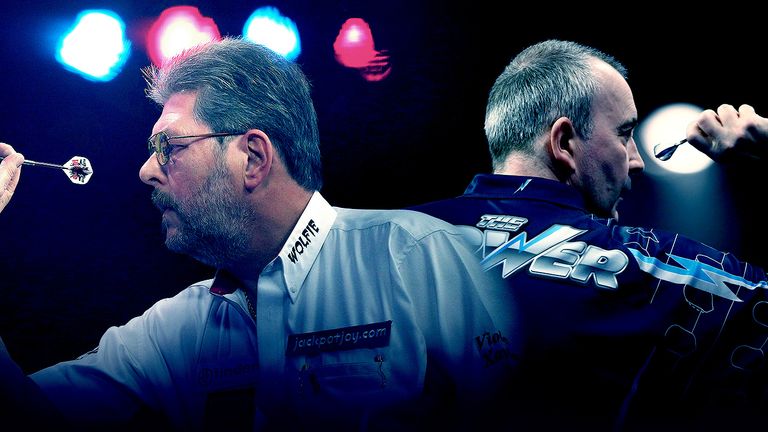 Phil Taylor and Martin Adams will seek out more silverware at the Grand Slam of Darts and Wayne Mardle sets the scene for a possible showdown.
Taylor, a 16-time world champion, remains one of the biggest stars in the PDC and could lock horns with Adams, a three-time BDO world title winner, at the tournament which gets underway on Saturday in Wolverhampton live on Sky Sports. 
Mardle has witnessed the two men's long-running success and hopes the tungsten titans will collide...
Biggest wins
For me it was when Martin Adams beat Phill Nixon 7-6 in the World Championship. With Adams 6-0 up, Nixon battled back to 6-6 and I actually think the darting world thought that Martin was already a bit flaky. The way he played in that last set just put that to bed. It would have been so easy to just fold. Martin Adams, he's got this ability to just carry on and not many people have got that, but he showed it there.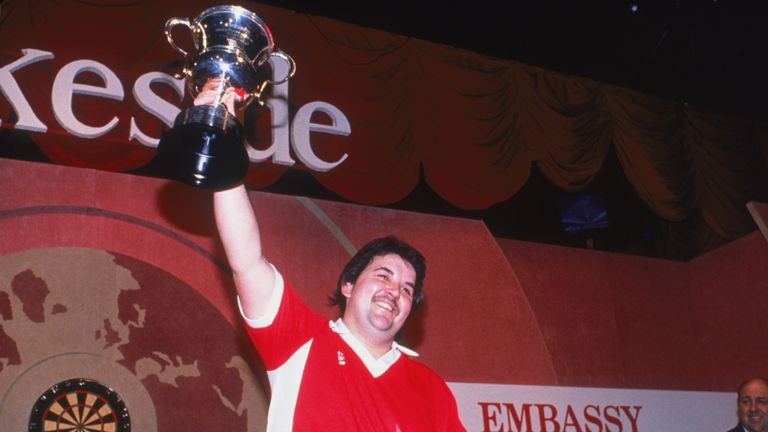 Phil's biggest win has got to be beating Eric Bristow 6-1 in the 1990 World Championship final. That was the start of it, when he really came to prominence. He wasn't dominating or anything, but that was his first one and he cruised home, so there was no question marks about whether he could get over the line. It's difficult against your mentor, but he didn't care who it was against, he just went out there and won.
Secret to success
Both men expend so little energy on the oche. They have got throws that are not really stressful on the body, stressful on the mind. You never see them over celebrate, unless it's at a real crunch moment near the end of the match.
Phil sometimes does it when he wants to give that impression that 'I've got you now.' You'll very rarely see Martin Adams show off. Both of them know their own mind, know their own body and game and don't want to waste energy.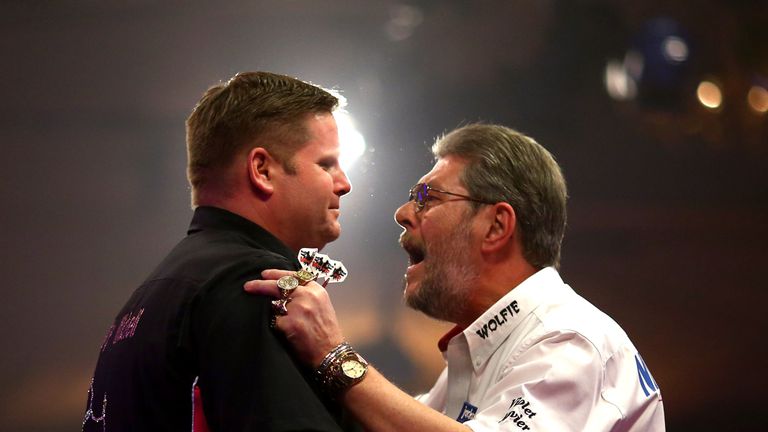 Look at the end of the BDO World Championship last year. I think a lot of people felt Martin Adams would drift away and not be able to match Scott Mitchell dart-for-dart, being nearly 60 years old, but he didn't. He doesn't expend that energy that a lot of other players do.
The pair of them do not find it taxing to play for a lot of hours and that's why they have both won so much over the longer formats. 
World Championship glory
Martin Adams was a bit like Steve Beaton in the early days, going in as No 1 seed and couldn't quite get it won. Then when he did, those three came along pretty soon after one another.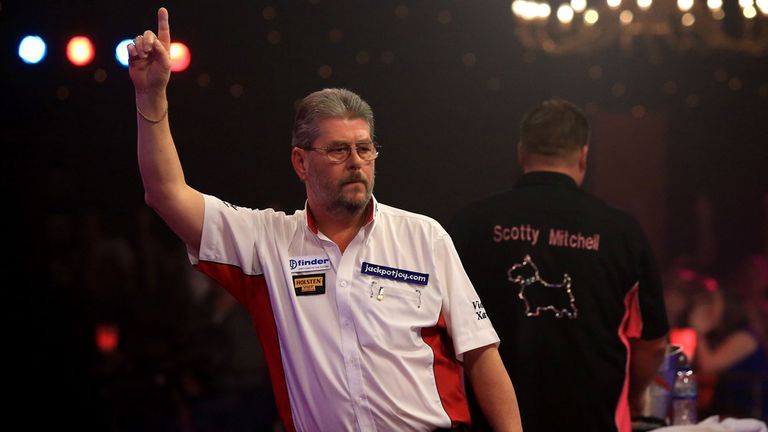 He would be in the top six or seven players that I have ever seen in my life. Even now, I think he can do some damage in the World Grand Slam.
Wayne Mardle on Martin Adams
It's easy to say, but I always felt he was going to win at least one. A lot of the players were leaving to join the PDC, so it left it open, but that is taking nothing away from Martin Adams. He would be in the top six or seven players that I have ever seen in my life. Even now, I think he can do some damage in the Grand Slam.
Phil from 1988 has been winning tournaments, he's not stopped. The Worlds is different because he used to - not so much now - plot his way from October onwards. You would hear him talk at the Grand Prix: 'Right, now it's all about the Worlds.' There are so many tournaments now in the way and I don't think that has done Phil any favours, because now he doesn't really have time to plot towards the World Championships.
They are both up there to be shot at and are still two of the best dart players in the world ever and have been there for over 25 years - it's absolutely incredible. 
Head-to-head
The first time they met was in the semi-finals of the News of the World Championship in 1997 and Taylor won 2-1.
There was a few meetings between '97 and 2001, but Martin wasn't really in my opinion at his very best then, whereas Phil probably was somewhere near unbeatable.
They played each other in the 2001 World Matchplay, where Martin got beaten 17-9 in the semi-finals by Taylor. Phil also beat Martin 7-2 in the final of the 2006 World Trophy. That was the last time they met.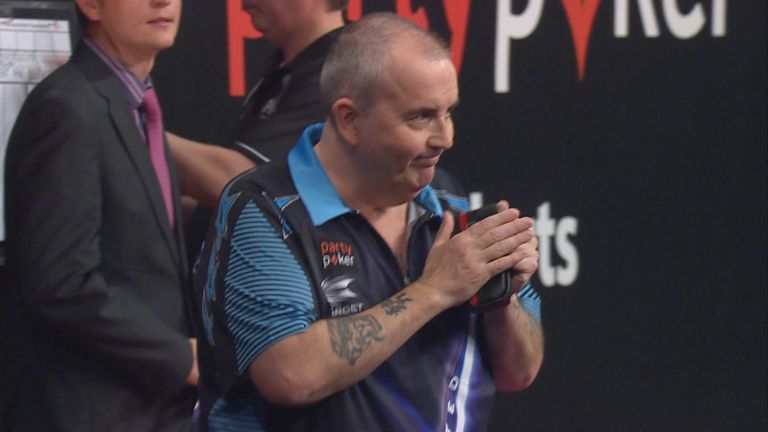 I would just love to see them have a go at each other, I really would. The respect would be there and as a viewer and a lover of darts, it's something you want to see.
Wayne Mardle
It's one that we all want to happen. It's a shame that it could happen when Martin is the best part of four or five years past the pinnacle of his form. Phil Taylor can still go up there and produce 115 averages, we know that.
I would just love to see them have a go at each other, I really would. The respect would be there and as a viewer and a lover of darts, it's something you want to see.         
What next?
For me, the Grand Slam, the World Championships and the World Matchplay are the three that Phil Taylor favours. After the group phase, the Grand Slam gets to a real long format and over a long format, like the Worlds and the Matchplay, he's so, so tough to beat, he really is.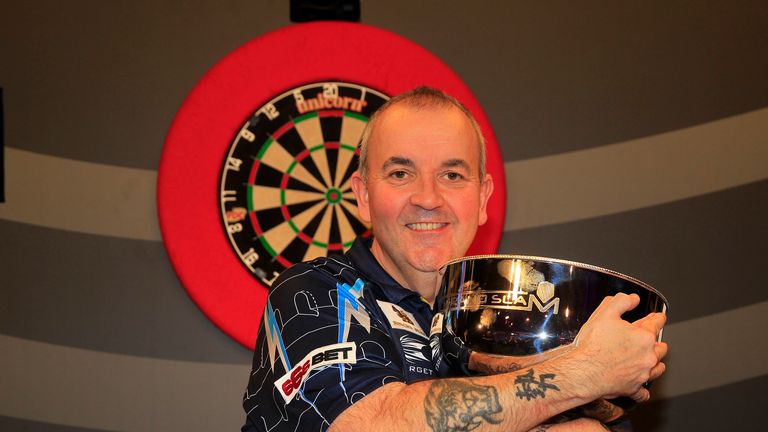 Yes Martin Adams can have the odd bad game, where he probably never used to, but because of the longer format he's going to be tough to hold back because you've got to be consistent against him. Gary Anderson or Adrian Lewis if he plays well, Phil Taylor or Michael van Gerwen might be able to steamroller Martin Adams, but apart from that I don't think anyone can, because he's that consistent. 
Phil Taylor has got more of a game to go on and win it, but I want to see Martin Adams go there, get out of the group, cause havoc by beating a big name in the last 16, get through to the quarter-finals and see how he goes.
Put it this way, I don't think anyone would want to play him because they know that he's ultra consistent. 
Watch day one of the Grand Slam of Darts on Sunday November 7, starting at 1pm on Sky Sports 2.
By purchasing a Sky Sports Day Pass for £6.99 or Sky Sports Week Pass for £10.99, you can enjoy access to all seven Sky Sports channels and watch on a TV with a NOW TV Box or on a range of devices.