Michael van Gerwen has set new standards in darts and beyond the World Championship
New champion's record-breaking raises possibilities of new heights across the sporting landscape
By James Dielhenn
Last Updated: 04/01/17 12:02am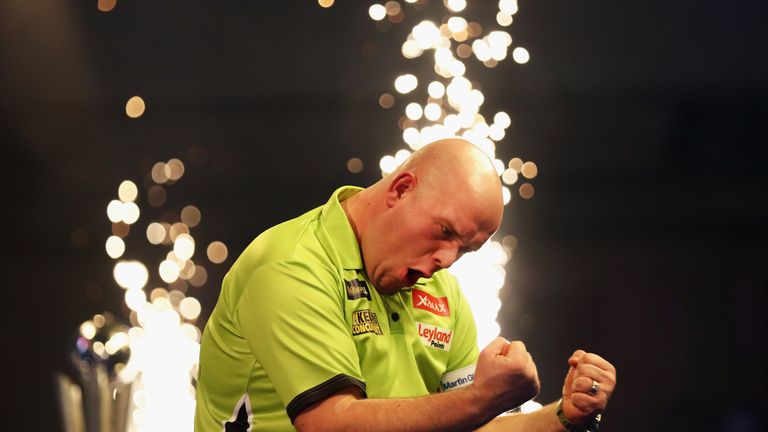 Michael van Gerwen's prowess at the World Darts Championship has raised the bar of what to expect from any sport, and established the new champion as a trailblazer of modern times.
He is more Cristiano Ronaldo than Lionel Messi. Van Gerwen, now a two-time world champion to accompany his long-running status as the world's top ranked player, is a high-voltage machine rather than an artist with a deft brushstroke.
There is nothing subtle about how Van Gerwen plays darts, although he retains the comparable genius of Messi and other mavericks who rule their respective realms with finesse. But Van Gerwen, as demonstrated in his 7-3 defeat of Gary Anderson in Monday's final, rules with an iron fist that has never looked stronger.
Darts can only be truly appreciated with an understanding of the mathematics involved, achieved easier at a safe distance from the raucous Alexandra Palace audience who must have seen multiple arrows for every throw. Van Gerwen's sheer brilliance lies within the numbers that he crunched.
Three of the four highest losing averages in the history of the World Championship came this year, against Van Gerwen, and included players of Anderson and Raymond van Barneveld's calibre.
In seven matches, the champion lost just nine sets and finished with a total average of 107.06. That average was never more preposterous than during the semi-final against Van Barneveld, when Van Gerwen set an all-time high of 114.05. In the final, 42 combined 180s broke the record for the most ever.
Such figures have never been seen before, not even during the pomp of Phil 'The Power' Taylor, who didn't always have the esteemed competition that drives on Van Gerwen. These numbers are the weapons that Van Gerwen uses to brutally force world-class opponents into submission.
His performance throughout this year's World Darts Championship has redefined what is deemed plausible in his sport and, as a result, should raise questions about what the future might hold in other disciplines.
The unwritten rules of darts have been ripped apart by the Dutchman, reminding us of the possibility for every sport to reach new, thrilling heights.
Olivier Giroud's wonderful scorpion kick, for example, was a goal that defied logic, but there is something intimidatingly obvious about Van Gerwen's relentless improvement. The numbers just rise, and rise and rise. Surely they can't get higher? We've said that before and Van Gerwen has refused to accept limitations.
A mind-set at the oche that leaves minimal room for human vulnerability was perfectly demonstrated when, in the final throngs of Monday's showpiece, an invader from the crowd jumped on the stage and grabbed the trophy that was destined for Van Gerwen.
Did it interrupt his concentration? He conceded the resulting leg, but put Anderson to the sword shortly afterwards.
Like any sportsperson, he isn't unbeatable - 20 defeats in 2016 are, however, off-set by more than 200 victories, including in the finals of every major tournament. You wonder if, when he received a congratulatory phone call from Dutch Prime Minister Mark Rutte, Van Gerwen was asked for his advice on more subjects than merely darts.
He retains a fear factor - perhaps because of his immediately recognisable appearance and the celebratory roar of a heavyweight boxer - but mainly because the statistics he creates are palpable evidence of his greatness.
He has rewritten the rulebook of what to expect at the oche, and expect further chapters to be added.