Berry van Peer on his battle with dartitis at the Grand Slam of Darts
By Paul Prenderville
Last Updated: 11/11/20 4:07pm
It's been a drama-filled and action-packed start to the Grand Slam of Darts, but one story has stood out more than most...
Berry van Peer arrived at the Wolverhampton Civic Hall as an awkward opponent in a tough group with Simon Whitlock, Gary Anderson and Cameron Menzies. He earned his spot after a runners-up finish to Corey Cadby at the World Youth Championship but the story since has been anything but straightforward.
This week in the Black Country, the 21-year-old has endured one of the sport's most public battles with dartitis, and it's a battle that he is winning having made it through the group, as well as earning a new set of fans.
"It [social media] exploded my phone! I couldn't open the app! Eventually, I got round to reading some of it, but I couldn't read them all - they were so many," he told Sky Sports Laura Woods.
"When I calmed down, I tried to send some messages to say thank you."
Several players, most notably Eric Bristow, have battled the condition which sees a player struggle to release the dart, Wayne Mardle quotes the five-time world champion as calling it "the fear of missing".
Throwing a dart should be the easiest thing in the world for Van Peer but, at the moment, it is proving the exact opposite and he has been fighting against it for the last few months.
"When I am practising I don't have any problems and I am thinking 'OK this is good.'
"It mostly comes when a match starts and you are thinking 'I am ready to do this', and then when you want to release the dart it just doesn't happen.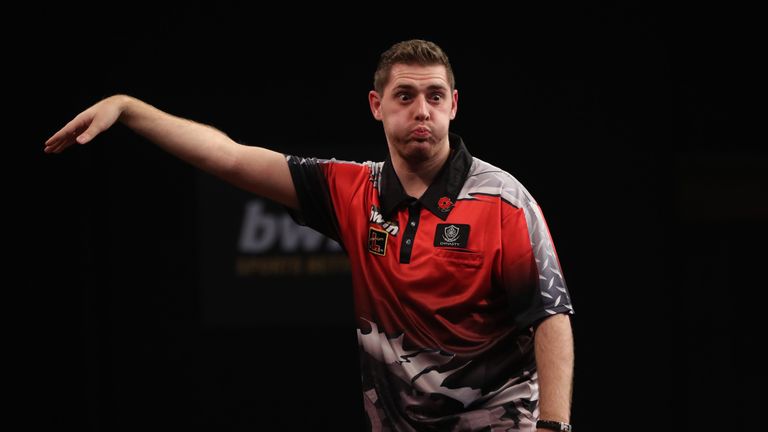 "It's frustrating and you have to keep going, but you are asking yourself 'why is this not happening?"
And rear its head it did, in the very heat of battle, on stage in his group opener against Whitlock who, along with the crowd did not perhaps understand the gravity of the situation as Van Peer somehow battled to an opening-match victory on Saturday, embracing the crowd and generally putting a brave face on things.
With Mardle labelling the win 'one of the bravest displays he had seen', the crowd coming in for some stick from the darts world and players past and present rallying around on social media, all eyes were on the Dutchman again on Sunday as he faced Gary Anderson.
It was here that things became too much. As Van Peer held back the tears, Anderson, ever the gentleman, lent his support, referee Russ Bray called on the crowd for 'the very best of order' and van Peer battled on to a defeat against the Flying Scotsman.
"It sounds weird that your opponent is cheering you on to throw well. I got a treble and Gary would say 'great darts' and when the crowd were chanting he kept saying 'you can do this'.
"It was so nice that he did that. I got so much support from all the players and kinds words from everybody. We are all colleagues and the support for each other is great."
However, there is a competitive edge to it all and matches to be won. On Monday night, Van Peer faced another man making his name in the tournament and like any good story, there was drama to add to the obvious emotion with the winner progressing to the last 16.
Likeable Scot Cameron Menzies was about as good an opponent as Van Peer could have faced and there was barely a dry eye in house as the Dutchman battled to a 5-4 win, setting up a date with Mensur Suljovic on Wednesday night - one of the players that spoke to him before the Menzies match.
"There was a lot of respect and before the game Cameron said to me 'come on, let's make this a good game' and he had some nice words for me.
"I talked to lots of different people, including a psychologist who gave me a few tips and that really helped because I tried to use them.
"Other people were telling me to relax either quietly or listen to some music but my playlist is so random, there is a bit of everything in there. Players were just telling me to enjoy my darts."
His run will give him every chance of qualification for the World Championships, as well as valuable prize money in his pursuit of keeping his Tour card for next season.
If he takes on those challenges with the smile and positive demeanour he has shown over the last few days in Wolverhampton, he has every chance of continuing to attract the headlines.
The Grand Slam of Darts continues on Sky Sports from 7pm on Wednesday on Sky Sports Action and from 7.30pm on Main Event as the tournament enters the knockout stage.
Keep up to date with the news as the tungsten enters its busiest time of year with the PDC World Championships just around the corner get all the latest at www.skysports.com/darts and join in the conversation @SkySportsDarts.