Daryl Gurney and Rob Cross take on Darts finest at the Wolverhampton Civic Hall
Duo in quarter-final action against Michael van Gerwen and Phil Taylor on Saturday night but no matter the result the pair are here to stay
By Paul Prenderville at the Grand Slam of Darts
Last Updated: 19/11/17 5:58pm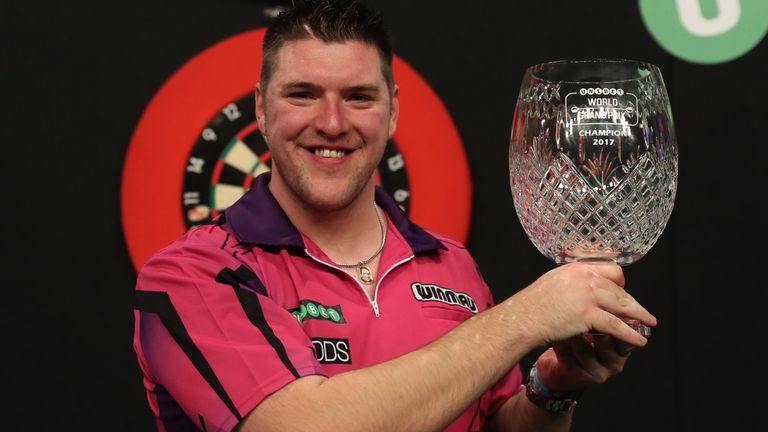 Saturday night. 8pm. Primetime. A chance to thrill a packed-out venue and a TV audience getting ready for the busiest time of year.
It's not Strictly and the Blackpool spectacular, nor is it X Factor and the Christmas No 1 - it's the Wolverhampton Civic Hall and two men making their mark at the Grand Slam of Darts.
For Daryl Gurney, it's been a steady process that has almost snuck up on fans and players alike, while the rise of Rob Cross has taken the darts world by storm.
On Sky Sports Action on Saturday night, the pair go up against Michael van Gerwen and Phil Taylor in the last eight and there is no better way to measure how far you have come than against the best there currently is and the best there has ever been.
Superchin is clearly doing something right as the Power decided to go after him when asked a perfectly innocent question on Thursday. It's a tactic Taylor has taken to when he knows that he has a game on his hands.
Only Van Gerwen can really match Gurney's levels of consistency in the TV tournaments this year, and it's a process Wayne Mardle feels has been building.
"Since 2013 there has been a steady gradual progression," Mardle said. "It gets to the point where some players go under the radar and then people realise they are good - that is what I think has happened here.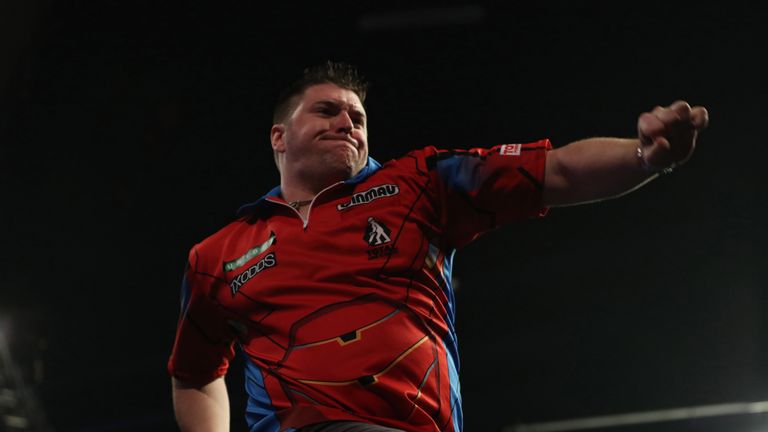 "For the last two years he has been good but not quite won the big or important matches - now is has won the really, really important one with the Grand Prix and he is there again now."
Having reached the World Championship quarter-finals, the 31-year-old has risen to No 4 in the rankings on the back of a fine run that has included semi-finals at the UK Open, the World Matchplay and the European Championship but most memorably an emotional maiden major in Dublin.
At the Citywest just outside Dublin, Gurney beat Simon Whitlock in a thrilling final to claim the World Grand Prix and it's a breakthrough Mardle feels underlines Superchin's status as a major contender
"He is still doing the same thing but has more confidence in his ability and people are now aware of Daryl, they are seeing him in their half of the draw and thinking I might have to play him.
"He is now being noticed more. His game isn't flashy or full of speed and pace. But what it is full of is [James] Wade-esqe performances, the 96/97 averages.
"He can play up at 100 but if you play mediocre against him you will lose all day long, but if you play well against him you could still lose - that is now Daryl Gurney in a nutshell, the progression has been gradual rather than speedy."
Mardle's mention of Wade is interesting as the Machine is the player many of the next generation are aspiring to be. Taylor and Van Gerwen's talent and achievements may never be rivalled but Wade collected seven major titles and was the man everyone wanted to avoid.
Gurney and Cross are reaching that status and while Gurney has crept along unnoticed, Cross has made the sort of impact befitting his 'Danger, High Voltage' walk-on music.
For the unassuming 26-year-old from Hastings, darts is business and business is booming. He earned his sport on the PDC Tour through a fine year on the Challenge circuit but there was no hint of what was to come.
Four Players Championship titles, a rise to no 24 in the world rankings, a first major televised final at the European Championship and a fine run to the last eight in Wolverhampton are unprecedented levels for an inexperienced rookie.
Raymond van Barneveld and Gary Anderson moved across from the BDO with proven pedigree, but Cross has taken to things like a duck to water
"He is not interested in the showmanship, he wants to win. 'Who am I playing, right OK job done, see you tomorrow! That's how matter of fact he is, there is no drama, he turns up, plays, wins and goes home," Mardle says of Cross.
"Rob is not even a major winner yet but he kind of is in terms of performance. He is playing second only to Michael van Gerwen."
Voltage's victory over Barney in the last 16 was notable. Not just that in his own words it was the biggest win of his career to date, but in how he did it.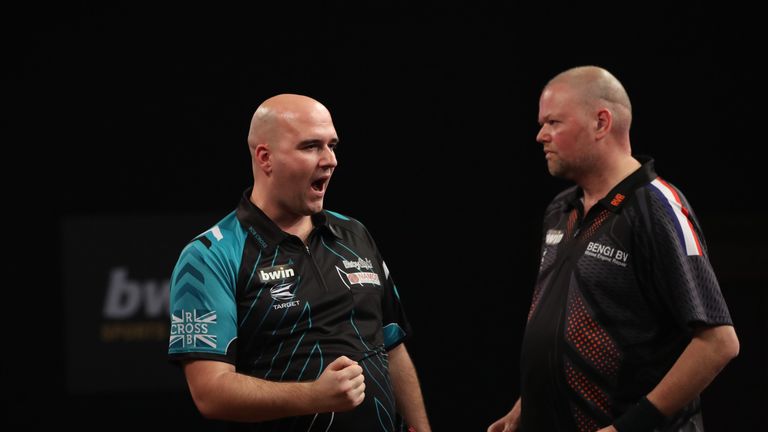 We have to remember this is his debut in the event! He has beaten him before over the longer format he was behind and when he needed too he went and he dismantled Barney.
Wayne Mardle
Against the iconic figure alongside him, he carried on regardless, coming from 7-6 down to reel off four successive legs with a clinical professionalism.
"There was no drama for him, cool as a cucumber. He is a clever player. Some people won't understand that but when he missed the treble 18, he missed on the right side so he could hit the treble with his next dart.
"He turned down the 170, the crowd did not want to see that but for Rob it was about winning the leg - he is a win machine."
He will face Van Gerwen for the sixth time since early September, three of the previous five have been finals and Cross has earned the respect of the world No 1.
"He is a good player. I think with the effort he has shown in the last few months, he has a good chance of being in the Premier League next year," Van Gerwen said after winning the group stage encounter between the pair.
"I respect his game all day long. He takes me to a different barrier and always plays well against me. To play well against me you need to have some nuts and that's exactly what he does.
"He is playing phenomenal darts when he has to. He's not a nobody; he's the new kid on the block."
Victories on Saturday night will grab headlines but whatever happens on the Wolverhampton oche, Gurney and Cross are doing enough to show they here to stay, and the all-conquering pair they face on Saturday know it too.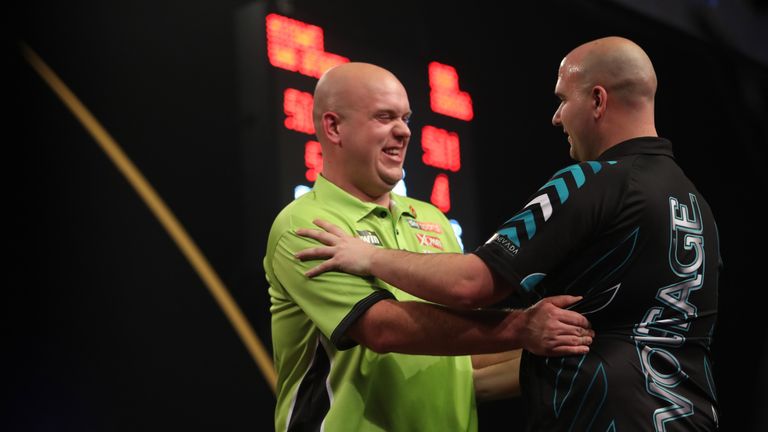 The Grand Slam of Darts continues on Sky Sports on Saturday with the remaining two quarter-finals, coverage is underway on Sky Sports Action from 7pm with the second quarter-finals on Saturday from 8pm on the same channel
Keep up to date with the news as the tungsten enters its busiest time of year with the PDC World Championships just around the corner get all the latest at www.skysports.com/darts and join in the conversation @SkySportsDarts.