Classic matches, hilarious bloopers and moments to last forever. We asked the experts to remember their favourite World Darts Championship memory...
Peter Manley
Probably playing at Purfleet when I reached my first final back in 1999. For every darts player, the biggest tournament is the Worlds and everyone wants to win it.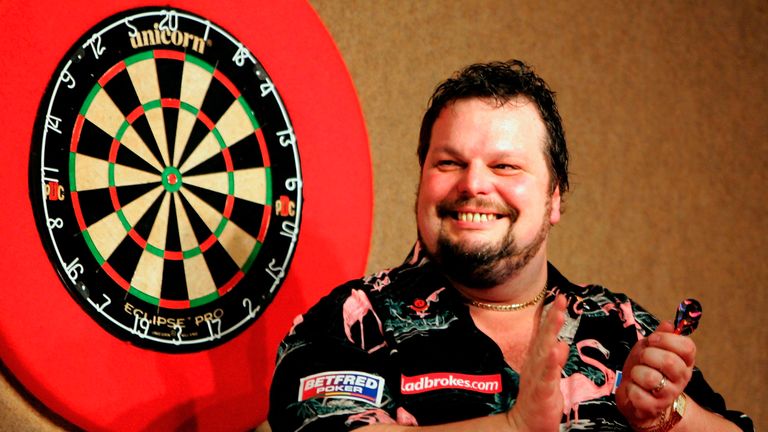 You never lose that title, you're a World Championship winner for the rest of your life. It meant quite a lot. I attempted it three times but came unstuck unfortunately.
John Part
Beating Phil Taylor in 2003. Getting across the line and taking out 77 to win. I ended his eight-year run and nobody thought he would be beaten so that was very satisfying.
Nine years earlier I won the BDO title, which was the first after the split. It was very acrimonious, a lot of bad things were said. There was a war. I became the first player to win both titles after the split - the circle closed, and it provided closure for me.
Rod Harrington
I think it has to be Taylor against Raymond van Barneveld in 2007, even though Phil lost that match. It went down to a sudden-death last leg and they had to go for the bullseye to see who would throw first. I'd played a lot of darts at a high level and watched a lot of darts, but I just stood backstage in awe at the standard of arrows that was being thrown.
It was the last year at the Circus Tavern before it moved to Alexandra Palace and I think that was one of the moments when I thought this game is going places. That match proved it for me. They set a standard back then that everybody needed to aspire to make it in the game and make a lot of money.
Adrian Lewis
My first title because I hit a nine-darter in the final which had never been done before. In the first one I was playing really well and knew I had a chance. It all started when I beat Phil at the World Grand Prix earlier that year.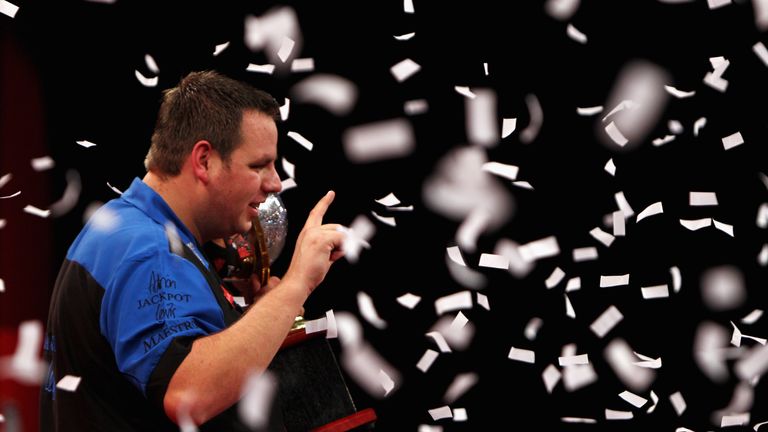 The second world title, I hadn't had a great year. I wasn't really feeling it. Everybody was writing me off, a bit like this year. I got through 'wind-gate' against James Wade then won the final.
Dennis Priestley
The first World Championship! It was a different set-up as far as a Worlds is concerned - firstly we played in groups which was a first. There were only 24 in the tournament - a sign that we had struggled to get enough players together to make it worthwhile. It's even tough to remember who was in the group and I have to think a little bit harder to recall the run to the final.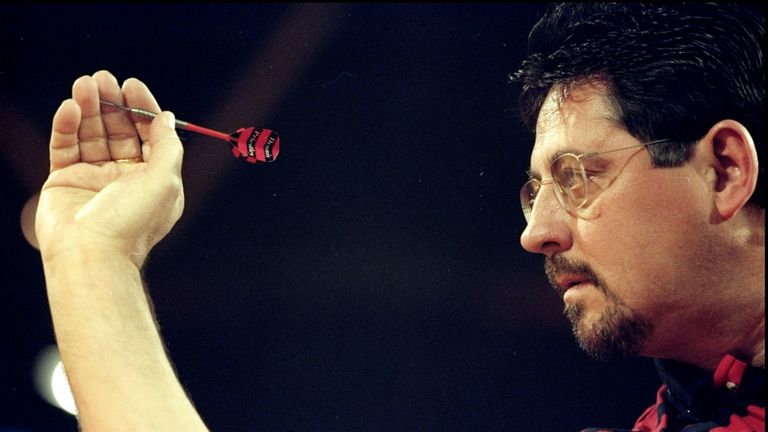 But I opened up against Jocky Wilson and the first two throws set us off with a bang, I hit the 140 and Jocky hit a 180 and I went on to win my group and then beat Tom Kirby in the last eight before Peter Evison in the semi-final and then Phil to win the title.
Raymond van Barneveld
The first one, of course. That was an amazing final against Phil, but after that he showed me and the world that he was a far better player than myself.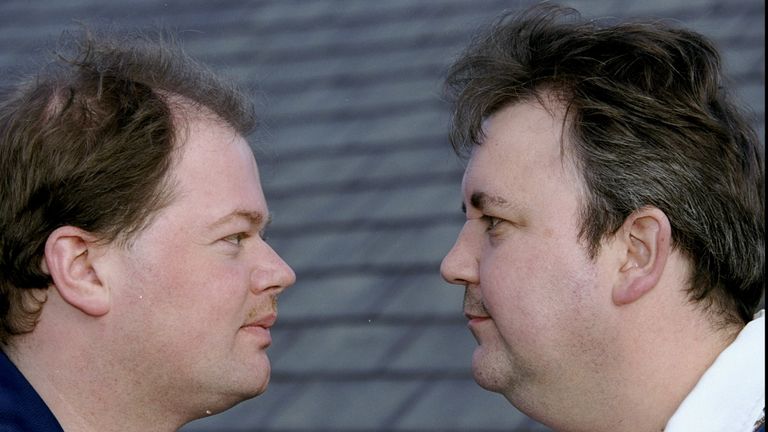 He's beaten me on more occasions. He is phenomenal, but I'm really hoping for another Taylor-Van Barneveld final on New Year's Day and hoping that I lift the trophy.
Wayne Mardle
One of my favourite matches was against Colin Lloyd at the Circus Tavern. We were due on at 7pm but I got there at 11am because I couldn't sleep. Colin was already there! We were both as nervous as each other. The game was up-and-down. I missed a nine-darter on the double and lost that leg! It was a really enjoyable win.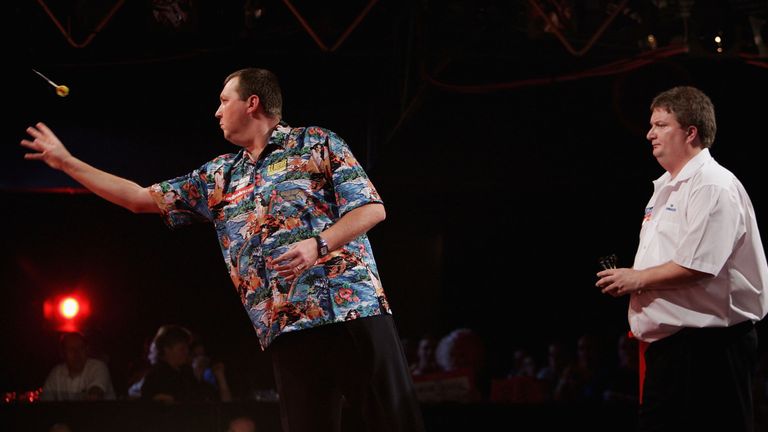 I was always nervous which is why I danced like a lunatic because it eased my anxiety. But the World Darts Championship was different. I felt sick until I made my walk. And I did okay, with five semi-finals. Players come off crying, and their families cry with jubilation or sorrow. The World Darts Championship can ruin a career until you get back on the horse.
Bob Anderson
In the PDC I reached consecutive semi-finals in 2004 and 2005. In 05 I was pretty good then but I ran into Phil Taylor who put a stop to that!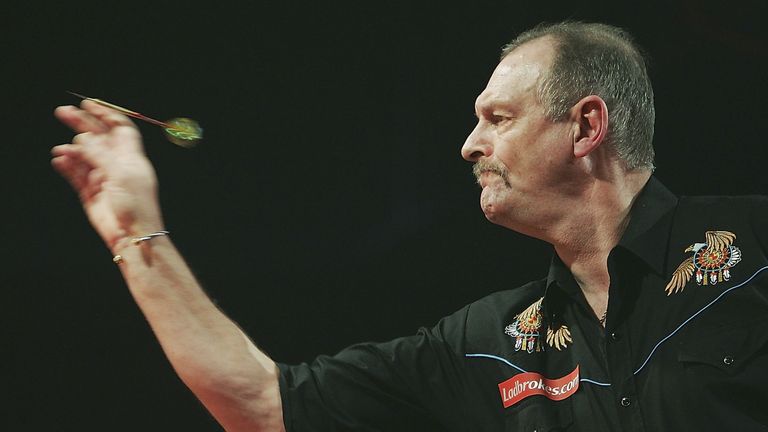 Winning the Embassy World Darts Championship in 1988 (prior to the split in darts) would have been the pinnacle of my career.
The 2018 World Championship from Alexandra Palace starts on Thursday, December 14 and ends New Year's Day.
Keep up to date with the news as the PDC celebrates 25 years on Sky Sports. So get all the latest at www.skysports.com/darts and join in the conversation @SkySportsDarts - don't forget to use #LoveTheDarts.
Sky Sports Darts can be accessed across TV, online and via mobile and tablet devices with Sky Go. Non-subscribers can either enjoy one or seven days access to the Sky Sports Darts channel and Sky Sports other dedicated channels contract free on TV and a range of devices with NOW TV.