Michael van Gerwen and Raymond van Barneveld discuss their rivalry ahead of Premier League darts clash
The Netherlands will come to a standstill when MVG and RVB collide on Thursday night
By Raz Mirza
Last Updated: 19/04/18 7:46pm
Michael van Gerwen and Raymond van Barneveld will meet in a Dutch dust-up when the Premier League roadshow hits Rotterdam in a darting double-header, but what do they think of each other.
Barney stunned the darting world to beat Van Gerwen 4-3 at the 2016 World Championship, but it was a different story 12 months later as MVG got revenge with a 6-2 demolition with a tournament-record average of 114.05.
And Van Gerwen held off RVB at the quarter-final stage at Alexandra Palace with a 5-4 success in December to stamp his authority on their great rivalry.
These Dutch idols have met 53 times in all competitions with Van Gerwen leading the way 34-18 and one draw. In 13 Premier League meetings, MVG leads 8-4 with one draw.
Night 11 - April 18 at Rotterdam Ahoy
| | | |
| --- | --- | --- |
| Michael Smith | v | Gary Anderson |
| Rob Cross | v | Daryl Gurney |
| Raymond van Barneveld | v | Simon Whitlock |
| Peter Wright | v | Michael van Gerwen |
| Rob Cross | v | Gary Anderson |
Van Gerwen and Barney both spoke candidly about one another ahead of their latest meeting on Thursday night. Here's what they said...
How do you beat your opponent in this game?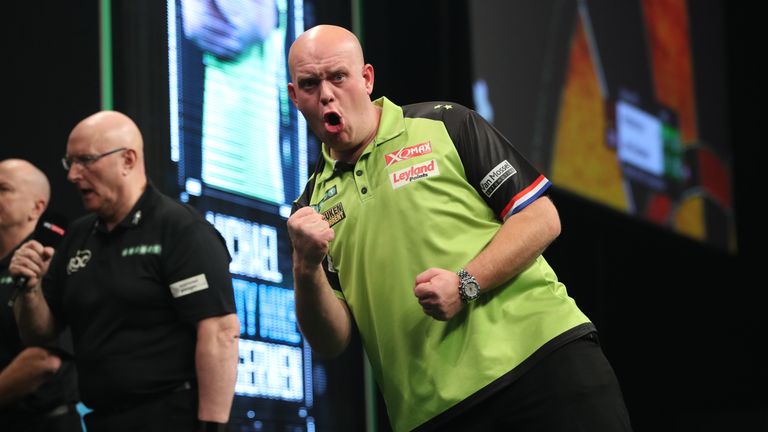 MVG: I'm going to beat him normally like I do when I play all the other players. I will just play my best game, try to perform on the night as well as possible, keep my focus going and try to knock in some good scores and good finishes at the right times.
Barney: It's not easy to play him here in Holland. I told the Dutch press as well, you need to ideally have the whole Dutch crowd behind you, but now it will be just half. Fifty per cent Michael and fifty per cent mine and you don't want that. If you have a home game you want to have the whole crowd behind you and shouting for you. Me and Mike are not happy that we're going to clash against each other.
What will the atmosphere be like in Rotterdam?
MVG: Rotterdam will be amazing for both of us. It's a phenomenal venue full of orange fans and I'm really looking forward to it. I think it will be 50/50 but you never know. They can support the favourite or the underdog, you just never know. We're both looking forward to that game; it's a huge game for both of us. It's definitely going to be a good game to watch.
Barney: It's hard to tell. The last two years I came on stage here and they treated me like a king. They were singing 'Barney Army' and singing whilst dressed in all orange. But now it's different because you're playing your compatriot, a fellow countryman. I won't know if he will get the crowd on his side or me.
Is MVG v Barney the biggest game on planet darts?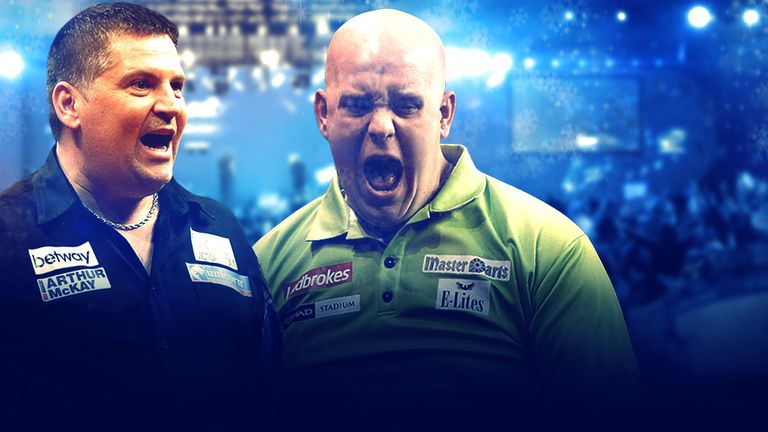 MVG: No, I think it's me against Gary Anderson. He is a better player than Barney and his top level is higher than Raymond's I think. We always play good games together. There are no tricks between us, we just play darts. We both bang in the big scores.
Barney: I don't think so, no. I would say that Gary Anderson against Michael van Gerwen and Rob Cross against Michael van Gerwen are the most important matches at the moment now. It's not Barney and Van Gerwen because I'm only No 12 in the world and he's No 1. I'm the only one playing in the top 12 who is not winning tournaments and I haven't been winning tournaments for four years running now, so I don't think so.
Are you close friends?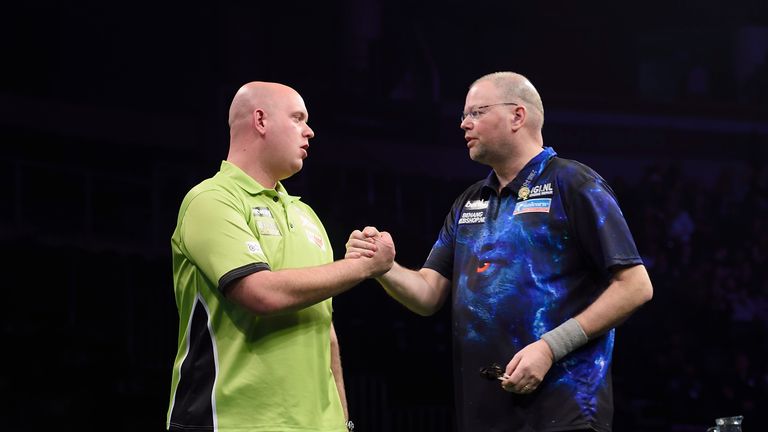 MVG: We're good colleagues. We travel a lot and we speak to each other a lot. It's not like I go to his house for a cup of coffee, but we get on quite well.
Barney: We get along fine. We travel together most times, we have a laugh, and go out for dinner together. Friends is a different word because we don't come and speak to each other in our private lives. We share a lot of tournaments together and get along fine.
Do you have a funny story you can tell about each other?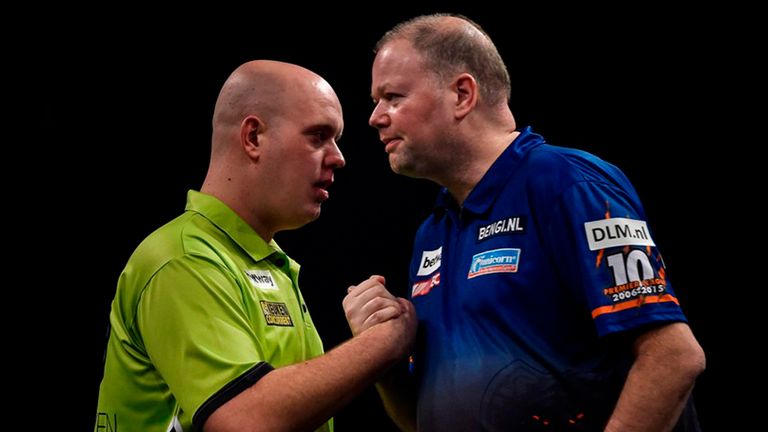 MVG: I once put an Instagram story on when he was sleeping during a flight and I put it on because he was snoring next to me which was funny.
Barney: We have a good laugh and I think he's great and he thinks I'm great. He's always making funny jokes when we fly to tournaments together. Sometimes when I take a nap he tries to keep me awake, but I do the same to him. He is a bit like Dennis the Menace.
Who will win the Dutch derby?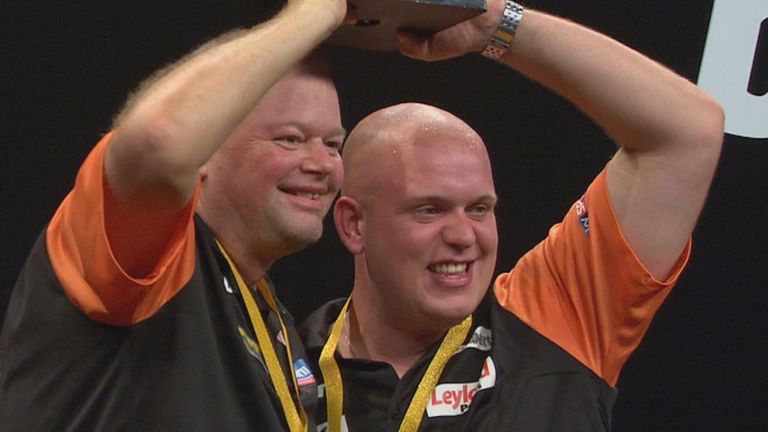 MVG: What do you think is going to be my answer? I think I will win, definitely. Why? Because I'm a better darts player and I'm in better form. I've got more confidence at the moment, so that's the reason.
Barney: Who knows. I will say I will win, while he will say he will win, and then there's option number three as well, because it could be a draw. Wednesday night's match against Simon Whitlock is more important because I have to win that one to keep my hopes alive. If that result is bad, your mind will tell you 'Ray, it's over, you can't reach the semi-finals'. How important would it be to beat Michael van Gerwen if there's nothing to play for?
Michael van Gerwen and Raymond van Barneveld were speaking to Sky Sports' Raz Mirza. The 2018 Premier League heads to Rotterdam Ahoy for a darting double-header this Wednesday and Thursday for weeks 11 & 12. Coverage gets under way from 7pm on Sky Sports Action & Sky Sports Main Event on Wednesday, with Thursday's action under way from 7pm on Sky Sports Action
Night 12 - April 19 at Rotterdam Ahoy
| | | |
| --- | --- | --- |
| Simon Whitlock | v | Michael Smith |
| Daryl Gurney | v | Gary Anderson |
| Rob Cross | v | Peter Wright |
| Michael van Gerwen | v | Raymond van Barneveld |
| Daryl Gurney | v | Simon Whitlock |
Three weeks of tungsten action will then continue in Manchester, Birmingham, and Aberdeen through to the season's conclusion with the Play-Offs on May 17 at The O2 in London. Keep up to date with the latest darts news, previews, reports, reaction and expert analysis. Get all the latest at www.skysports.com/darts and join in the conversation @SkySportsDarts- don't forget to use #LoveTheDarts