Wayne Mardle reflects on 'the best ever World Cup of Darts'
Last Updated: 07/06/18 1:09pm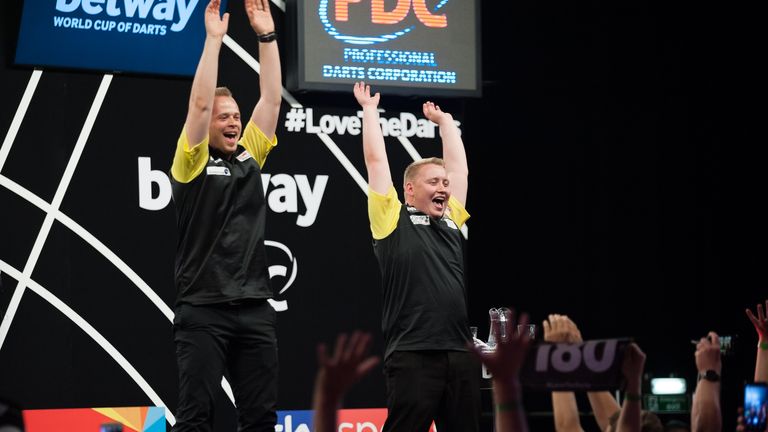 This year's World Cup of Darts has been hailed as the best yest. We asked Wayne Mardle to pick out just what made it a huge success.
The progression of the event, the attendance and the drama - it's superb. It was a huge success, we ended up with the two very best teams, Netherlands and Scotland, and we got a few upsets along the way and there has been a marked improvement from so many.
There are now teams who are just one or two darts away from being a brilliant pairing - there are now lots of people growing into their role and what it means to represent their country in a World Cup.
Belgium vs Republic or Ireland was possibly the match of the tournament but going back a few years it would not have produced a game that we would have remembered.
You can really see the drama, the want and the will to win. I spoke to Jonny Clayton, who told me he had never been so nervous, and that is what you get when you represent your country and another team member.
Long may it continue because it is now a really important competition and I'm looking forward to next year already.
Growing the game
What I can see happening now, year-on-year, is the growth of the partnerships and Seigo Asada and Haruki Muramatsu for Japan are now a very good pairing - they were the story for me.
The beaten Austrians were good despite defeat, Team Germany of Max Hopp and Martin Schindler could be around for the next five, six or seven years and they have now reached the quarter-finals two years running. There is more to come from Spain, also.
I felt for Brazil as I fancied them to play better and they are both improved players, but they faltered a little against Scotland. However, they will come back again stronger next year.
Kyle Anderson for Team Australia showed flashes of genius and that's from someone who I don't think is entirely comfortable on the big stage just yet.
Change Of Format
I was looking at Twitter and social media and mulling over the format and talk of changes, looking for a better format than they have now.
Keeping it pairs, maybe a best of nine, 11 or 13 in the second round but pairing the very best against someone who could beat them in a slightly shorter format - I just think over the longer duration they would get beat.
An upset in a best of singles is very possible and that sets up the pairs drama. If you go straight to pairs in a best of 13, I think we could see some heavy defeats.
The format is fine and the only thing I could possibly tweak is the set-up in the final - they only play as a team once in what could be a tie of five matches.
Perhaps kicking off the final with the pairs, they are all introduced together as a team and come on together so why not kick off a team event as a team.
Pairs play is just different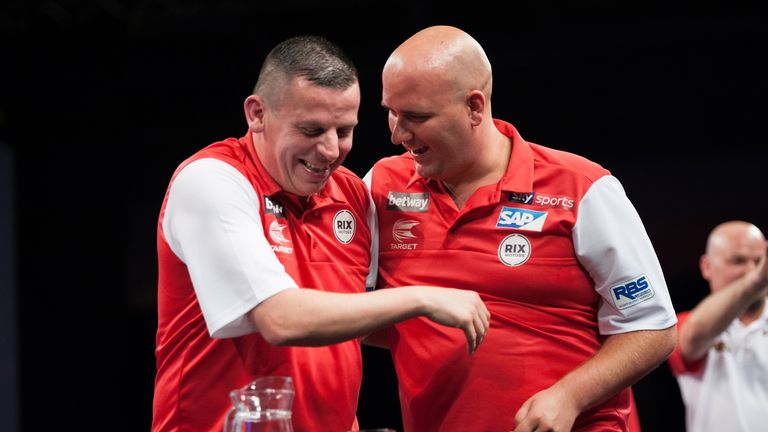 I had the pleasure of playing for England and in pairs there is just a lot going on - for one you have a team member and no other tournament in the year has that.
Instead of worrying about your game, you are worrying about your partner and if they are alright even when you might not be yourself.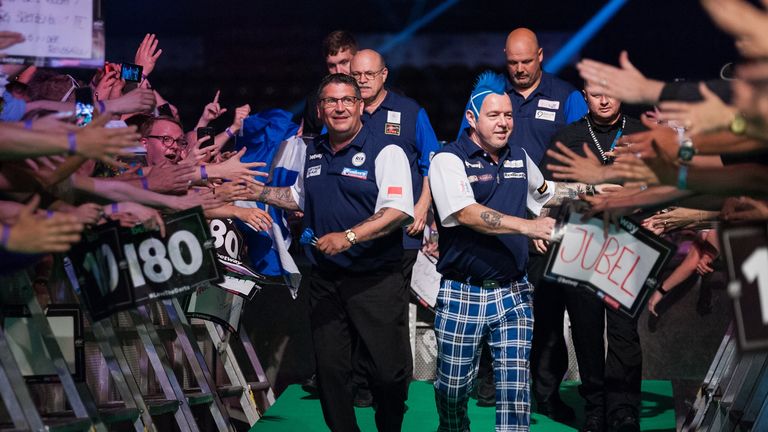 Gary Anderson said you have to play your own game and he is right - but it's sort of impossible!
Wayne Mardle
Even putting on a different darts shirt - it's not your darts shirt, you are putting on a shirt that means you are representing your country and the nation behind you, again it's just another dynamic going on.
All year you have a routine but now you think about things that are not normally there and that causes hesitation. And then there's the play, normally when you are going for a double and when you miss you are thinking 'give me another shot', but in a partnership, sometimes you apologise when you know you shouldn't.
Peter Wright's interview after the final blaming himself and vowing to put it right next time - he didn't do that in the Premier League final - it's very odd and you shouldn't overthink it but you just do.
Unstoppable Oranje
MvG and Barney have nailed it and I believe it's because they go out there and play their own game - they don't worry about it being a pairs event and there is not better pairing.
Michael did what Michael would do in any tournament - bullesye, 45, double 12 - he plays for the enjoyment and the mentality was I will win the point, it didn't matter that is was for the Netherlands and for Barney, it was for him and that produces freedom.
They don't tend to think too much about the other's throw in the pairs matches. Every now and again you have to think, you have to - for example in the final, Michael left 32 instead of 36 - that's just common sense in a pairs game.
I am sure they talk - Barney probably says 'you are the best player in the world, go and play' and then Michael says 'you are a five-time world champ you just play' - and why wouldn't you. They have got it nailed.
Dynamite Dimitri
Even though they lost in the semi-final, what a performance for Dimitri Van den Bergh. He has very quickly turned into a world class player - he just needs that same drive, enthusiasm, composure and passion away from the stage.
There are players who can play to a world class level but how often they do is not as often as they would like, but Dimitri has all the attributes of a world class darts player.
He talks and plays like a pro. He is consistent with his action, his cover darts, he is not panicking. He has the mind of someone more experienced than he is and as the World Youth champion he can do it under pressure - but if he can't do it on the floor he is not going to qualify for the big events.
He was within millimetres of beating Rob Cross at the Worlds, he reached a World Series final beating Gary Anderson and Michael van Gerwen in the same day and now at the World Cup he produced 12 perfect darts out of 14 to inspire the fightback against Ireland.
Wayne Mardle was talking to Sky Sports Paul Prenderville and darts is back on your screens on Sky Sports in July for the World Matchplay - nine days of tungsten from Blackpool get under way on Saturday, July 21 and will run through to the final on Sunday, July 29
Sky Sports will once again be the place to follow the 2019 World Darts Championship with all 16 days of action live from December 13 - January 1 and our social channels for more coverage than ever before
Stick with us for news, views and interviews and expert analysis. Get all the latest at www.skysports.com/darts and join in the conversation @SkySportsDarts- don't forget to use #LoveTheDarts