Sky Sports Darts presenter Dave Clark completes March For A Cure in aid of Parkinson's UK
Mum, Rod Studd and a generous cabby: Dave Clark has a few tales to tell about his marathon journey along God's Own Country
By Raz Mirza
Last Updated: 18/09/18 8:45am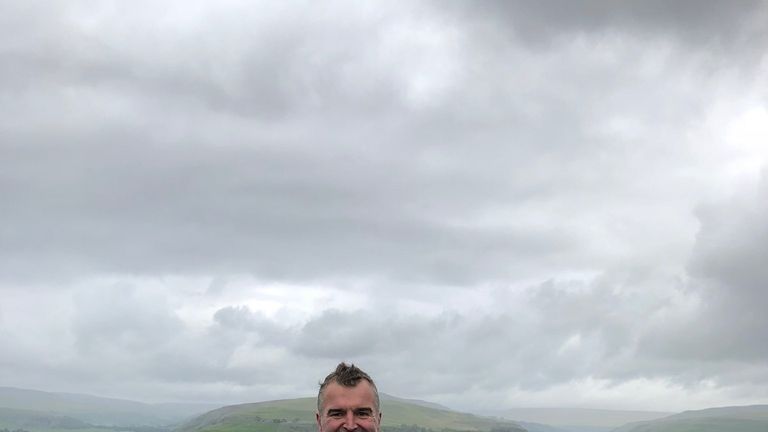 Sky Sports Darts presenter Dave Clark says it is time to put his feet up after trekking 85 miles along the Dales Way for March For A Cure in aid of Parkinson's UK.
Clark was diagnosed with the incurable disease in 2011 and he has been very public about his fight over the past seven years.
He completed the six-day walk which departed from The Old Bridge in Ilkley to Bowness-on-Windermere, raising funds and awareness for Parkinson's UK last week.
The achievement follows the 2016 Coast-To-Coast walk (200 miles) which Clark also completed, and has seen him joined by hundreds of people along the walk, including his mum.
"This walk along the Dales Way goes through my home town of Ilkley and through to the Lake District, so it actually goes past my mum's house. She came along for the first leg actually. She even had balloons outside her house," Clark told Sky Sports' Raz Mirza.
Dave Clark's March For A Cure
| | |
| --- | --- |
| Day One - Sunday September 9 | Depart from The Old Bridge in Ilkley at 10am to Burnsall: 13m/21km |
| Day Two - Monday September 10 | Walk to Hubberholme: 15m/24km |
| Day Three - Tuesday September 11 | Walk to Dent Head (Cowgill): 17m/27km |
| Day Four: Wednesday September 12 | Walk to Sedbergh: 9.5m/15km |
| Day Five: Thursday September 13 | Walk to Burneside/Overnight Kendal: 15.5m/25km |
| Day Six: Friday September 14 | Walk to Bowness-on-Windermere: 9.5m/15km |
Clark put in three monster walks over 15 miles, while day three to Dent Head was arguably the most daunting at 17 miles, but the Sky presenter was encouraged along the way by an army of followers.
"You had to dig deep on the longer walks and the weather wasn't too kind to us on one of them. It was raining quite heavily but the morale was good and over a hundred people joined me along the way. Darts fans and even my old Economics teacher joined me for the first leg, which was incredible," said Clark.
"Some brilliant people kept me going. When we were feeling low people stuck with me and walked with me which was amazing.
"My legs started to seize up after three or four days, but I was determined to do it. You could have hit me with a baseball bat and I wouldn't have given up. Being mentally strong helped me through."
For more information about Dave Clark's March For A Cure or to donate, please visit his JustGiving page.
For more information about Parkinson's UK, please visit the Parkinson's UK website or follow @ParkinsonsUK on Twitter.
Commentator Rod Studd joined Clark on the day Alastair Cook hit a century playing in his final Test match for England against India.
Clark said: "His wife had to help him to his car because his legs had froze, but he spent most of the day watching the cricket on his phone going over the mountain."
Clark had many stories to tell and a couple stood out for him, including one tale about the generosity of a local taxi driver.
"One lady came on the walk and was getting a cab back to her car after finishing the day. The cabby read about the story on Sky Sports and he donated her taxi fare which was really nice."
So what's next for Clarky? "Blimey, a rest. Then it's the Darts in Dublin, so I'll be doing a bit of walking in Ireland. But I'm hanging up my boots for a year or two now I think."
Clark will be co-hosting a comedy night with Natasha Kaplinsky for Parkinson's UK on Thursday, September 27 with Britain's favourite pub landlord, Al Murray among the acts at The Grand Connaught Rooms in London.
Head to www.parkinsons.org.uk for more information.
Darts is back on your Sky Sports screens in September with coverage of the World Grand Prix from Dublin where Daryl Gurney defends his maiden major title at the Citywest Hotel
Seven days of coverage gets underway on Sky Sports Arena from 7pm on Sunday, September 30 and you can follow the unique double-in double-out format right through to the final on Saturday, October 6.