Ricky Evans hoping to make his mark at the World Grand Prix
"It might just suit my game. It's a bit different and I am there on merit so maybe I am one to watch!"
Last Updated: 24/09/18 2:46pm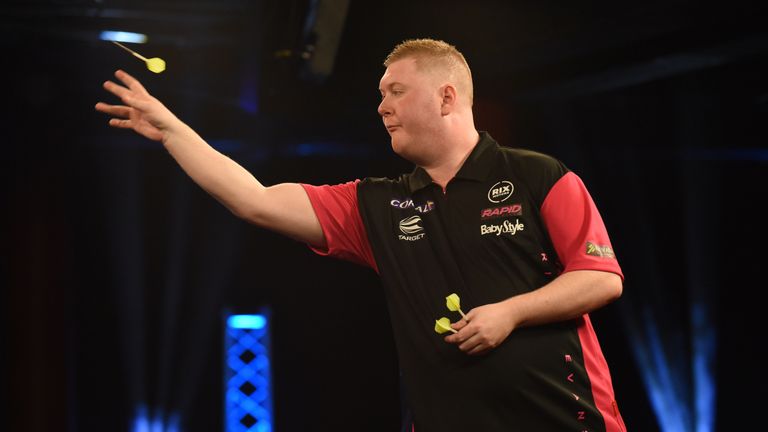 If you throw a 180 in 2.16 secs on the Alexandra Palace stage you are going viral; a walk-on to the tune of the 'Baby Shark' may also cause something of a stir but a maiden European Tour final earlier this year ahead of a World Grand Prix debut suggests there is more to 'Rapid' Ricky Evans than being a social media sensation
Evans is a man happy throwing darts - local league, PDC Tour and now, on a more regular basis the big TV events - that he throws them quicker than anyone else on the circuit is just the way he is.
"It's what I am though, maybe not as fast as when I was a 15-year-old but I'm the fastest on tour by a mile," he tells Sky Sports with a smile.
"The Grand Prix is a tournament I have always wanted to be in as well - that double-to-start, I can't wait to get going.
"It changes the dynamic but I love local league darts and I've played in leagues that start with double-in so I have the experience, not on stage and in front of thousands of people but I think it will help."
WORLD GRAND PRIX - RESULTS, DRAW & SCHEDULE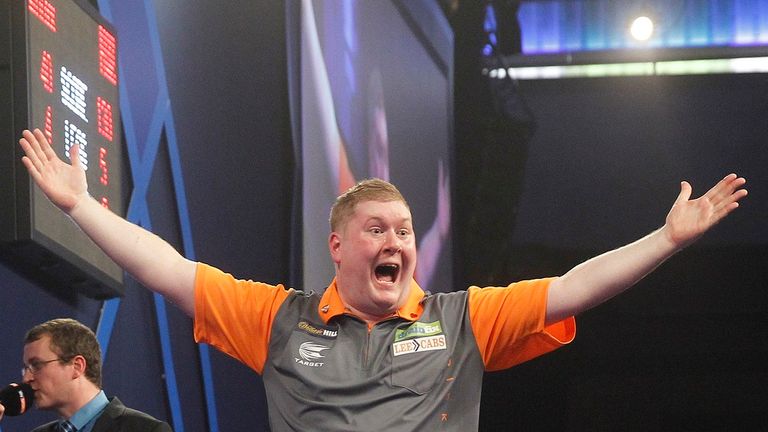 I am a great example of the tour - I think I have beaten everybody but I have also lost to everybody - we are all capable but the difference for the big boys in their consistency.
Ricky Evans
The 28-year-old from Kettering is one of hundreds of players battling to make their mark on the PDC Tour and a world away from the glitz and glamour of the televised events, Evans has been doing just that culminating in a first European Tour final in Holland.
'Rapid' Ricky was eventually beaten in the Dutch Darts Championship by Ian White but he insists the signs had been there.
"I was the kind of guy who gets beat in round one on day one, maybe get to the last 16 the next but this year it's been last 16 and quarters," he said.
"It's not winning but it is getting closer and closer and on the European Tour I had qualified for a lot more than in previous years.
Been a crazy few days, just wanna say thank you for all your tweets & nice messages. Back playing local league tonight so no rest for the wicked. Huge thanks as ever to the amazing @Nevada_Sports, if it wasn't for them I'd be a steady pub player. Love them too bits xx

— Ricky Evans (@goodevans180) September 11, 2018
"Even before the weekend, I was feeling good about my season and then in Maastricht, it was my fifth, sixth Euro event and I went all the way.
"To qualify was an achievement as I survived a match dart to get beat in qualifying - but I got my luck, I got there but in the end the better player won. I was happy to be there but Ian beat me well."
Evans will now turn his attention to the World Grand Prix in Dublin for the first time, a tournament unique to many of the professionals as it requires the now infamous double-to-start that has accounted for many.
But for someone like Evans, whose battle is often before the big boys enter, the pressure is actually off now the news he is in has been confirmed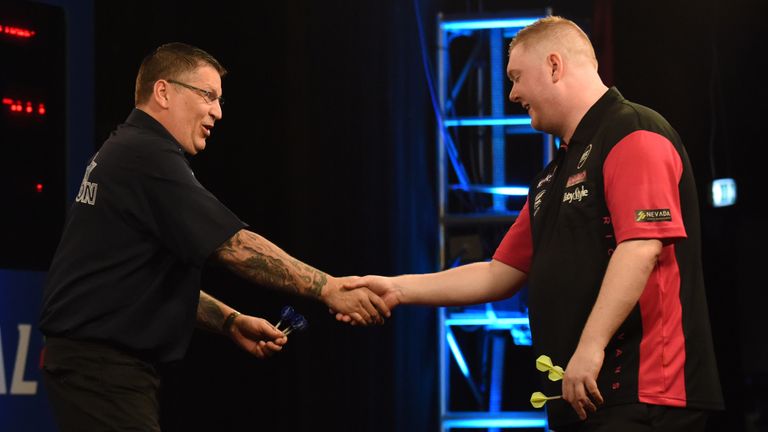 He said: "I am always relaxed when I know I am in a TV event - the news about the UK Open and Minehead helped, and I've kind of known for a while I should be in Ally Pally which helps.
"The Grand Prix, the European finals it will make four TV tournaments and for someone like me that is massive - I've been close and now my darts have clicked and hopefully I am set up for a bit of a run."
That seems an optimum time to talk about pace, something which Ricky is known for: "A lot of the pundits say I am a bit too fast but when it's good and it's flowing it is brilliant to watch, even the bad scores can look good!
"I am trying to work on it a little bit, just to slow down a little bit and crucial points of the game - maybe to step back, to think about things rather than just get rid of them."
Evans made his mark to the wider audience with that quickfire 180 at the 2016 World Championships but even then there was more to him that trigger-happy tungsten.
He had come through the preliminary round to beat Simon Whitlock from 2-0 down in sets and 2-0 in legs. He then pushed Michael Smith all the way in the second round before bowing out.
For a lot of players enjoying the big stage is great but getting there is still one of the sport's toughest challenges.
Smith is a good comparison for how long it can take to have an impact - Bully Boy beat Evans in the 2013 World Youth Championship but it has not all been plain sailing.
Smith has made huge strides over the last 12-18 months and Evans admits his own gradual step up this year on the PDC's well-worn European and Pro Tour circuits have helped him get more used to the big stage.
"I am a good floor player but I need to get that onto the stage and there is no better way than in the European Tour event," he adds.
Lost in the semi finals of Cambs open today to 12 years old Leighton Bennett, brilliant player!!! Gonna be a huge name in darts no doubt

— Ricky Evans (@goodevans180) August 19, 2018
"The Tours are just a great way to develop but in particular the Euro Tour where the crowds are so fantastic and so respectful.
"They love their darts and they may only get to go along once a month, everyone flocks to see us but more than anything it's the whole stage experience which is so important.
"With the European Tour events you are having to qualify so starting to deal with that extra pressure a bit earlier has really helped.
"There's no huge difference you know everyone is going to be good. The money is kind of there as well and maybe to the viewers, it is a tournament that has a bit more importance."
Losing to 12-year-old sensation Leighton Bennett in the Cambridgeshire Open just a few weeks before his run to the Dutch final underlines the strength in depth of the sport at the moment, but also Evans' happiness in just playing his darts at any level.
With bigger crowds and bigger audiences perhaps comes bigger pressure but the affable Evans seems to take everything in his stride - including the bizarre 'Baby Shark' walk-on that accompanied his run to the final last month.
"The Dutch fans were great but the walk on…..I didn't even want it to start with but it stuck and now it's 'Baby Shark
"That's me that is, that's my walk-on - it is the most annoying good song I have heard in my life - and maybe it will stick."
Whether it sticks with the Citywest crowd remains to be seen but for Evans it's all about grounding.
He has played the PDC Tour well since picking up his Tour card via Q-School in 2013 and this year has seen him step up on the European Tour too. This weekend he will make a Grand Prix debut.
"It might just suit my game," he said. "It's a bit different and that's what we want - who knows what can happen. I'm out to play to the best of my ability and go for it, and not make a fool of myself, walk-on included.
"I am there on merit so maybe I am one to watch!"
The Grand Prix can be a quickfire tournament that accounts for the big names - Evans is quicker than anyone else and with a first round tie against Raymond van Barneveld - it might just suit his game, as he says himself.
World Grand Prix - Draw
Top Half
Michael van Gerwen (1) v Steve Lennon
Darren Webster v Stephen Bunting
Dave Chisnall (8) v Max Hopp
Ricky Evans v Raymond van Barneveld
Daryl Gurney (5) v John Henderson
Ron Meulenkamp v Joe Cullen
Gary Anderson (4) v Jonny Clayton
Jeffrey de Zwaan v Kim Huybrechts
Bottom Half
Peter Wright (2) v Steve West
Jermaine Wattimena v Mervyn King
Simon Whitlock (7) v James Wilson
Michael Smith v Adrian Lewis
Mensur Suljovic (6) v James Wade
Josh Payne v Ian White
Rob Cross (3) v Steve Beaton
Danny Noppert v Gerwyn Price
Ricky Evans was talking to Sky Sports' Paul Prenderville at the 2019 Target Darts launch. Seven days of coverage from the Citywest Hotel gets underway on Sky Sports Arena from 7pm on Sunday, September 30
You can follow the unique double-in double-out format right through to the final on Saturday, October 6 and join in the conversation and go behind the scenes with us @SkySportsDarts