Corey Cadby talks Premier League Darts, trophies and a year away from the PDC
Premier League Darts continues on Sky Sports Action and Main Event from Belfast's SSE Arena on Thursday from 7pm
Last Updated: 06/04/19 5:15pm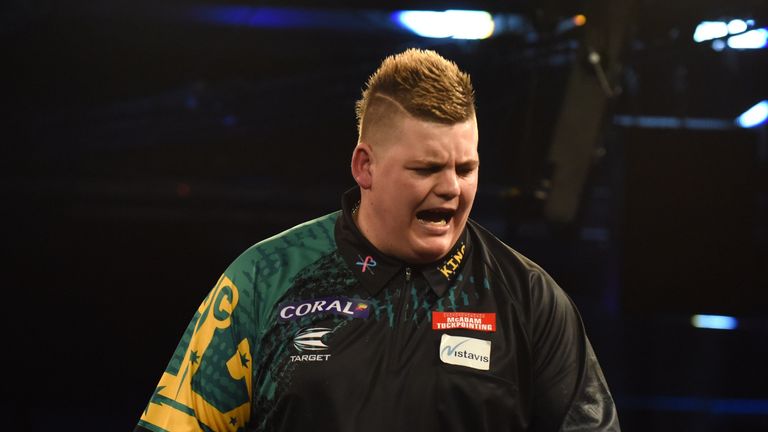 When Sky Sports and the PDC announced their contenders to replace Gary Anderson in the Premier League this year, perhaps the man most equipped to make the step up was missing. Corey Cadby tells Paul Prenderville he will be there next year.
"I would have been in it… and I would have loved it," Cadby tells Sky Sports when asked if he has been watching the Premier League.
"The big stage is the main stage - it's like showing the bosses what you're capable of, at work."
DOWNLOAD THE LATEST EPISODE OF THE DARTS SHOW PODCAST
It is probably not a coincidence that it's said while PDC chief executive Matt Porter is within earshot and smiling. He knows how good Cadby can be, so does Sky Sports expert Wayne Mardle.
"We know he can do it," Mardle says. "And he's got the ability to play under pressure. But when you're not competing against the very best for some time, it can make you nervous and you have to find your feet again.
I am just hoping he doesn't take that long to find his feet because he's already been there and done it once."
The second phase of the Premier League gets underway in Belfast on Thursday, fittingly the same week that Cadby, perhaps the contender most equipped to have provided a win, returns to the tour.
For now, it won't be the bright lights and the big arenas of the Premier League, where the eight remaining players battle for a place at Finals Night in London's Docklands and the iconic O2. Instead for Cadby, it will be Barnsley and the European Tour qualifying events and a return to the Pro Tour.
It might be the regulation Players Championship events and the grind of the regular darts season, but it's where Cadby will make his name and more importantly his money over the coming weeks and months as he strives to get back where he was 12 months ago.
"I'm very hungry to go out and sacrifice things to get to where I know I can be. It will happen very quickly.
"I know that I've still got extra gears. But there is a difference between knowing, and actually performing. That will come out. I know I can be 10 times better, and more consistent.
"Darts is an easy sport but a lot of people find it very difficult. The amount of money up for grabs is beyond a joke for a simple pub sport!"
This interview was supposed to take place last year but visa issues meant it's been an almost wasted year for the brash-but-likeable Aussie who didn't take long to cause a stir, beating Phil Taylor in the World Series in Perth in 2016 just a week after losing to 'The Power' on his televised debut.
One year on, he reached the Auckland Masters final, beating Taylor again while also dispatching Peter Wright and Michael Smith en route to a final defeat against Kyle Anderson.
In 2018, having made a spectacular start to life as a professional and already the 2016 World Youth Champion, he secured a Tour Card on day one at Q-School where former world No 1 Colin Lloyd was also battling it out and says "He played some quality, quality darts".
A few weeks later, he was winning a UK Open qualifier and then in March last year, he battled through the biggest field in darts to reach his first major final where he lost to Gary Anderson in Minehead.
It's here the Cadby story reaches an abrupt halt, well-documented visa issues put a promising career on halt for a year. There were moments where it looked like he would be back, but they fell away and Cadby admits there were some low moments.
"It's been very frustrating, not knowing where your life will go," he says with a rueful look.
"You try to set your life up, big dreams. Obviously, that has all been on pause. I had a lot of different thoughts go through my mind.
"Luckily people stood by me, and I'm still here. I've had more dark times than good times. What can I really say? I'm still here.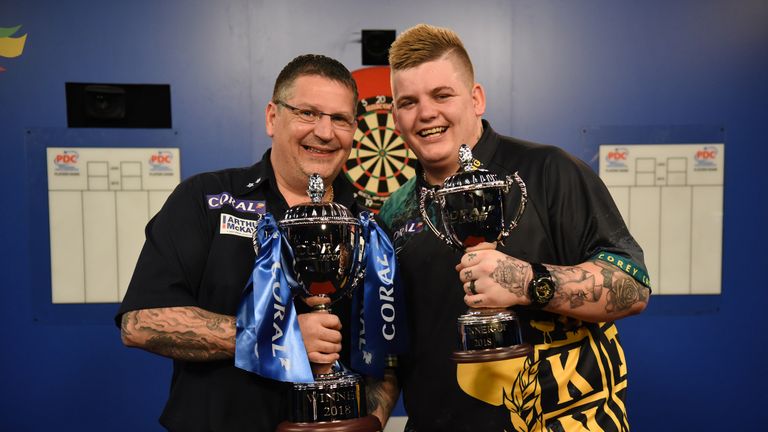 "I had depression at not being able to support the family. Back home, the male is the main supplier for the house. I felt guilty, you go from having everything to having [nothing]."
After his early 2018 success, he was confined to playing darts in Australia for the rest of the year and this was the first setback on a meteoric rise through the darting ranks.
"I'm hoping that he hasn't regressed in the time he hasn't been competing with the best, which is quite possible. Because in the time you're not playing them, you're playing sub-standard players," Mardle says.
"He needs to feel that pressure again and deal with it. I'm sure he will because he's a brilliant player."
It was a sharp fall for the talented, turbulent Aussie - nicknamed the King. Everything had been on an upward curve since he was introduced to the game by the sportsman who inspired him most, his father.
"My dad was a good player in Australia but there were politics, and he never got to where he could go," Cadby says.
"I threw darts from the age of five but my dad wouldn't let me play until I was 16, and could actually count. He did that for the best, I was never actually that good - I was decent in Tasmania but the standard wasn't quality.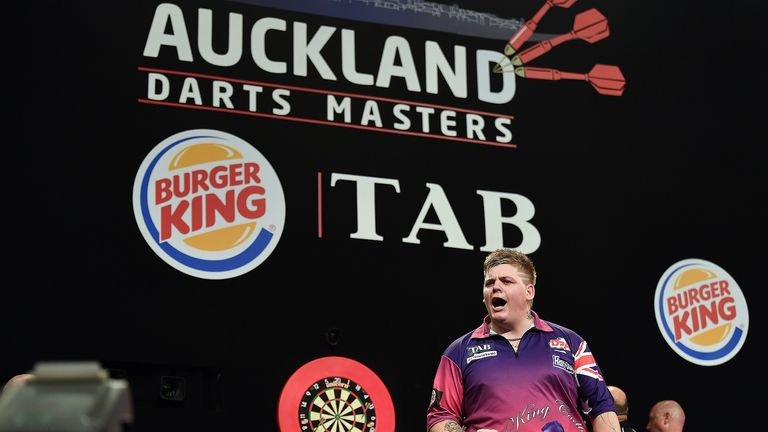 "This year I want to be in the top 32. That's my minimum. Eventually I want to be world No 1 but we'll get to that point eventually."
Cadby on his aims for 2019
"Then I moved to the mainland, I put a practice board up. I haven't looked back."
Cadby is now a father himself, and still just 24, he has plenty of time on his side. But the ultimate goal for all darts players is the Worlds and Alexandra Palace. Lifting the trophy is on his list of targets, but the first one is being back there after a record-breaking debut in December 2016.
"To be world champion, of course, that's why you dedicate yourself, to show how good you are," said Cadby who set the record average for the preliminary round (102.48) before giving Joe Cullen a scare.
"I want to be there again. I don't know how to describe it in words, how good it is to walk onto the stage in the Worlds. It's something you can't describe - you need to actually be there to do it, to know the feeling. It's intense.
"This year I want to be in the top 32. That's my minimum. I want to be world No 1 but we'll get to that point eventually. Top 32 is my aim - I can see myself going further but, for now, I'll say top 32.
A whistle-stop tour of media duty at the home of his manufacturers Target Darts shows Cadby as a man at ease in the spotlight. He has a story to tell too and you suspect much of it will continue to come out in the following weeks and months.
For now, as he plays with a deck of King Cadby cards that are waiting to be signed, he leaves us with this response: "Where will I be in 12 months time? Counting the trophies mate."
The Premier League continues as we head to the SSE Arena in Belfast on Thursday, April 4. You can also stay up-to-date with all the action by following us @SkySportsDarts and get all the latest news, previews and interviews www.skysports.com/darts