Michael Van Gerwen 'proud' after picking up Players Championship 2 title
Michael Van Gerwen was celebrating his sixth ranking title of the year after claiming the Players Championship 2.
Last Updated: 06/05/13 5:17am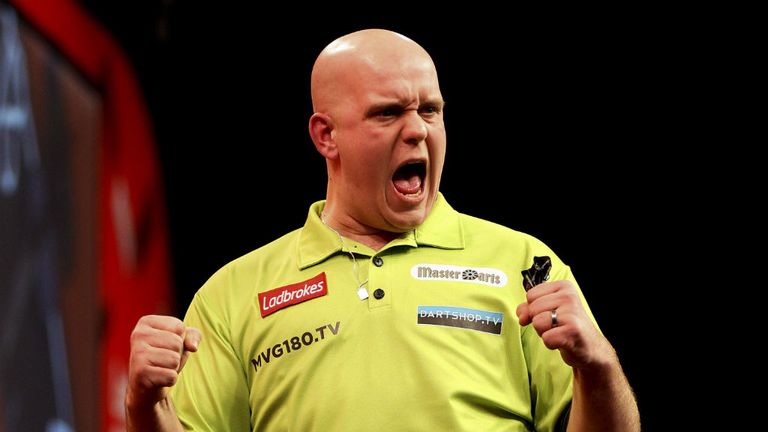 Van Gerwen beat Shaun Griffiths (6-4), Vincent van der Voort (6-1), Colin Lloyd (6-1), Peter Wright (6-5) and Dennis Smith (6-4) en route to the final showdown with Kellett at the Robin Park Tennis Centre in Wigan.
Van Gerwen and Kellett had shared the opening two legs before the Dutchman moved through the gears - with 11 and 12 dart finishes helping him into a 4-1 lead.
Kellett missed the chance pull a leg back as he missed a bull finish and Van Gerwen made him pay a double 10 and then an 87 checkout for a second 11-darter wrapped up the title.
"It was a very good day and I'm really happy with the win," said Van Gerwen.
"I played very well, especially in the final, and I can be proud of my game at the moment.
"I also had a good game against Peter Wright where I was 5-3 down and came back to win the game, so when you do that you know you're in form. I want to win a couple more of these events too this year."
Results in full
First Round: Michael van Gerwen (1) Bye
Shaun Griffiths 6-3 Denis Ovens
Vincent van der Voort (32) 6-2 Dave Honey
Darren Johnson 6-2 Richie Howson
Colin Lloyd (16) 6-0 Keegan Brown
Connie Finnan 6-3 Ken MacNeil
Gary Anderson (17) 6-2 Steve Hine
Darren Webster 6-5 Colin Fowler
Ian White (8) 6-1 Steve West
Andy Jenkins 6-2 Jerry Hendriks
Arron Monk (25) 6-3 Terry Temple
Matthew Dicken 6-3 Mark Jones
Peter Wright (9) 6-5 Michael Smith
James Hubbard 6-1 Tony Littleton
Richie Burnett (24) 6-3 Mark Dudbridge
Johnny Haines 6-5 Andrew Gilding
Dennis Smith 6-3 John Part (5)
Kevin McDine 6-5 Jyhan Artut
Kevin Painter (28) 6-3 Lee Palfreyman
Andy Pearce 6-5 Magnus Caris
Paul Nicholson (12) 6-1 Kentaro Suzuki
Ted Hankey 6-3 John Henderson
James Wade (21) 6-2 Joey Palfreyman
Peter Hudson 6-1 Steve McNally
Kim Huybrechts (4) 6-4 Michael Mansell
Jarkko Komula 6-3 Co Stompe
Colin Osborne (29) 6-5 Mark Hylton
Veijo Viinikka 6-5 Chris Aubrey
Matthew Edgar 6-2 Mervyn King (13)
James Richardson 6-3 Martyn Turner
Scott Rand 6-4 Brendan Dolan (20)
David Pallett 6-1 Nick Fullwell
Dave Chisnall (2) Bye
Darron Brown 6-4 Matt Clark
Steve Beaton (31) 6-3 William O'Connor
Darren Whittingham 6-2 Steve Grubb
Justin Pipe (15) 6-5 Josh Payne
Ryan Harrington 6-4 Kurt Van De Rijck
Ronny Huybrechts 6-5 Terry Jenkins (18)
Jamie Robinson 6-3 Alex Roy
Adrian Lewis (7) 6-0 Marc Dewsbury
Mark Cox 6-2 John Bowles
Mark Walsh (26) 6-3 Tomas Seyler
Kevin Dowling 6-5 Paul Amos
Phil Taylor (10) 6-3 Gaz Cousins
Reece Robinson 6-1 Steve Brown
Mark Webster (23) 6-1 Jelle Klaasen
Ricky Evans 6-0 Stephen Hardy
Raymond van Barneveld (6) 6-3 Roland Scholten
Campbell Jackson 6-4 Ross Smith
Jamie Caven (27) 6-5 Ryan De Vreede
Prakash Jiwa 6-2 Charl Pietersen
Ronnie Baxter (11) 6-1 Jim Walker
Michael Barnard 6-4 Dan Russell
Andy Smith (22) 6-5 Alan Tabern
Antonio Alcinas 6-4 Mark Frost
Robert Thornton (3) 6-2 Jani Haavisto
Adam Hunt 6-2 Paul Barham
Wayne Jones (30) 6-2 Adrian Gray
Joe Cullen 6-5 Dean Winstanley
Andy Hamilton (14) 6-1 John Scott
Daryl Gurney 6-3 Bernd Roith
Stuart Kellett (19) 6-0 Joe Murnan
Jamie Lewis 6-4 Nigel Heydon
Second Round: Michael van Gerwen 6-4 Shaun Griffiths
Vincent van der Voort 6-3 Darren Johnson
Colin Lloyd 6-4 Connie Finnan
Darren Webster 6-5 Gary Anderson
Ian White 6-0 Andy Jenkins
Arron Monk 6-3 Matthew Dicken
Peter Wright 6-3 James Hubbard
Johnny Haines 6-2 Richie Burnett
Dennis Smith 6-5 Kevin McDine
Andy Pearce 6-3 Kevin Painter
Ted Hankey 6-5 Paul Nicholson
James Wade 6-4 Peter Hudson
Kim Huybrechts 6-4 Jarkko Komula
Colin Osborne 6-3 Veijo Viinikka
Matthew Edgar 6-5 James Richardson
Scott Rand 6-1 David Pallett
Dave Chisnall 6-2 Darron Brown
Steve Beaton 6-1 Darren Whittingham
Justin Pipe 6-2 Ryan Harrington
Ronny Huybrechts 6-2 Jamie Robinson
Adrian Lewis 6-2 Mark Cox
Mark Walsh 6-4 Kevin Dowling
Phil Taylor 6-5 Reece Robinson
Ricky Evans 6-4 Mark Webster
Raymond van Barneveld 6-2 Campbell Jackson
Jamie Caven 6-1 Prakash Jiwa
Ronnie Baxter 6-1 Michael Barnard
Andy Smith 6-5 Antonio Alcinas
Robert Thornton 6-4 Adam Hunt
Wayne Jones 6-4 Joe Cullen
Andy Hamilton 6-5 Daryl Gurney
Stuart Kellett 6-3 Jamie Lewis
Third Round: Michael van Gerwen 6-1 Vincent van der Voort
Colin Lloyd 6-3 Darren Webster
Ian White 6-4 Arron Monk
Peter Wright 6-1 Johnny Haines
Dennis Smith 6-4 Andy Pearce
Ted Hankey 6-1 James Wade
Colin Osborne 6-5 Kim Huybrechts
Scott Rand 6-2 Matthew Edgar
Dave Chisnall 6-3 Steve Beaton
Ronny Huybrechts 6-4 Justin Pipe
Mark Walsh 6-5 Adrian Lewis
Phil Taylor 6-5 Ricky Evans
Jamie Caven 6-5 Raymond van Barneveld
Ronnie Baxter 6-4 Andy Smith
Wayne Jones 6-5 Robert Thornton
Stuart Kellett 6-4 Andy Hamilton
Fourth Round: Michael van Gerwen 6-1 Colin Lloyd
Peter Wright 6-4 Ian White
Dennis Smith 6-5 Ted Hankey
Colin Osborne 6-1 Scott Rand
Dave Chisnall 6-1 Ronny Huybrechts
Phil Taylor 6-4 Mark Walsh
Ronnie Baxter 6-5 Jamie Caven
Stuart Kellett 6-3 Wayne Jones
Quarter-finals: Michael van Gerwen 6-5 Peter Wright
Dennis Smith 6-4 Colin Osborne
Phil Taylor 6-4 Dave Chisnall
Stuart Kellett 6-2 Ronnie Baxter
Semi-finals: Michael van Gerwen 6-4 Dennis Smith
Stuart Kellett 6-4 Phil Taylor
Final: Michael van Gerwen 6-1 Stuart Kellett