German ace Tomas Seyler was joined by three new PDC Tour Card Holders
German ace Tomas Seyler was joined by three new PDC Tour Card Holders in winning through on day two of PDC qualifying.
Last Updated: 16/01/14 9:39pm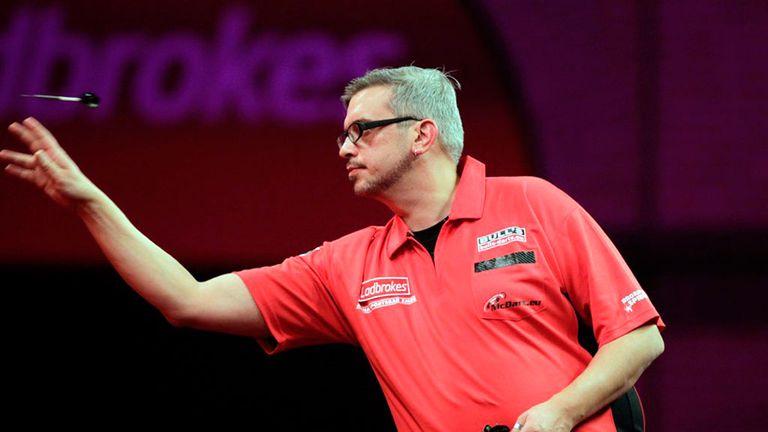 Andy Parsons, Gerwyn Price and Dave Bird were the trio of rookies to secure places on the professional circuit for the first time.
Seyler, a 39-year-old from Bremen, previously held a PDC Tour Card in 2011 and recently made his fourth World Championship appearance when he lost out to Kevin Painter at Alexandra Palace.
Nicknamed "Shorty", Seyler was on top form as he won through the 329-player field of the PDC's qualifying school to win back his Tour Card, meaning that he joins fellow German Andree Welge - who won a Tour Card last year - in returning to full-time status on the PDC ProTour.
Seyler enjoyed whitewash wins in three of his first four games, seeing off Michael Wilson, Sion Thomas and Luke Kennedy without dropping a leg, while he followed up a 5-2 victory against William O'Connor with a win by the same scoreline against Jim Walker to reach the last eight.
There, he saw off newcomer Ross Twell 5-1 to win his Tour Card before pledging to remain in Wigan to support German duo Max Hopp and Bernd Roith over the final two days of qualifyingl.
"I'm delighted," said Seyler. "There was a lot of pressure on myself and the other players who had been in the World Championship a few weeks ago but were now in qualifying school, so I'm very pleased to be back on the full tour again.
"I'm looking forward to having a big year and I'll really go for it. It's hard to put into words how relieved I am - in German the word is 'affengeil' (wicked).
"I'll be supporting the other German guys in the next couple of days and it's great for German darts to have two of us, so far, on the PDC Tour full-time, and hopefully we can get a few more players.
"With having big tournaments like the European Championship and European Tour events in Germany, it's an exciting time for darts in our country and to have more players with Tour Cards can only help the game grow and increase the interest in Germany."
Parsons hit a nine-darter during last year's qualifying school and, although he failed to win a Tour Card 12 months ago, he went on to qualify for one European Tour event and for last June's UK Open televised finals.
The 32-year-old from Bristol whitewashed both Peter Lock and experienced Alex Roy in the early rounds and also saw off Jamie Landon, David Dodds, Jeff Batham and Prakash Jiwa before taking a 5-3 win over Stuart White to seal his Tour Card.
Welshman Price, 38, will compete at a professional level in a third sport after the newcomer won his Tour Card with a 5-3 victory over youngster Rowby-John Rodriguez in their decider.
He opened the day with a narrow 5-4 win over Doug Thompson, before seeing off John Trembeth, Jay Foreman, Robbie Parker and Jason Hogg with some impressive displays.
A rugby union hooker with Neath, Glasgow Warriors and, most recently, Cross Keys, he also played for the South Wales Scorpions rugby league side last year and was encouraged to travel to Q School by Welsh star Barrie Bates after he had defeated the former UK Open finalist in a local event last year.
Cheshire-based window cleaner Dave Bird was the day's other automatic Tour Card winner, as he washed away the hopes of several more established names to secure his place on the PDC circuit.
Bird, 34, from Winsford, began the day with a win over two-time major quarter-finalist Mark Hylton, and also saw off Andrew Johnson and Kevin Voornhout before enjoying a 5-1 win over Coventry's Steve Hine, another former UK Open quarter-finalist.
He then went on to defeat Ian McFarlane without dropping a leg and saw off Brian Woods 5-3 in his decider in his second day of professional competition.