PDC Qualifying School: Cards for Steve West, Nigel Heydon, Joe Murnan and Jason Hogg
Steve West, Nigel Heydon, Joe Murnan and Jason Hogg claimed PDC Tour Cards on the final day of Qualifying School.
Last Updated: 18/01/14 9:11pm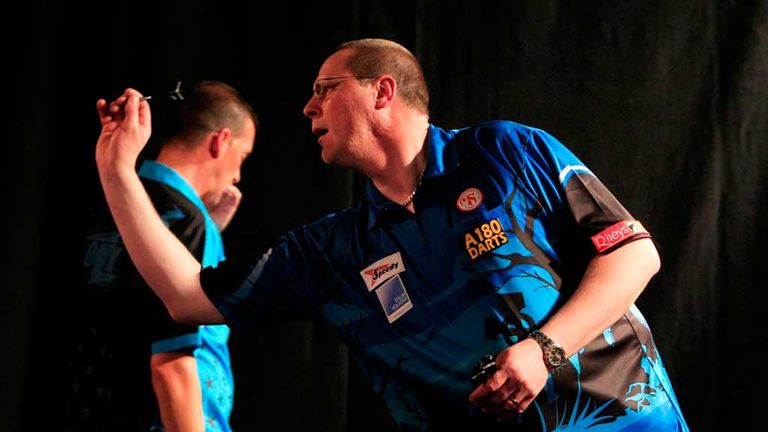 The quartet all already have at least one year's experience on the PDC circuit, with both West and Heydon overcoming medical issues to win back their professional status.
West had major hip surgery in October 2012 before returning to the circuit last February and had been facing the prospect of dropping down to play on the PDC Unicorn Challenge Tour after he had been defeated in the first round on the previous three days in Wigan.
However, the 38-year-old from Waltham Abbey regained the form which had taken him to the last 16 of the 2013 UK Open as he swept through the field on Saturday to regain his Tour Card.
He defeated Sandy Stephen, Jack Hill, Mike Norton, Robert Turner and Vernon Sheppard 5-2 to set up a decider with Holland's Mareno Michels, which he won 5-3.
Leamington Spa's Heydon has had to adapt his throwing style after his previous position, which saw him leaning heavily forward, had led to back problems.
Progression
The 43-year-old saw off Roy Lowe, Dave Honey, Alan Derrett, Brett Claydon and Ryan Palmer for the loss of only five legs in four games, before another 5-0 win, against Stuart Anderson, sealed his progression.
Bolton's Murnan also secured his third year as a Tour Card professional as he defeated Austria's Zoran Lerchbacher 5-1 in their decider.
Hogg from Aberdeen overcame Michael Barnard 5-3 in the last 16 before a 5-2 win over Mick Todd secured an automatic Tour Card.
The four automatic qualifiers will be joined on the circuit by 24 players from the Q School Order of Merit, which is based on ranking points won by other players across the four days, with the standings headed by experienced Brian Woods but also containing several new faces.
Lerchbacher, who made his World Championship debut last month, finished tied in second place with Mick Todd, Pete Dyos and the Isle of Wight's Keegan Brown.
Oxfordshire pair Stuart White and Ian Moss - who also qualified for the World Championship last month - were further Tour Card winners, along with Somerset's Steve Grubb, former Lakeside champion Christian Kist and Austrian teenager Rowby-John Rodriguez.
Other Tour Card winners from the rankings were Derbyshire's Scottish-born Jim Walker, Scunthorpe's Dave Ladley, Holland's Mareno Michels, Scottish pair Mark Barilli and Jamie Bain, Romford's Michael Barnard, County Durham's David Dodds, Coventry's Steve Hine, York's Terry Temple, Sleaford duo Ross Twell and Stuart Anderson, Gillingham's Conan Whitehead, Swindon's Mark Cox and Irish ace William O'Connor.