Belgian brothers Kim and Ronny Huybrechts celebrated wildly after they defeated Australia to reach the semi-finals of the World Cup of Darts.
Simon Whitlock took the opening singles encounter for the Aussies with a 4-2 win over Ronny, but his younger sibling Kim levelled the match after a 4-3 win over Paul Nicholson, setting up a deciding doubles clash.
With both sets of players becoming increasingly passionate, the tension nearly boiled over as the Belgian duo pumped up the Frankfurt crowd after securing a thrilling victory, and a clash against England.
Nicholson appeared to be angered by Kim's celebratory gestures, but the pair quickly patched up their differences away from the oche.
Huybrechts later tweeted a picture of himself sat next to Nicholson with an accompanying message which read: "So much respect for you mate, let the haters hate!"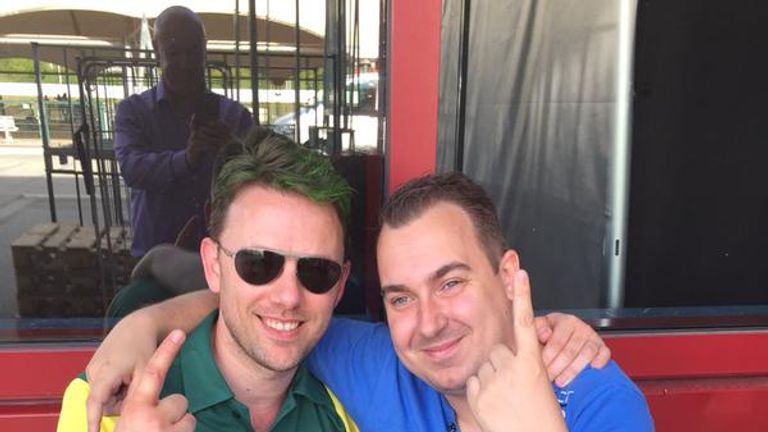 The Newcastle-based Aussie gave an emotional statement on social media, suggesting that he had let down his country, but played down his fired-up antics in Germany.
He tweeted: "Today, I let my country down, I let @SWhitlock180 down, and I let myself down. I gave everything I had, and it wasn't enough.
"Pure adrenalin, grit and an extraordinary atmosphere made for a one off match today with #TeamAustralia v #teambelgium. What a QF!!
"I appreciate people's opinion about today's on stage conduct. It made for a very edgy game. Both teams contributed to something amazing.
"If anything, darts won today. It showed me what a fantastic animal it can be in a pressure atmosphere."
Click on the video to watch the conclusion to a memorable quarter-final at the World Cup of Darts.