Scouse of fun
The tone deaf Sid Waddell explains how he tried to resurrect his pop singing career in Liverpool.
Last Updated: 29/04/12 3:26pm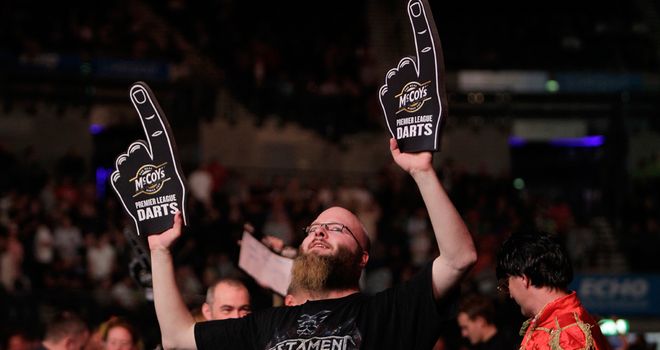 I may be 71 years old, but I've always wanted to be a pop singer.
It doesn't help that I'm asthmatic and totally tone deaf. In fact, when I was at school I was once sent to the headmaster's study for deliberately singing Christmas carols out of tune.
It wasn't deliberate. I was just rubbish.
It's not genetic though. My grandmother, Mary Jane Quinn, was the lead singer in a local amateur opera and I used to want to follow her onto the stage.
In fact, when I was on the staff at Durham University in 1964, myself and a kid called Charles E Hall formed a group called The Gravyboatmen. We used to appear in local nightclubs in fishermen's smocks and sunglasses performing satirical songs about mods and rockers.
I was tone deaf, he only knew two chords on the guitar and we were once chased off the stage after two songs on a Saturday night in Middlesbrough. Yet somehow that didn't stop us appearing on national television (both BBC and ITV).
Yet I finally think I achieved my ambition in Liverpool this week. I was trying to cram in so many Beatles puns into the commentary that at one point I started singing: "Sgt Pepper's Never Lonely Darts Club Band!"
Well if you're going to try and resurrect a singing career, what better city to do it in?
Feeling the Power
I spent last week thinking up Beatles jokes, but the line that got the most reaction on Twitter came after a Phil Taylor shot, which prompted me to yelp: "He could land a Boeing 747 on a kayak".
He seemed to aim his dart at a lie with the deliberate intention of bouncing it exactly where it landed. Myself and Wayne Mardle agreed it was an amazing shot. I said Taylor is working to show that Copernicus and Galileo were right (at which point Mardle said the only Galileo he knew was a racehorse that had cost him a fortune...)
Our mood was pretty festive, but the same can't be said for James Wade. He lost a 7-4 lead to draw with Kevin Painter, but I think his reaction was a bit unprofessional. He had a bit of a paddy and I didn't think his temperament was right.
It's all a bit nip-and-tuck in the race for the top four, but if you're a professional darts player you need to keep your cool until you get off the stage.
Just champion
The moment of the night came from the world champion, who picked a dart off the floor and took out 170.
Adrian Lewis put two darts in the treble 20, then had to break his concentration when his dart fell on the floor, but was still able to complete a maximum checkout.
I always said Adie would be the star of the show in this year's Premier League. Keith Deller has improved his concentration, but he's still like Guy Fawkes sitting on the top of a bonfire with a pocketful of rockets: he knows the sparks are going to fly.
Bobby Charlton knew he could break the back of the net from 30 yards. Denis Law knew he could backheel it into the goal. Shane Warne knew he could spin out the best batsmen and Ian Botham could smack centuries for fun.
There are some sportsmen who walk out knowing they can do it. They don't know when and they don't know if they'll have to, but they have a box of tricks and they can use them. Lewis is like that - and the psychological effect some of his shots on his opponents is immeasurable.
I wouldn't have been surprised to see him walking across the Mersey on his way home last night.
No strings attached
Everyone seemed to have a good time and I always knew it was going to be a great night in Liverpool.
The taxi driver on the way to the venue informed me that he'd just had one of his best weekends ever because a million people had visited the city for a world puppet show.
From the way the crowd was dressed I reckon some of them hung around for the darts as well. John Gwynne reckoned they'd let some of the inmates out from Walton Jail when a gang dressed as prisoners appeared on screen!
I've always enjoyed Liverpool and I was asked about the difference between Scousers and Geordies. My view is that Scouse humour is a bit softer.
A Geordie will make you feel welcome with an insult ("nice suit, which Oxfam shop did you get it from?"), but with my accent a joke about someone you don't know what might come over badly, so I appreciate the softer edge to Liverpudlian humour.
I've always thought the two cities are fairly similar though and I'm looking forward to heading up to Newcastle for the darts in two weeks' time.
I wonder if Simon Cowell will have got in touch by then...?