Michael van Gerwen praised after World Matchplay triumph
Wayne Mardle says MVG 'was just too good' after retaining his title in style
Last Updated: 25/07/16 2:47pm
Phil Taylor's gamesmanship at 12-5 did little to rattle Michael van Gerwen, who proved he could not be intimidated by even the best players on planet darts, says Rod Harrington.
The brilliant Dutchman retained his World Matchplay title with a ruthless 18-10 defeat of Taylor at Blackpool's Winter Gardens on Sunday evening.
Having lost out to Taylor two years ago, he followed up his 2015 success against James Wade by defeating the 15-time world champion with a clinical display.
The defeat for Taylor was his first in a World Matchplay final, and not even his eccentric behaviour in the 18th leg could dampen a procession for the undisputed world No 1.
"He is an exceptional darts player," Harrington told Sky Sports. "He's got everything in his locker and for a young man he's an intelligent guy. He knows what he's got to do and he had a game plan to get out of the gate quickly and bully Phil Taylor, and that's exactly what he did.
"He knew that if he got in front of Taylor and make Taylor chase him, then Phil would go back to the first three games this week and not the game against Gary Anderson."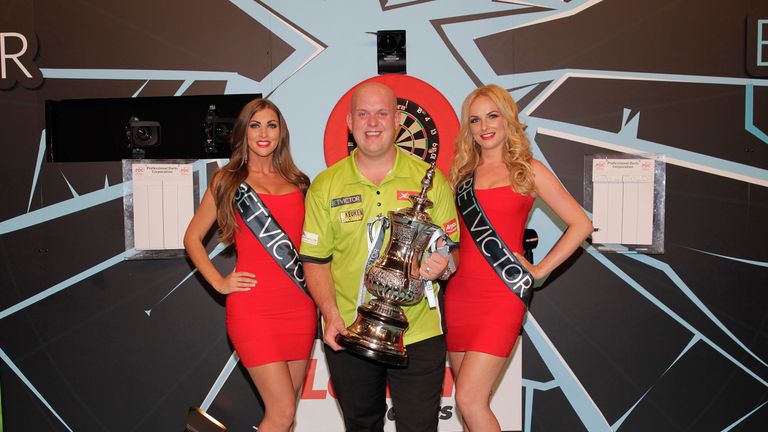 Wayne Mardle agreed with his fellow pundit and claimed Taylor was desperate to try anything to get back into a contest knowing all too well he was losing, but failed to rattle Van Gerwen's cage. 
"Taylor said him and the others are not good enough but if Phil believes he's got to do more and he's not good enough, he's lacking belief because he said it himself, that's a big thing," said Hawaii 501. "Is he just handing it over? Is it, 'maybe I'm not good enough anymore'?
"My opinion of the 18th leg was 'if I don't do something, I don't create something, then maybe I'm going to get beat 18-5'. Sometimes [Taylor] likes to intimidate another human being, whether it being the scoreline or just being confrontational, I just think he was looking for something.
"To be honest, the next three or four legs were the best three of four legs he had in the match but Michael was just too good. Whatever he tried, it didn't work and it was one of those things.
"I personally think that Phil Taylor lost a bit of belief early on. He was 3-2 down, didn't lose it then. Then he went 6-4 down and didn't lose it then. He lost it in the third session that he lost 5-0. That was the change in the game. Michael went from strength to strength.
"Michael and Gary Anderson are the two best players on the planet, but don't rule out Taylor. He averaged 101 and got beat. I just think he got beat and annihilated by the better player."
Harrington added: "In every single sport that's played at a professional level there's always a little bit of gamesmanship whether it be to speed someone up, slow them down, do this or do that. Sometimes you need to take your opponent off his rhythm. He thought that little bit of checking might upset Michael, but what you must not forget with Michael is that he's like a train, he does not stop.
"When you're in that mindset, you can't be intimidated. You actually laugh at it and it encourages you more, so it turns against the opponent trying it against you."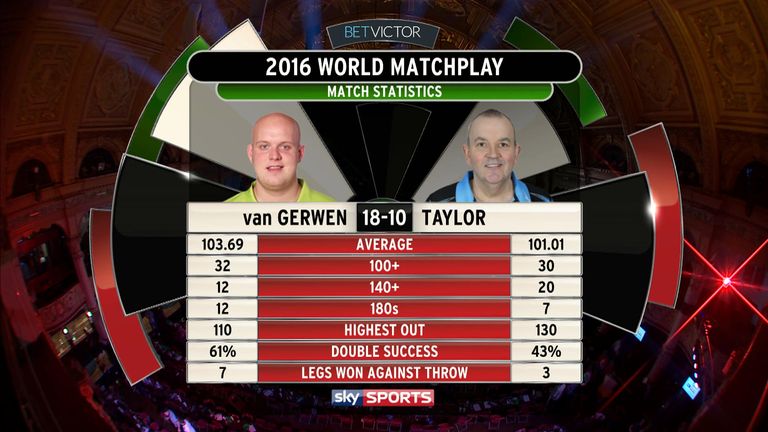 Check out daily Darts news on skysports.com/darts, our app for mobile devices and iPad and our Twitter account @skysportsdarts.
By purchasing a Sky Sports Day Pass for £6.99 or Sky Sports Week Pass for £10.99, you can enjoy access to all seven Sky Sports channels and watch on a TV with a NOW TV Box or on a range of devices.