Lewis Hamilton stronger than ever after 'massive low' in Barcelona
Hamilton on mental strength, why he's surprised to be back in the title race and his five-year plan with Mercedes in Formula 1
By Matt Morlidge
Last Updated: 15/07/16 1:38pm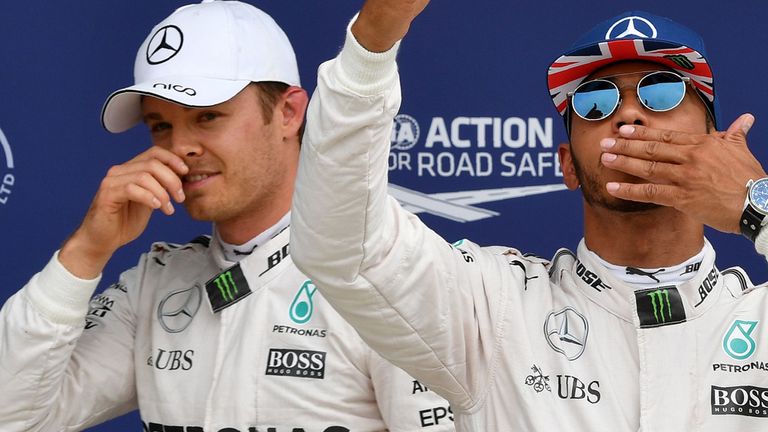 Lewis Hamilton says a fourth title "seemed impossible" after his crash with Nico Rosberg at the Spanish GP - and has vowed to keep the fallout from the incident a secret.
Hamilton was 43 points behind his Mercedes team-mate when the duo collided on the first lap in Barcelona and in a UBS Q&A session, which was streamed live on Facebook, the world champion has opened up on the mental affects it had on him.
He has now recovered to within one point of Rosberg at the halfway stage of the season after winning back-to-back grands prix, and admits he has changed immensely through his nine years in Formula 1.
"When I was younger, if I had a bad race I was so hard on myself," he said. "It was really negative. I remember some races I wouldn't leave my hotel room for three or four days, wouldn't speak to anyone, not being on my phone, I was just trying to get myself out of this dark place that I'd be in. 
"Somehow I'd pop out of it and turn it into positive. I think that's what you've got to try and do. You've got to look at the situation, even if its really negative, you've got to try and find the positives from it and leave the negatives behind. Try and learn from it. 
"I look at Barcelona for example this year. It was a massive low for me. There's things you won't know until I retire that I tell you that I experienced. I got up the next day and I went for a run, that's my process, through my run I'm thinking about lots of different things.
"It's crazy to think that the 43-point deficit I had at the time, which seemed impossible - I'm only human so those days I feel like it seemed impossible - you've just got to keep going, as painful as it can be, as hard as it can be.
Is Hamilton playing mind games?
"You might get over it quickly, it might take longer but you just have to keep going. It's not how you fall, it's how you get up from those experiences that you can become stronger. I feel I'm stronger right now than I was at the beginning. 
"I don't do everything perfect, I make mistakes. There's days when I thought, 'the worlds coming to an end, I'm never going to win this championship blah blah blah,' I have those same things we all have. Somehow I try to find the positives in it. 
"Look where I am now, I'm one point behind in the championship. I'm even surprised. I'm like, 'if I had given up at one point'… it just shows you to never ever ever give up no matter what."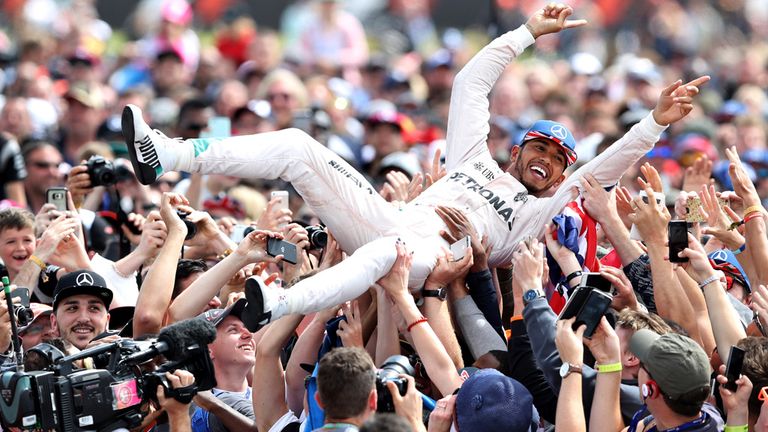 Hamilton is third on the list of total wins, and total poles in Formula 1, while he can become the first Brit to claim more than three championships this year.
But the 31-year-old says he is not motivated by any records and, despite the possibility of Ferrari making a move, he expects to see out another five years in the sport with Mercedes, with his current deal lasting until 2018.
"There isn't a final goal," he said. "People have been asking me, 'do you want to go for Michael [Schumacher]'s record?', for example. Honestly, I have zero desire in my heart to go for that. But if I happened to be fortunate enough get anywhere near there that would be amazing.
"I try and think to myself 'what's your five year plan?' and try to set out to do it. I've obviously signed for another three years with Mercedes - after that I see myself staying for another three or four years. While I'm 37 I'll still be relatively young so I want to be challenged by something else.
"I want to be as great as I can be but I don't believe being as great as I can be is defined by someone else's record. Even if I'm only here for another two years I'm going to give it everything I've got. Even if I was to stop now I'd think I've learned a lot, I've had an amazing journey.
"There's not one moment or one thing I would change because that's what got me where I am today regardless of whether you hit someone's records."
Watch the Hungarian GP live on Sky Sports F1. The race starts at 1pm on Sunday July 24, with build-up underway at 11:30am. Or watch the race without a contract for £6.99 on NOW TV.