Japanese GP: Inside a tense drivers' briefing as Lewis Hamilton, Romain Grosjean and Sebastian Vettel clash
A rare insight into what goes on behind the scenes...
Last Updated: 10/10/17 7:18am
Step inside an entertaining and often awkward drivers' briefing from the Japanese GP as Lewis Hamilton, Sebastian Vettel and Romain Grosjean bicker about steering wheels and seatbelts.
With all 20 F1 drivers sat in front of FIA race director Charlie Whiting following Suzuka's practice sessions on Friday, the video offers a rare insight into just what goes on behind the scenes.
In this instance, Whiting first addresses Vettel riding on the back of Pascal Wehrlein's Sauber after his in-lap crash at the previous Malaysia GP, advising him not to do again.
But Hamilton then brings up the fact his title rival took the steering wheel off his Ferrari in the process.
Hamilton sympathises with Vettel
'Ferrari running out of steam'
Ricciardo's fun with Lewis' phone
The focus then turns to Hamilton and his habit of taking his seatbelt off to wave to fans from his car after the race, with Romain Grosjean - one of three directors of the Grand Prix Drivers' Association - leading the questions.
What follows is a lively driver debate, with the tension clear between Hamilton and Vettel, while Felipe Massa also got involved...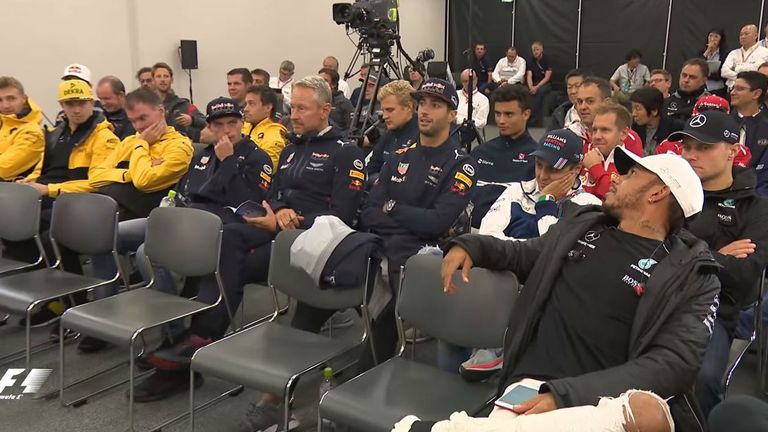 FULL TRANSCRIPT
Hamilton: "I heard that Sebastian didn't put his steering wheel back on."
Whiting: "Seb actually took his steering wheel with him. I think it was a reasonable common sense approach for us to take, not to do anything about that. A) the race had finished, and b) the car didn't need the steering wheel for the marshals to manoeuvre it. For me, under the circumstances, it was not worth reporting to the stewards."
Grosjean: "Charlie, after the chequered flag are you allowed to undo the belt?"
Whiting: "No."
Grosjean: "Alright."
Whiting: "Any further?"
Grosjean: "Well, Lewis has been doing it quite a lot."
Whiting: "You say undo, or loosen them? I think loosening them is reasonable, don't you? You said undo, I thought you meant take them off completely."
Grosjean: "I don't know if you can really undo them. I'm just asking because I think it's great for the fans but I just wanted to make sure…"
Whiting: "I think at the speeds Lewis was driving at, I would say that's a perfectly reasonable thing to allow you to do."
Grosjean: "So you can undo them?"
Whiting: "Loosen them I said, not undo them. There's a big difference."
Massa: "You cannot loosen them. It's very difficult to. You need to just take it off."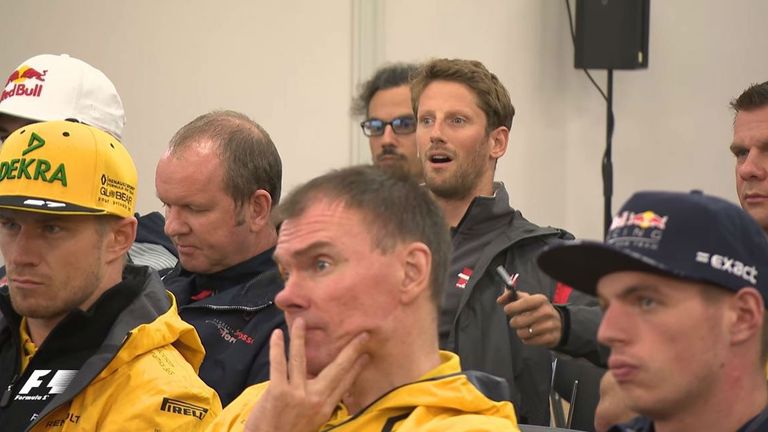 Whiting: "I was asked a question, can you undo them? And I said no you should not undo them but if you can loosen them off, I don't think there's a big issue with that. But you're saying you don't think you can anyway, the only option is to undo them?"
Massa: "Yes."
Whiting: "I don't think this has become a big issue, has it? Lewis, what do you do? Do you loosen them or do you undo them?"
Hamilton [laughing]: "Undo them. I don't do it very often but sometimes, Montreal I did and a few other races."
Whiting: "You may have started something here, Romain."
Grosjean: "I think it's great, it's great for the fans because they get to see a bit more of the drivers, I just wanted to get clarification."
Hamilton: "Why would you need clarification on it?"
Grosjean: "Because sometimes you don't put the steering wheel back on and you can get a fine and it doesn't make sense if the wheels are completely out of the car. I just wanted to know."
Hamilton: "... Interesting."
Whiting: "We can clarify that if you really think it's worth it."
Hamilton: "We're driving so slow but I mean, maybe Sebsatian should keep his on." [Cue laughter around the room]
Vettel [smiling]: "Steering wheel or belt? I'm confused now."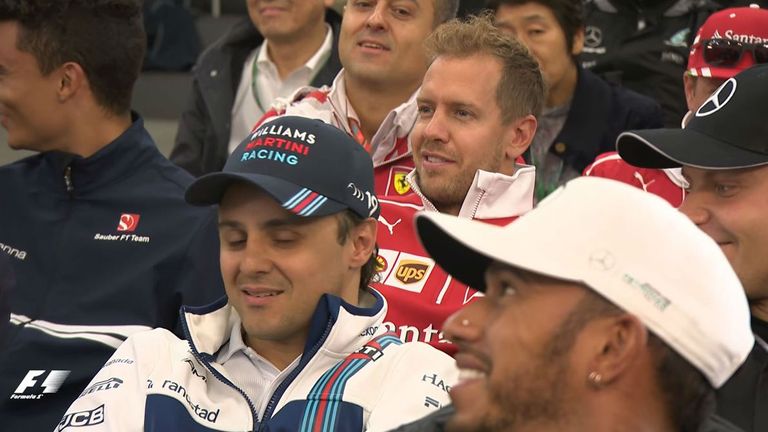 Whiting: "That is something we've seen happen, isn't it [Vettel's crash in Malaysia]? Needn't have of course but it did and something similar could happen."
Grosjean: "I don't want to start an argument or whatever, I just want to know what can we do, what can we not do, what are the rules? It's as simple as that."
Whiting: "I don't think you should undo the belts, I don't think that's a very good thing. I think we've seen what can happen on a slowing down lap. We've seen what can happen on a slowing down lap so I think it's bad practice. I imagined you had loosened off the belts but it appears not to be the case.
Hamilton: "I've only done it when I win to wave to fans."
Whiting: "I understand."
Hamilton: "But I do slow down massively."
If you are using skysports.com you can comment below to get involved in the debate, but please adhere to our House Rules. If you wish to report any comment, simply click on the down arrow next to the offending comment and click 'Report'.