The Formula 1 Gossip column
The latest gossip and speculation from around the sport
Last Updated: 18/03/19 4:40pm
Bottas explains '**** you' radio message
Valtteri Bottas has explained the colourful radio message he gave to his critics after winning Sunday's Australian GP.
Bottas, who dominated the opening race of the season, said "to whom it may concern, **** you," when speaking to his Mercedes team on his cool-down lap.
"It just came, I just wanted to send my best regards," Bottas explained to reporters.. "That's it. Honestly, I didn't think about it or plan it, it just came.
"Obviously there are many people who support you, and honestly I appreciate that a lot. There are always ups and downs, and you can really see the true support quite easily.
"And then through the difficult times there's the other part, which is a lot more negative. That's their weakness, so it's fine."
Ferrari told Leclerc not to attack Vettel
Ricciardo regrets home race preparation
A frustrated Daniel Ricciardo has expressed his frustration with his build-ip to his home race in Australia after losing his front-wing at the start and then retiring before the halfway stage.
"This week is so long and l never get a break here," Ricciardo told Sky F1. "We are too busy pleasing everyone else...
"We should be a top-eight car. Bahrain will be a lot easier. It will be like a holiday week and l can prepare properly. I don't feel my preparation was where it ought to be here because l was trying to please everyone."
Mercedes discover floor damage to Hamilton's car
'We have discovered damage to Lewis' floor in the area just in front of the left-rear tyre,' the team reported several hours after the chequered flag fell in Australia. 'There is a chunk of the floor missing, but we are not 100 per cent sure why yet.'
Hamilton already appeared to have his suspicions as the world champion was spotted checking his car immediately after the race: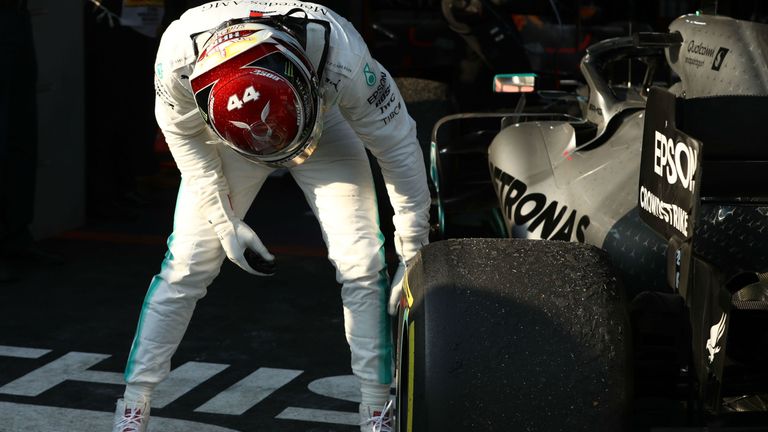 Red Bull backing for Gasly
Red Bull boss Christian Horner has given Pierre Gasly his full support despite the youngster's tough debut for the team in Australia.
Gasly exited qualifying at the first hurdle and then finished just of the points on race day.
"We've just got to give the kid some time," Horner told Sky F1. "I thought he drove a strong race today.
"It's still early days. He just needs a straightforward weekend and we know he has the pace."
Crunch 2021 rules meeting set
F1's powerbrokers will meet with teams on March 26 in London to present proposals concerning the sport's regulations and financial rules from 2021.
FIA president Jean Todt has confirmed that the "global plans" for the sport's next rules era - including technical rules, cost controls and engines - will be revealed to both the F1 Strategy Group and wider F1 Commission ahead of the Bahrain GP.
The current Concorde Agreement, which governs the sport, runs out at the end of 2020 and nine of the grid's 10 teams are currently only contracted until the end of next season.
Mercedes boss Toto Wolff said: "I feel there is some momentum in the process and we are all keen on understanding how 2021 looks. Mercedes certainly is interested in having a cost cap implemented at the right levels so it makes sense for everybody and get the big teams on board in a way that is implementable and the small teams to at least cap us and make sure that we're not running away with even higher costs.
"The regulations are another building block to get over the line…what I'm hearing is making me optimistic."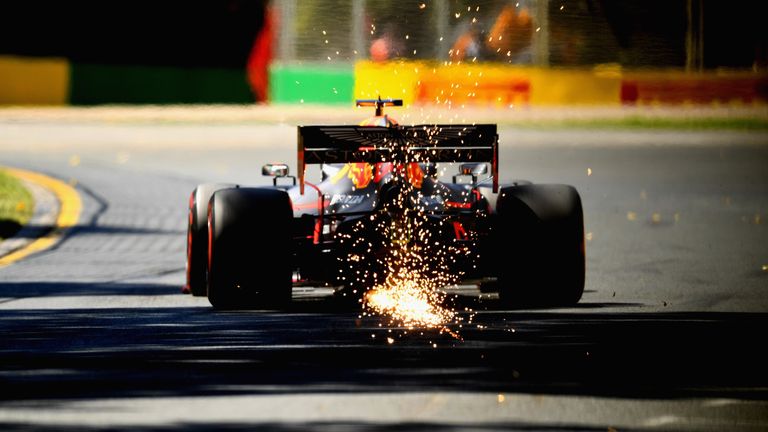 Honda make 'huge' gains
That's the verdict of Mercedes after seeing the new Red Bull-Honda car feature prominently in the Australian GP speed traps.
"The Honda has certainly made a huge step forward," said Toto Wolff. "If you look at the speed trace it looks a different Red Bull than before. They are very fast on the straights and that's good to see. We want them in the mix and we want to have a great fight. "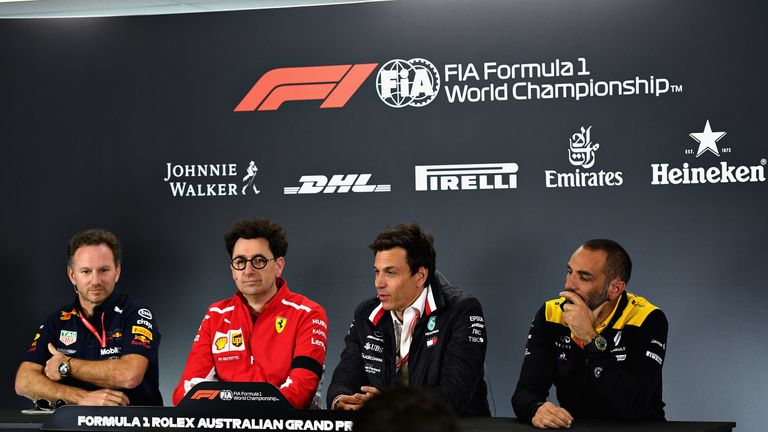 Horner and Wolff hit out against Brexit process
The bosses of the Red Bull and Mercedes F1 teams have expressed their exasperation and concern at the confusion surrounding Brexit.
"It's slightly embarrassing from outside looking in at the way that politicians are acting within this whole process," said Christian Horner.
"Nobody's quite sure what the votes are for. We don't know whether we're delaying, we don't know whether we're staying, we don't know where we're going so if somebody could explain to me what actually Brexit did mean that would be quite helpful because at the moment there's an awful lot of confusion over it."
And Toto Wolff added: "I found it really tragic but that tragic has somehow changed to really good entertainment. It's better than the Netflix thing, actually. Every evening I watched BBC.com and what they showed from the House of Commons and you're not quite sure whether it's Monty Python or whether it's really happening."
What's it like to be Lewis Hamilton's boss?
Tough! Especially with all those away-from the track activities Lewis likes to indulge in...
"I'm always worried, and we had a laugh last year because I couldn't get hold of him and couldn't get hold of my chief strategist and one of the race engineers - and found out they were racing motorbikes in Jerez and nobody would pick up the phone," says Mercedes chief Toto Wolff. "And then they were a bit apologetic. But Lewis is not an 18 or 19 year old young man any more. He's a five-time World Champion. He knows exactly what works for him and what doesn't."
Renault fear Toro Rosso "problem"
Renault boss Cyril Abiteboul has questioned how Toro Rosso have made such good progress with their 2019 car despite losing technical director James Key.
Abiteboul, speaking to Sky Sports F1, says the sport has a B-team "problem".
"Just look at Toro Rosso, who in my opinion are likely to be the team to beat as far as we're concerned for the start of the season given where we are," said Abiteboul of the Red Bull junior outfit.
"Toro Rosso had no technical director for most of last season. It's very clear what went on. So we don't even need a technical director to produce what is a very competitive car. For us that's a problem."
What difference will fastest lap point make?
F1's late rule change for the 2019 season means an extra point will be awarded to the driver who sets the fastest race lap (provided they also finish in the top 10). So what impact might it have?
Valtteri Bottas, who clocked the most fastest laps last season, said: "Last year it would have been nice to have it! We'd have got quite a few extra points and enough for third in the championship. But once you know the rule it can create some differences in terms of how the race would normally go.
"If you do have a free pit stop at the end of the race you might go for it and do a so-called 'risky' lap. But if you're fighting for the win of the race or a podium then that might be a second-hand thing to really focus on. One more thing to make it a bit more interesting."
Ferrari's Charles Leclerc added: "I can remember one championship with one point difference, so it's always important. At the end the main goal will be the same, to finish as high as possible, then if we can get the bonus point for the fastest lap it's good to take it."
Sky Sports F1 is the home of live and exclusive F1 - and new and existing customers in the UK can now get the channel for just £10 extra a month, our best-ever offer. Find out more here to watch the 2019 season live