Chinese GP: Lewis Hamilton wins again ahead of Rosberg and Vettel
Hamilton returns Mercedes to winning ways as they match Ferrari's strategy; Rosberg angry with Hamilton and accuses team-mate of compromising his race; Vettel holds off Raikkonen for third
By James Galloway
Last Updated: 15/10/15 12:29pm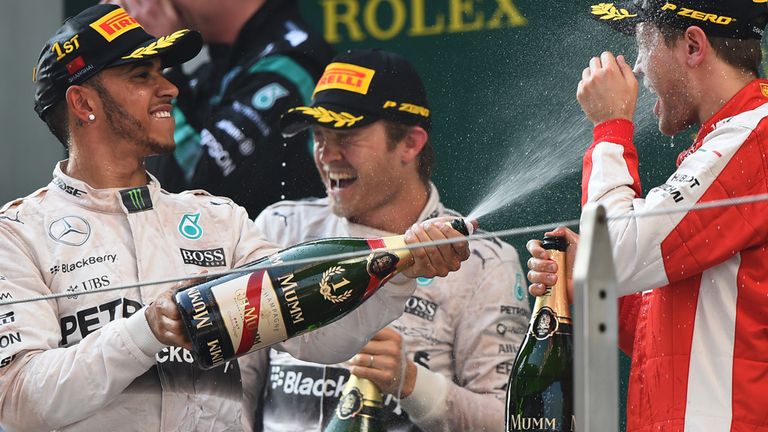 Lewis Hamilton produced a textbook performance to quell the dual challenge from a frustrated Nico Rosberg and Ferrari's Sebastian Vettel and claim his second win from three races in 2015 at the Chinese GP.
A fortnight after Mercedes were stunned by victorious Ferrari at Sepang, the world champions were back on their 'A' game as they matched the Scuderia's tyre strategy in surprisingly warm conditions in Shanghai to claim yet another one-two finish.
And it was Hamilton, having pipped Rosberg to pole in qualifying, who led from the front from the start as the world champion showed both the outright pace and tyre management required to deliver yet another defeat of his increasingly frustrated team-mate, who afterwards reopened their simmering feud from 2014 by claiming the Briton had compromised his race.
In a heated post-race press conference after Rosberg finished a disappointed second, the German said: "It's interesting to hear from you Lewis that you were just thinking about yourself with the pace. Unnecessarily that was compromising my race, because driving slower than was maybe necessary at the beginning of stints meant that Sebastian was very close to me and that opened up the opportunity for Sebastian to try that early pit stop, to try and jump me.
"I was unnecessarily close to Sebastian as a result and it cost me race time as a result."
Hamilton ultimately eked out a reasonably comfortable advantage to claim a record-extending fourth Chinese win but for the first two stints on the soft tyre the race had looked like it could go one of three ways as Rosberg kept the lead Mercedes honest and Vettel stayed within four seconds of both W06s.
The pre-race theory had been that only Ferrari might be able to run the less durable soft rubber for the second stint, but Mercedes successfully followed suit when Vettel attempted the undercut and pitted first.
With the Mercedes and Ferraris remaining on the same tyre, the battle remained tight into the middle stint and Rosberg, having slipped over 3.4s behind at the stops, actually closed back in on Hamilton to the point where, unusually, he had to ask the pitwall to get the man he wanted to beat to speed up.
With Rosberg fearing he was being pushed back into the looming clutches of Vettel, Mercedes responded by seemingly giving Hamilton a veiled threat to up his pace or risk losing his pit stop priority over the sister Mercedes: "Lewis, minimum target lap time 43.3, otherwise we may have to stop Nico first," his race engineer warned.
But while Mercedes did indeed stop the second W06 first to counter Ferrari's latest attempt at an undercut with Vettel, Hamilton showed he had more than sufficient speed in hand by producing two fastest laps on the spin to ensure his advantage would not be troubled once he made his own final stop two laps later.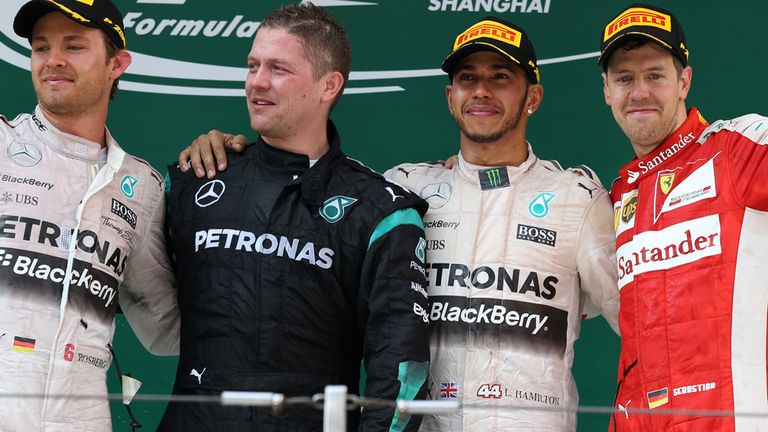 Once on the medium tyres, both Mercedes drivers comfortably pulled away from Vettel – who fell back into the clutches of team-mate Kimi Raikkonen, who had run a longer middle stint on the soft tyres.
The Finn, who had made up for his disappointing qualifying by passing both Williams' on the first lap, got back to within 1.6s of Vettel but was denied the chance of a late attack on the sister car when the Safety Car was called with three laps to go when Max Verstappen's Toro Rosso ground to a halt in a cloud of engine smoke on the main straight.
With the reminder of the race effectively neutralised, Hamilton was able to cruise over the line for a 35th victory in F1 which increases his championship advantage over Vettel to 13 points. Rosberg, meanwhile, remains third with his deficit now 17 points ahead of next week's quick turnaround to Bahrain, the scene of the Silver Arrows' almighty duel last season.
"Today was that effect of getting the car where I wanted it and it was really just about controlling the gap between myself and Nico and saving tyres for when I needed to use them," a delighted Hamilton said.
"I had life left in my tyres at the end so I was looking forward to eking out the gap, but obviously the Safety Car came out at the end."
Naturally, the Safety Car meant the finishing cars largely crossed the line nose to tail, although this was flattering for fifth and sixth-place finishers Williams who again failed to challenge the leading two teams.
Unlike in Malaysia, it was Felipe Massa who finished as the lead FW37, the Brazilian initially falling behind Valtteri Bottas at the start only for the Finn to slip back behind again when he lost momentum while being passed by the fast-starting Raikkonen.
Behind the top six there was plenty of exciting wheel-to-wheel racing across the 56 laps, with teenage superstar Verstappen proving to be at the heart of the best of it.
While Toro Rosso disappointed in qualifying, Verstappen was on the march in race conditions and produced superb late-braking moves on first Marcus Ericsson and then Felipe Nasr to put himself on course for a points position before the heartbreak of his late engine failure.
Indeed, it proved another depressing afternoon for the two Red Bull teams and their engine supplier Renault as an engine fault also sidelined Daniil Kvyat's RB11. Daniel Ricciardo did at least finish in the sister car but only ninth after plummeting down the order at the lights when his machine went into anti-stall.
With Sauber pair Nasr and Ericsson taking eighth and 10th respectively, Lotus finally opened their 2015 points account as Romain Grosjean drove a solid, if relatively lonely race, to seventh.
Team-mate Pastor Maldonado had been on course to finish ahead of the Frenchman but his race unravelled spectacularly when he ran wide in the pitlane entry, losing bucket loads of time. A lurid spin on his return to the track and then, amid a battle into the first corner, a collision with Jenson Button prompted his third straight DNF of 2015.
Chinese GP result - 56 laps
1. Lewis Hamilton, Mercedes, 1hr39m42:008s
2. Nico Rosberg, Mercedes, +0.7
3. Sebastian Vettel, Ferrari, +2.9
4. Kimi Raikkonen, Ferrari, +3.8
5. Felipe Massa, Williams, +8.5
6. Valtteri Bottas, Williams, +9.8
7. Romain Grosjean, Lotus, +19.0
8. Felipe Nasr, Sauber, +22.60
9. Daniel Ricciardo, Red Bull, +32.0
10. Marcus Ericsson, Sauber, +1 lap
11. Sergio Perez, Force India, +1 lap
12. Fernando Alonso, McLaren, +1 lap
13. Carlos Sainz, Toro Rosso, +1 lap
14. Jenson Button, McLaren, +1 lap
15. Will Stevens, Manor, +2 laps
16. Roberto Merhi, Manor, +2 laps
17. Max Verstappen, Toro Rosso, +4 laps
DNF Pastor Maldonado, Lotus
DNF Daniil Kvyat, Red Bull
DNF Nico Hulkenberg, Force India