Nico Rosberg accuses Lewis Hamilton of slowing him down
Rosberg hits out at Hamilton in post-race press conference after Lewis claims victory in Shanghai
By Pete Gill and Mike Wise in Shanghai
Last Updated: 13/04/15 9:18am
Nico Rosberg has reignited his feud with Lewis Hamilton by accusing his Mercedes team-mate of slowing him down during the Chinese GP.
Rosberg trailed Hamilton throughout the race but believed his second place was jeopardised before the second round of pit stops when Ferrari's Sebastian Vettel began to close in on his Mercedes W06.
Despite crossing the line behind Hamilton to secure a one-two for Mercedes, an angry Rosberg hit out out at Hamilton in an extraordinary post-race press conference. 
With Hamilton sitting alongside him, Rosberg accused Hamilton of "unnecessarily compromising my race" by "driving slower than was necessary".
Asked to respond by Sky Sports' Rachel Brookes, Hamilton replied: "It's not my job to look after Nico's race. My job is to manage the car and bring the car home as fast as possible and that's what I did. I didn't do anything intentionally to slow the cars up."
Rosberg was described as 'absolutely fuming' during the media briefing by Sky Sports F1's Ted Kravitz as the German reopened the war of words that boiled just below the surface, and occasionally spectacularly ignited, during the 2014 campaign.
Speaking later to Sky Sports F1, a bemused Hamilton retorted: "I'm not really quite sure how I compromised his race, he was 4.4 or 4.5 seconds behind, so he was never close. Therefore I was having no impact on his race whatsoever.
"If he wanted to get closer and he was right up my tail and I was going the pace I was going then perhaps they could say something. But he wasn't, I was on my own so if they wanted to pit him early or before me they could have done that as I had life in my tyres to keep going."
After successfully maintaining his tyres as Mercedes ran the sort of stint lengths expected from Ferrari, Hamilton was able to increase his lead over Rosberg to almost five seconds - a burst that effectively wrapped up victory for the world champion.
"It wasn't a problem as I was really happy with what I did with my team," said Hamilton. "I was supposed to go to lap 11 or 12 and I went to 14 at the first and then eked out more in the second. So there should be no problems in the team as we got a one-two. I am actually really excited to see what the meeting will be like when we go back."
Told of Hamilton's remarks by Sky Sports' Craig Slater, Rosberg refused to accept his team-mate's explanation.
Asked if he felt that Hamilton had slowed him down, Rosberg declared: "I didn't feel, it was a fact and my race was compromised. It was a scenario we went through in detail before the race - that for the individual in front to have the best possible race for himself was to back the guy in second into Sebastian Vettel.
"That was the best race for the guy in front, but not good for the team as it puts the guy in second into an unnecessary risky position. Did Lewis do it on purpose or not? I don't know. He said in the press conference that he was just thinking about himself. That is an interesting indication, an interesting statement.
"That is it and I am frustrated as a result and my race was compromised. In the end, my final stint was too long because I had to cover Sebastian because he had to attack me with an early pit-stop and my tyres died at the end of the race."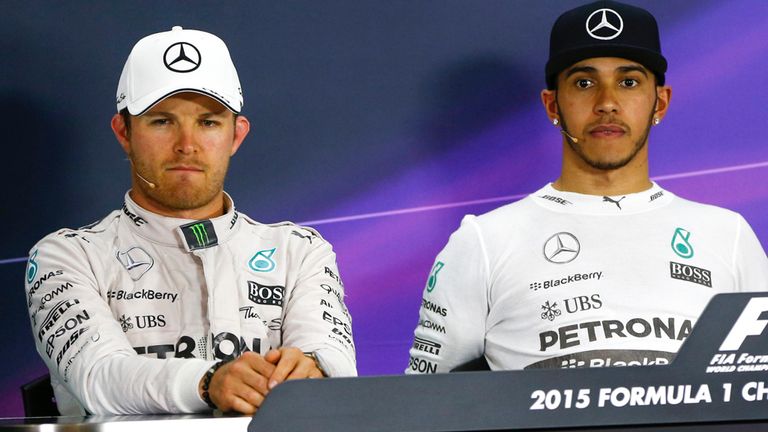 The press conference spat in full:
Lewis Hamilton: "I wasn't controlling his race, I was controlling my own race. A great race, though, I'm really happy. Definitely going into the race I thought it would be a lot closer. We knew that the Ferraris were very good with their long-run pace and also looking after their tyres, so today the real goal was to manage the tyres.
"As I said, my goal was to look after my own car. I had no real threat from Nico through the whole race."
Nico Rosberg: "It's interesting to hear from you Lewis that you were just thinking about yourself with the pace. Unnecessarily that was compromising my race, because driving slower than was maybe necessary at the beginning of stints meant that Sebastian was very close to me and that opened up the opportunity for Sebastian to try that early pit-stop, to try and jump me.
"I was unnecessarily close to Sebastian as a result and it cost me race time as a result."
Asked to respond, Lewis Hamilton replied: "Not really. It's not my job to look after Nico's race. My job is to manage the car and bring the car home as fast as possible and that's what I did. I didn't do anything intentionally to slow any of cars up. If Nico wanted to get by he could have tried, but he didn't."