Renault admit all four cars they power are at risk of retirement
French firm unable to implement fix for issue which ended Verstappen's Chinese GP
By William Esler
Last Updated: 21/04/15 11:59am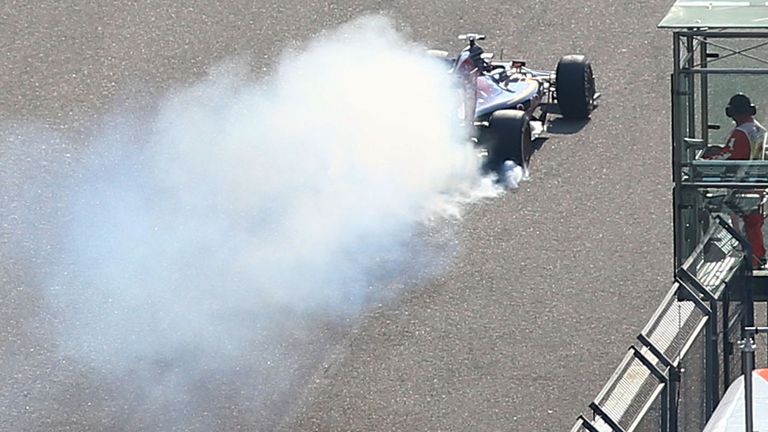 Renault admit both Red Bulls and both Toro Rossos are at risk of suffering the same failure that ended Max Verstappen's Chinese GP this weekend in Bahrain.
Verstappen's car ground to a halt on the pit-straight late in the race in Shanghai and, despite Renault sending staff from France to Bahrain to perform a forensic examination of the unit, have been unable to come up with a solution.
Renault's chief technical officer Rob White admits that issue will put all four cars at risk of retiring in Bahrain. However, he says the French firm have put a fix in place for the internal combustion engine issue which ended Daniil Kvyat's race.
"The situation is that we understand what happened to the two engines that failed during the race," he said in the FIA press conference.
"The incident which happened to Kvyat was an incident that we knew about and were aware of the vulnerability for and for which we believe we have a good counter measure. We don't expect to be vulnerable to that going forward.
"Unfortunately the failure that ended Max's race was not of that type, we were not expecting such a thing at such a low mileage and so it was a real shame to end the race for him in that way. The time is such that the best we have for this weekend is engines of a similar spec that we will have to look after during the Friday, Saturday and Sunday running. But we are vulnerable to that failure still.
"So looking forward, the task back at the factory is to create a solution for that for the races ahead. We are not out of the woods yet on that one."
White has blamed a late change of specification for Renault's 2015 power unit as the main cause of their woes this season, but says they are fixing the issues one by one before a major performance upgrade later in the season.
"It is true to say we are paying the price for a late change of tact, a late arrival of the spec for the start of the season," he added.
"We must keep our head down and deliver the solutions to the problems we encountered early on, but a lot of the direct consequence is because of the lateness of the arrival of the spec. But we are still on track with delivering solutions to the earlier problems. In Australia all the talk was about drivability and we have eliminated that from our vocabulary and now we are hoping to be in a proper situation for Monaco.
"We have performance improvements in the pipeline for later in the season and the game now is to fold into the plan of the consequences of the failures which put a lot of pressure on the supply chain."