Lewis Hamilton v Nico Rosberg: A subtle difference in driving style as well as set-up
Sky Sports F1's Mark Hughes examines the difference in driving style and set-up between the two title protagonists - and explains why Lewis Hamilton has tended to use less fuel than Nico Rosberg in 2014
Last Updated: 26/11/14 1:37pm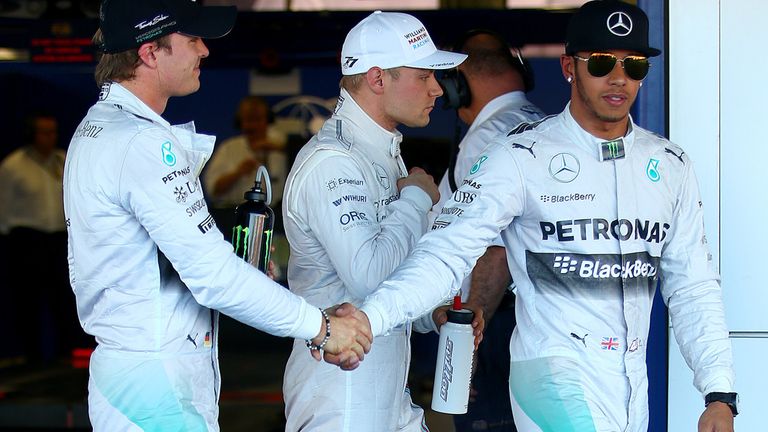 In the performances of Lewis Hamilton and Nico Rosberg, there were contrasts and similarities between Austin and Interlagos.
At both venues Rosberg secured pole but Hamilton had better race pace, the difference being that in Brazil Nico was able to use the track position advantage that pole had given him to keep Lewis behind. But both times Rosberg had fine-tuned a better one-lap balance from his car and delivered the big Q3 lap more effectively than Hamilton, whilst in the more variable conditions of the race as the tyres, fuel load and track surface changed Hamilton was better able to improvise.
"The way they have their cars set up is actually quite similar," said Mercedes' Paddy Lowe earlier in the season. "I have been in teams where the two drivers have far more extreme set-ups. At McLaren in 2005 we even had to build different front suspension systems because the set ups preferred by Kimi Raikkonen and Juan Pablo Montoya contrasted so much. Between Nico and Lewis it's more just fine tuning."
That fine-tuning typically includes where each driver prefers the brake bias to be. Hamilton has a natural preference for it to be more rearwards biased than Rosberg – something that played a part in Rosberg being able to keep the rear brakes alive in Montreal after the ERS ceased to function, while Hamilton could not. 
As the driver carries some braking into the turn – a common technique in slow-medium speed corners as it helps keep the loads on the tyres more consistent and the car at a more aerodynamically stable attitude – a more rearward brake bias will tend to give the car less stability. The entry phase of the corner will have the rear of the car sliding more than with a more forward-biased set-up. Hamilton is typically more at ease with this than almost any other driver. 
"When we first ran Lewis in an F1 car at McLaren in a test, we could see from the traces there was a lot of instability in the car in the braking and corner entry phases – and I mean a lot," says Lowe. "Enough that our then current race drivers [Raikkonen and Montoya] would have been bitching about it when they came in. But Lewis didn't mention it. So we pushed him about it, asked him what the car was like on braking and corner entry and he just said, 'fine'."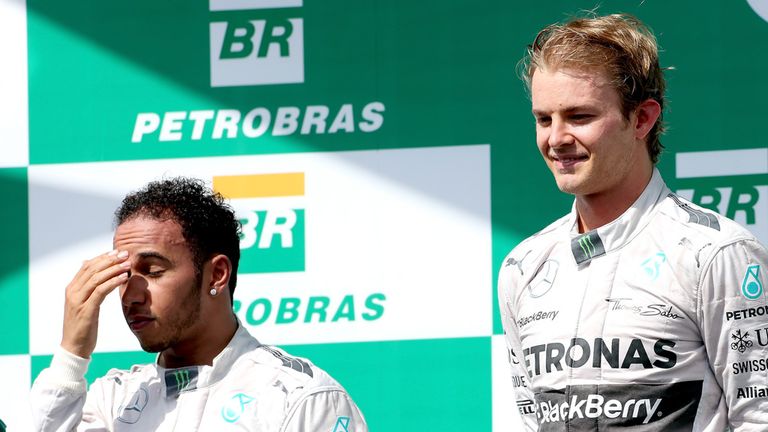 Brake bias aside, the difference between the two Mercedes drivers isn't so much in set-up, more one of approach. Rosberg has a more scientific methodology, looks to fine-tune more specifically than Hamilton who typically tends just to find a balance he can work with, then adapt his driving around it. Against someone as clinical and quick as Rosberg, it has meant him frequently being out-qualified. 
But car handling traits are never a static thing. Just keeping them consistent over a lap is difficult enough but over a sequence of laps is impossible. Adapting to the variances as the fuel load goes down, the tyres wear/overheat/cool down/grain, the track surface changes etc is a core part of a driver's skill and in this Hamilton is supreme – because of the adaptability Lowe talks about.
Typically Hamilton uses less fuel than Rosberg too. That ease he has with a little bit of corner entry instability means he can carry more momentum even as the rear tyres are degrading; which in turn means he has less re-accelerating to do, which means using less fuel. It can sometimes be a similar story with the tyres. When the limitation is the longitudinal (ie braking and accelerating) rather than cornering loads, because he's doing less accelerating, Hamilton is taking less from the rear tyres and in Interlagos as Rosberg gave his in-laps full attack he was out of tyre grip each time. Hamilton stopped between one and two laps later each time and was always quicker – because he had more tyre life left.
Which of the two approaches is better is not clear-cut. At Interlagos is was clearly Rosberg's. At Austin it was Hamilton's. Different days, different folk. 
MH