Barcelona test: Lotus set pace as Ferrari impress again and McLaren's woes continue
MP4-30 only runs for 21 laps; Lewis Hamilton taken ill with a fever; Susie Wolff crashes out after a collision with Felipe Nasr
By Pete Gill and James Galloway in Barcelona
Last Updated: 16/03/15 2:29pm
Ferrari maintained their impressive early-season form on the first day of the Barcelona test as McLaren-Honda's woes continued and Lewis Hamilton was forced to stop running due to illness.
Although Lotus' Pastor Maldonado topped the timesheets after a late burst in the E23, it's the pace of Ferrari's SF15-T which remains the dominant talking point in the paddock.
While Maldonado's benchmark was set on soft tyres, Kimi Raikkonen's 1:25.167 effort when running on the medium compound was by far and away the lap of the day. 
Not only was the lap faster than Hamilton's pole position effort at the 2014 Spanish GP but it also represented a two-second improvement on Ferrari's pace at the Circuit de Catalunya last May.
"The car is a completely different story from last year's, we've still got a long way ahead of us but the team is working well and has produced a very nice car," said Raikkonen.
But while the Scuderia continued to impress, Hamilton was restricted to just 11 laps due to illness, and there was further woe for the troubled McLaren-Honda partnership. An ERS-related fault resulted in the MP4-30, which has completed a mere 100 laps so far this winter, being mothballed throughout the afternoon session as the team carried out an engine change. With Honda unlikely to deliver a repair for the faulty component until Saturday, there appears to be no end in immediate sight to McLaren's problems.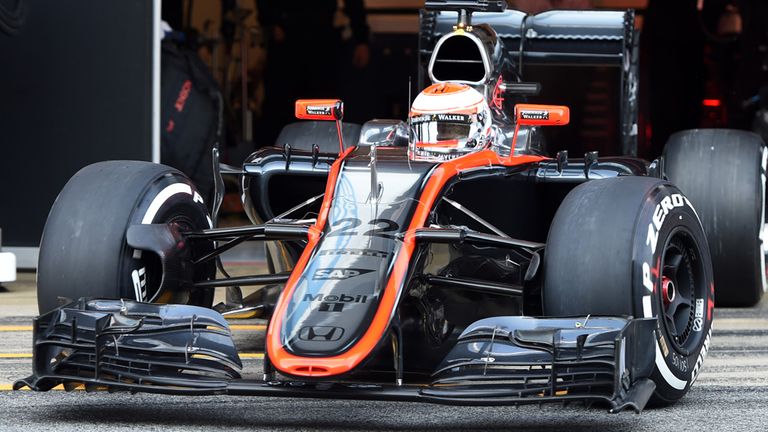 Susie Wolff, making her first appearance of the year for Williams, was involved in the day's most dramatic incident after her Williams collided with the Sauber of Felipe Nasr. Wolff's FW37 was cruising on an out-lap when the accident occurred with sufficient violence to tear the rear-wing off the Brazilian's Sauber.
"I stayed completely on my line, I didn't expect him to move across as aggressively as he did and he hit my front-left [tyre] with his rear. For me it was an unfortunate incident but not something I could have avoided," Wolff said.
"I went straight over to him and said 'what the hell went on'? He was a bit speechless and to be honest with you I was also a bit speechless because it was one of those things that happened and you said to yourself 'how the hell did that just happen?' It's stupid."
Only Hamilton, who withdrew from the action after just two hours, finished below Wolff in the timesheets, with the Scot's fastest lap almost four seconds shy of the benchmark recorded by Pastor Maldonado. 
Suffering from a fever, world champion Hamilton was replaced in the Mercedes W06 by Pascal Wehrlein on what must have been a topsy-turvy day for the 20-year-old after he began the day driving Force India's 2014 car.
Nico Rosberg, present at the circuit for a photo shoot, was deemed unfit to replace Hamilton due to a trapped nerve in his neck, necessitating a sudden change of seats for the German youngster instead. It was a close run thing but ultimately 'Wehrlein Force India' just prevailed over 'Wehrlein Mercedes' with only a tenth of a second to separate the twins.
Rosberg remains "scheduled" to drive the car on Day Two, according to Mercedes.
After only finishing ahead of McLaren on the mileage charts at Jerez, Red Bull didn't get off to the best of starts at Barcelona either as what were described as "teething problems" with the RB11 initially limited Daniel Ricciardo to just a handful of aero runs.
However, the team's fortunes improved in the afternoon and for the first time they finished prominently on a 2015 timesheet, Ricciardo joining Maldonado and Raikkonen in the 1:25s after a short soft-tyre run. Speaking to reporters afterwards, Ricciardo expressed confidence that engine suppliers Renault had resolved the "bigger problems" that had limited their running at the first test and that the team as a whole were heading the right way with the RB11.
"We're riding on that a lot on days where we don't complete as many laps as we'd like. We just look back 12 months and are like 'yeah, we'll be alright, we'll get there'," Ricciardo said when asked if Red Bull took comfort from the way they overcame their pre-season struggles last year.
"That's obviously a real good thing to have in our pocket and a thing in the head to stay motivated. But I think we're looking pretty good for now. Obviously there are teams who are looking probably better at this stage, but I think once we get to Melbourne we'll be good."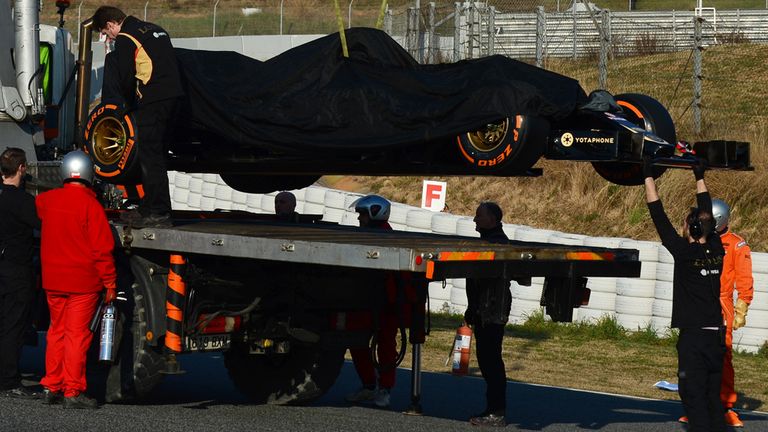 Barcelona Day One Timesheet
1. Maldonado, Lotus, 1:25.011, 69 laps
2. Raikkonen, Ferrari, 1:25.167, 74 laps
3. Ricciardo, Red Bull, 1:25.547, 59 laps
4. Perez, Force India, 1:26.636, 34 laps
5. Nasr, Sauber, 1:27.307, 79 laps
6. Verstappen, Toro Rosso, 1:27.900, 94 laps
7. Button, McLaren, 1:28.182, 21 laps
8. Wehrlein, Force India, 1:28.329, 32 laps
9. Wehrlein, Mercedes, 1:28.489, 48 laps
10. Wolff, Williams, 1:28.906, 86 laps
11. Hamilton, Mercedes, 1:30.429, 11 laps.