Jenson Button hints at 2016 stay by saying decision will be mutual
Could the 2009 world champion be in negotiations over a new deal?
By Pete Gill
Last Updated: 29/09/15 10:49am
Jenson Button says he will make a mutual decision with McLaren before confirming his plans for 2016 - and Sky Sports F1 pundit Martin Brundle believes the former world champion isn't yet inclined to quit.
But McLaren boss Jonathan Neale has indicated Button will still need plenty of persuasion before he agrees to extend his stay with the team.
Confounding predictions that he would announce his intention to retire from the sport ahead of this weekend's Japanese GP, Button told reporters on Thursday at Suzuka that he had "no more information" to divulge about his plans.
However, in an intriguing disclosure to Sky Sports F1, Button revealed that talks are still ongoing with McLaren and a 'mutual decision' would be taken on his future.
"When we make the decision, when we feel it is right, we'll say something - and it'll be sooner rather than later," the 2009 world champion said ahead of practice at a rain-soaked Suzuka.
"All l can say is that this year has been a really difficult year for the team and I do feel that it has brought us a lot closer together. The decision we will make as a team will be the right one. The decision will be made by the team and myself and the decision will be right for the team and myself."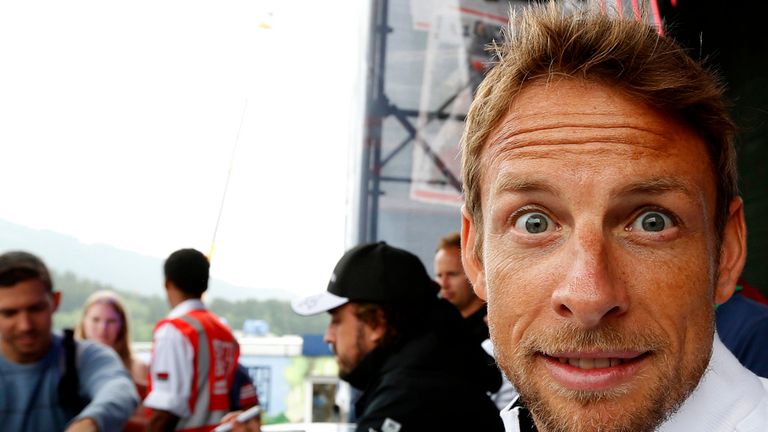 Button was made to wait until December last year before learning that he would be retained by McLaren but is adamant that the wait for clarity will not be as prolonged this year.
"It's not the same situation as last year," he said. "It's completely different. I'm in a very good place and I'll be happy with the decision. But it will be mutual."
Asked to interpret Button's words, Brundle responded: "That tells me he wants to carry on if he can get the deal right and he is satisfied the car will be more competitive. No team is ever going to stop a driver that wants to retire even if he has a cast-iron watertight contract. That tells me Jenson is trying to find a way that makes it happen and so are the team. I presume it is about money in the end."
Button's refusal to reveal his plans has also persuaded Brundle to believe that the veteran could yet stay on in what will be perceived as a dramatic u-turn.
"It's clear to me that he wants to carry on, because if he wants to retire there is no driver that can be stopped from retiring and he would just announce it," he added.
McLaren's option on Button's services for 2016 is believed to expire at the end of the month with the clause reputedly guaranteeing the Englishman a substantial pay rise after he took in a cut in wages a year ago to secure his retention ahead of Kevin Magnussen.
One suggestion, which would explain both the delay and Button's commentary, is that team and driver are currently negotiating the terms of an entirely new deal. McLaren are facing a severe cash shortfall next year in the wake of a torrid season in which they have fallen to the back of the grid. There's been no sign of a breakthrough on the track for the team this year since reuniting with Honda at the start of 2015 - and the prospect of another season trundling around at the back of the field may yet prove the biggest obstacle to Button staying on.
"Jenson is a big part of our family and we want him to stay - we like him very much," said McLaren managing director Jonathan Neale. "But if you are a driver who doesn't really want to be in the seat then you have to respect that. I really hope that we have done enough between us to continue those discussions and have the confidence to keep him with us."