Daniil Kvyat apologises to Red Bull for qualifying crash at Suzuka
Russian causes substantial damage to his RB11 in high-speed accident
By William Esler and James Galloway
Last Updated: 29/09/15 10:51am
Daniil Kvyat has apologised to his Red Bull team after a driving error triggered a huge crash in qualifying for the Japanese Grand Prix.
The Russian caused substantial damage to his RB11 after he put a wheel on the grass on the run to the hairpin, firing him into the barrier. The car then flipped over before coming to a rest in the gravel.
The accident brought an early end to qualifying with Kvyat 10th on the timesheet, but due to the extent of the repair work required he will start from the pitlane.
"It looks really bad I must say. I'm sorry to the guys; it's been a tough couple of weeks already with this extra work for the guys so I'm sorry about that," said Kvyat.
"We're starting P10 but I don't know what will happen."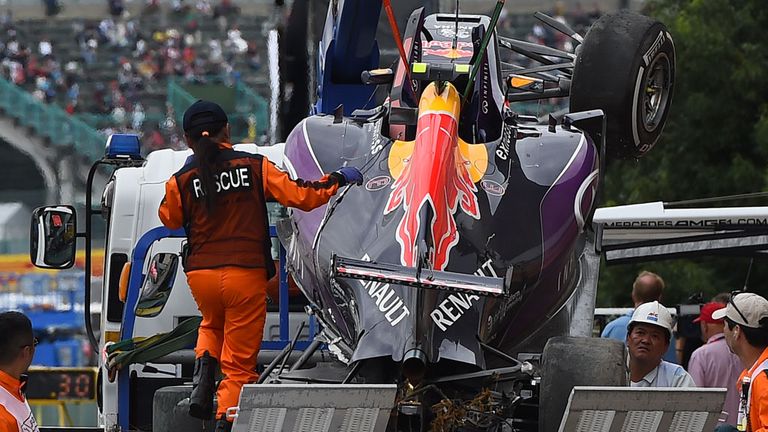 Despite the ferocity of the accident, Kvyat said he was feeling "more disappointment than pain" in his post-session interview.
"It was a rookie mistake," he added. "I put two wheels on the grass and there's no run-off area, so it was a quite large accident I think."
Returning following a mandatory trip to the medical centre, the 21-year-old joked: "They told me it [the impact] is about 20G - I thought I could do better than that!
"But it's a shame this crash. Disappointed first of all about a missed opportunity. In qualifying I had to keep learning all the time because P3 didn't go completely to plan. These things happen, unfortunately.
"Mostly sorry for the guys who will have to do quite a big job [on the car]. I wouldn't say the car looked great so I'll be supporting them tonight. I'm not as good as they are rebuilding the car but I'll try to stay as long as I can tonight."
The former GP3 champion, in his second season of F1, said it was undoubtedly the biggest crash of his motorsport career.
"It was by far the hardest for sure. I've never had a hard crash before now, maybe in karting. But I never rolled in a car so unfortunately there is a first time for everything," he said.
The Russian has been driving raggedly all weekend amid speculation his future at Red Bull is under threat from Max Verstappen next year.
He was only 14th-fastest in the one dry practice session and admitted his race was now set to be a difficult one, although was optimistic of salvaging a solid result.
"My P3 wasn't great, but we will hope to recover something this weekend. Everything was better in qualifying, the car felt back to normal, so I was feeling quite comfortable," he added.