Red Bull's Christian Horner 'in the dark' over Renault engine update
Daniel Ricciardo, meanwhile, isn't expecting big horsepower jump; Aussie remains confident that Red Bull will still be in F1 in 2016
By James Galloway and William Esler
Last Updated: 05/10/15 12:57pm
Red Bull boss Christian Horner admits he is "a little bit in the dark" over when Renault's engine upgrade will arrive.
Despite starting the season with more unspent engine development tokens - 12 - than anyone, Renault have yet to deploy any of them despite their continued struggles and the fact there are now just five races left in the season.
The upgrades have been worked on at Renault's HQ in Viry-Chatillon since the summer and had originally been scheduled for this weekend's Russian GP, but Horner has confirmed "it won't be Sochi that's for sure".
"I'm a little bit in the dark as to when that might be," Red Bull's team principal said when quizzed on the likely arrival of the upgraded engine.
Renault has indicated that the updates are likely to be ready for Red Bull and Toro Rosso to use at the following race in Austin, but Daniel Ricciardo isn't getting too excited about the likely performance gains.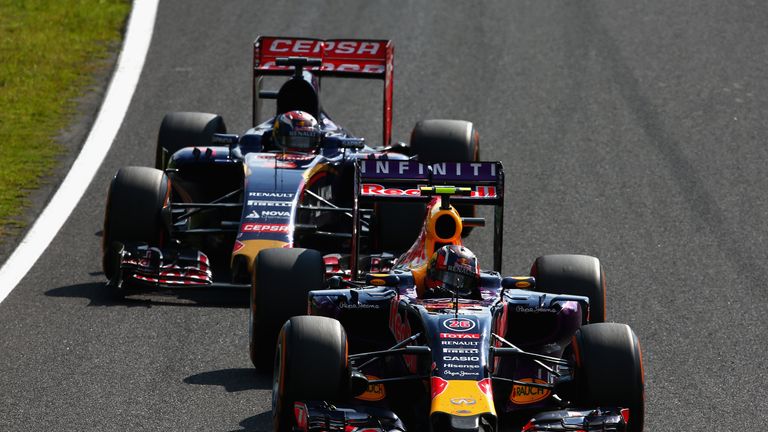 "We'll take what we can get, but it's not going to be a 40 horsepower upgrade," the Australian said.
"It's better than what we've got now but I wouldn't get too crazy about it. I'll take it, but it's not going to be half a second."
Given both Red Bull's drivers are already a long way beyond their penalty-free limit for engines this season - Ricciardo has used seven and Daniil Kvyat eight - the team would suffer more grid penalties if they decided to run Renault's upgraded unit.
Speaking to Sky Sports, Ricciardo said: "Hopefully we'll get a bit more out of it and challenge for another podium before the year's out."
Should Red Bull ultimately race Renault's updated power unit then it is set to be the last of the French firm's engines they run with the eight-year relationship nearing divorce.
Horner has said that the former champions' situation has reached "critical" levels with Red Bull yet to source an alternative supply to stay on the grid for 2016.
The team's drivers remain publicly upbeat that the management will find an acceptable solution, with Ricciardo confident he'll still be driving a Red Bull car next year.
"We'll find a solution. Nothing's been confirmed yet but I'm sure we'll get a solution. We all want to race - but we want to go racing competitively. So we'll try and find what's best for us. We want to be fighting for wins again," the Australian told Sky Sports.
"I have full confidence we'll be on the grid."