Red Bull warn Renault are 'at least two to three years' behind Ferrari and Mercedes
Christian Horner also denies Renault acrimony may dissuade Ferrari from becoming Red Bull's new engine suppliers for 2016
By Pete Gill and James Galloway
Last Updated: 09/10/15 11:12am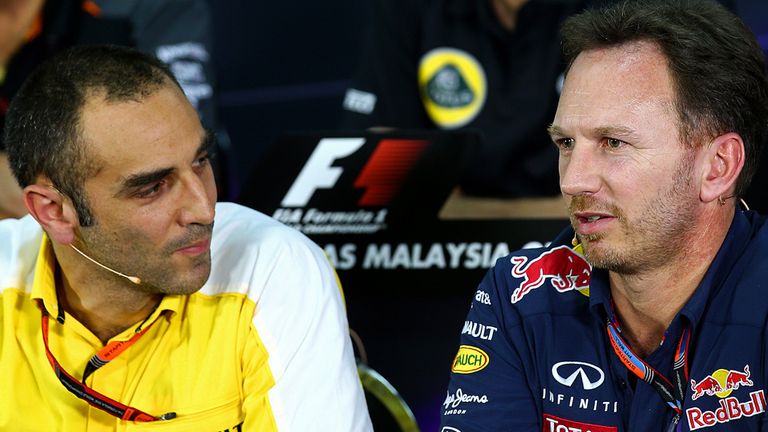 Red Bull team boss Christian Horner believes Renault will only be able to compete against Mercedes and Ferrari in two or three years' time.
Partners for the team's four successive title doubles, Red Bull and Renault will split at the end of 2015 after enduring a torrid slump in form since the dawn of F1's new turbo age. Although Renault are set to stay on in the sport after signing a letter of intent to purchase Lotus, Horner believes the weakness of their engine will prevent the team from challenging in the foreseeable future.
"Since the power unit regulation change, it's a very different world that we're living in," Horner told Sky Sports F1.
"There's really only two engines out there that you can compete for grand prix victories with and, unfortunately, Renault have fallen behind that. It looks like it's going to be at least two to three years before they can be in a position to compete again.
"As a paying customer, we can't afford to wait that long."
Red Bull's impending divorce from Renault has been preceded by a slew of public recriminations and mudslinging. Not only has the fall-out provided an unedifying backdrop to their parting, but it has also been cited as a factor in the reluctance of Mercedes and Ferrari to offer the former world champions an alternative supply, despite Red Bull's insistence they will leave the sport unless they can source 'competitive' engines for 2016.
"The current situation is quite critical because as we sit here we don't have an engine," Horner conceded in Japan.
Red Bull's overtures to Mercedes for a supply - first made at the British GP in July - have been officially rebuffed, while Ferrari's race team are thought to be reluctant to offer the Milton Keynes a like-for-like engine supply.
By common consent, Red Bull have not helped themselves with their incessant criticism of Renault's power units. "What manufacturer wants to be associated with that kind of potential public slating weekend after weekend?" questioned Sky Sports F1 pundit Anthony Davidson. "Do Ferrari need that? They have their own package anyway, why do they need that slating from weekend to weekend from a team like Red Bull?"
But Horner doesn't believe Red Bull's public spat with Renault will have dissuaded alternative suppliers from bailing them out. 
"I doubt it," Horner said in an interview with Sky Sports F1. "Perhaps we have been guilty of being honest, whether that is my comments or Adrian Newey's comments or Helmut Marko's or most important of all Dietrich [Mateschitz]'s as he is paying the bill at the end of the day.
"I don't believe that would have an impact on influencing any other supplier."
Although Ferrari have publicly vowed that they would have 'no fears' about supplying their erstwhile rivals, it's believed that the engines on offer would be a step behind those available to the 'works' outfit. Red Bull are demanding full parity - and threatening to leave the sport unless it is granted.