Red Bull open to Renault return
"Nothing is officially finished with Renault yet," confirms Christian Horner as team contemplates desperate u-turn in order to stay in F1
By Pete Gill and James Galloway
Last Updated: 10/10/15 4:26pm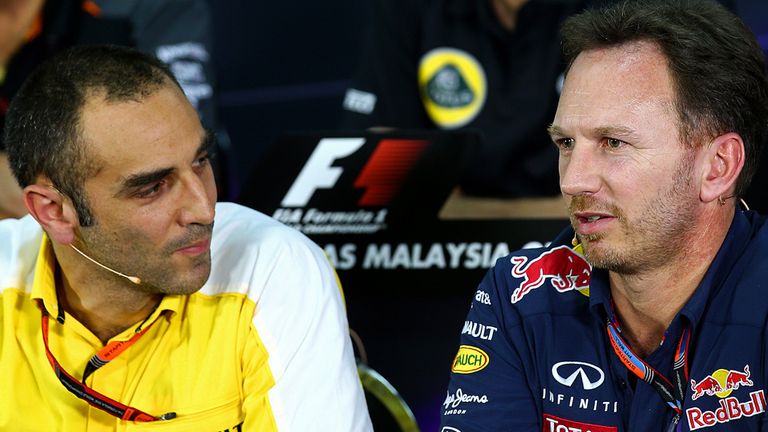 Red Bull boss Christian Horner has refused to rule out reconciling with Renault in a desperate bid to keep the team in F1.
The former world champions are bereft of an engine deal for next year after serving a 'notice of termination' on Renault, their long-time engine suppliers who they have repeatedly savaged in public since the start of F1's new turbo era.
But after both Ferrari and Mercedes ruled out supplying their rivals, Horner has tacitly admitted that a renewal of vows with Renault may be the only means of preventing the former world champions from falling out of F1 at the end of the year.
"Nothing is officially finished with Renault yet," Horner told Sky Sports F1. "It's difficult to envisage how we go forward - but this is Formula 1 and nothing is impossible. Everything's open - pretty much everything."
So, too, is the possibility that Red Bull and junior outfit Toro Rosso will leave F1 after this season's end. 
"At the end of the day nothing as we stand here is fixed," added Horner. "We are working on lots of different scenarios. Bernie [Ecclestone] is very actively involved as well and very keen to find a solution. We need to. This team is too good not to be involved in Formula 1 and obviously there's an awful lot of staff members whose futures depend on this decision. Therefore it's important we find the right one."
Renault, adamant they will not continue in F1 purely as engine suppliers, have signed a letter of intent to purchase the Lotus outfit and it remains unclear if they would contemplate extending their alliance with Red Bull whilst also forming their own eponymous works outfit.
"We are still waiting to hear what Renault's plans are for the future," confirmed Horner. "Are they going to buy Lotus? Are they going to stop themselves? Everything is up in the air."
Were Red Bull to reconcile with Renault, it would represent a remarkable U-turn given that team owner Dietrich Mateschitz has previously accused the French manufacturers, whose engines have been no match for Ferrari and Mercedes this year, of sapping their "will and motivation" to continue in F1.
"What you don't see is what happens behind the scenes and the commitment that's gone in to trying to make this power unit work," added Horner. "My priority is seeing Red Bull in Formula 1 next year. I want to see our cars with our drivers on the grid and that means talking to all parties that have a potential interest in us being there next year."
But even if Red Bull were to patch-up their relationship with Renault, it remains to be seen whether that would be enough to pacify Mateschitz. The Austrian has repeatedly warned he would withdraw both Toro Rosso and Red Bull from F1 unless they were powered by 'competitive engines'. Not only are Renault's units currently far less powerful and reliable than those of Mercedes and Red Bull, but they haven't been updated since the start of the season.
"All I can do is try and present some good options in front of him for him to make that final call. But he's passionate about this team," said Horner. "Red Bull have probably invested more in Formula 1 than any other company over the last 10 years.
"He cares about the employees, he cares about what the future of the company is, and he's been around Formula 1 for 20 years now - firstly as a sponsor and then as a team owner. He just wants to see us in a position where we can compete. Hopefully we can come to some conclusions that enable us to do that."
While Mercedes have reiterated that they have no intention of supplying Red Bull, Ferrari have not yet definitely shut the door on their rivals. Red Bull won four successive title doubles between 2009 and 2013 and Horner feels the team are being punished for their previous dominance of the sport.
"In many respects we are a victim of our own success and you can understand the trepidation that other manufacturers that perhaps have their own teams have in supplying us," he argued. But we'll find a solution, work our way through it and hopefully we'll achieve something that gives us the opportunity to fight for race wins in the future.
"I believe we'll find a solution. We need to and I believe we will and hopefully one that's right for the team for the future."
As far as the future of Toro Rosso is concerned, Ferrari are thought to be willing to supply their fellow Italian outfit with their 2015 engines. Team boss Franz Tost has revealed he would be happy with such a solution, but stressed Toro Rosso's future is interlinked with that of the senior Red Bull squad.
"Toro Rosso would accept the 2015 engine, as we think it would be a step forward for us," Tost told the official F1 website. "But yes, Toro Rosso is in a different situation than Red Bull Racing. Their DNA is to fight for wins and championships and therefore they want the same material Ferrari will run in 2016."
He added: "If Dietrich Mateschitz decides to stop Formula 1 because of various reasons then the lights go out in both facilities."
Don't miss Sky Sports F1's live weekend-long coverage of the 2015 Russian Grand Prix. Our race-day show begins at 10.30am on Sunday, with lights out at 12 noon. Watch the Russian GP for £6.99 with NOW TV