Pirelli rethink tyred-out formula
Sky F1's Mark Hughes on the demands being placed on Pirelli as they try to find their place in F1's post-2017 revolutions
Last Updated: 14/10/15 8:53am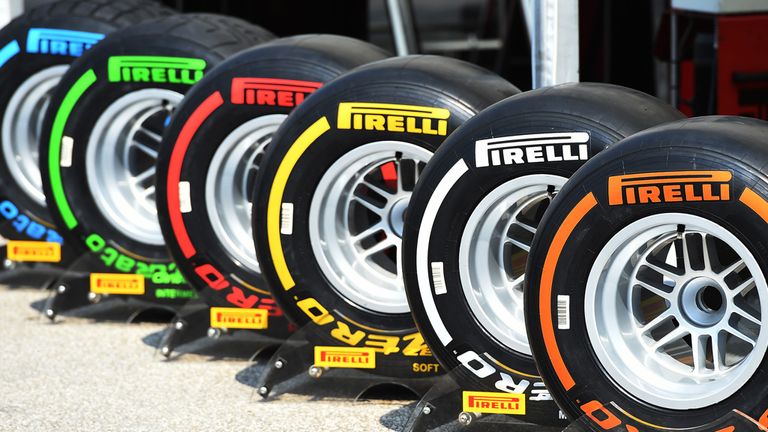 With the confirmation of Pirelli continuing as sole F1 tyre supplier until 2019, so the tyre company is getting involved in re-assessing the type of racing that its tyres are attempting to encourage.
The F1 technical regulations are set to be drastically re-written for 2017 to create cars around five seconds per lap faster than the current machines - partly through wider tyres. So attention is now being focussed on a better compromise between the sort of high tyre degradation races seen in the initial races in the Pirelli era in 2011 - where the drivers had to deliberately drive whole seconds off the pace in order to get the optimum stint lengths for the best strategy - and racing that could see the world's fastest drivers able to be on the limit throughout the race.
"At the moment we are in a sort of half-way house between those two approaches," said Pirelli's Paul Hembery in Sochi. "But we are not happy having one-stop races and that is something we are looking to address." As an interim measure for 2016 the range of compounds is being extended to five, with free choice given to the teams of which two compounds they will use at each race. But longer term, with the wider tyres of 2017, a more fundamental re-assessment is coming.
"The fans at the time loved that initial racing with monumental increase in overtaking manoeuvres," claims Hembery. "As a spectacle it was very interesting. But for the drivers it was such a big change and something they found difficult to do."
Initially it wasn't widely appreciated by the fans just how slowly the drivers were having to drive their races in order to prevent the tyres from suffering extreme heat degradation. But once this became more widely understood, as the drivers' feelings became more widely disseminated, so it became less popular.
Ironically at Sochi last weekend there was virtually no heat degradation - because of the extremely smooth track surface. It didn't generate the loads that trigger the breakdown of the chemical bonds in the tyres that brings about the heat-related reduction in their performance (thermal degradation). Instead, the tyre's durability was determined solely by its wear - and the drivers were able to lap close to the limit right until the stage where there was virtually no rubber left on the tread.
"I had 100% wear when I pitted," said Sauber's Felipe Nasr, "but right up to that point they were still quick. I much prefer this type of racing. It was intense." Most of his peers agree with him - though it's a sensitive subject and not all are willing to go on record with their views. Lewis Hamilton, Fernando Alonso, Sebastian Vettel and Nico Rosberg were singled out by Bernie Ecclestone at Monza for being 'unconstructive' in their public comments about the tyres.
Heat degradation is deliberately engineered by the use of thermally degrading composites that when overstressed (by driving flat-out on them for three or four consecutive laps) quickly break down the chemical bonds that create the tyre's grip. Once this happens the tyre's grip does not return, even when cooled. Hence the drivers have to drive a few tenths off the pace in the races. In open competition with other tyre manufacturers these composites would never be included in the compound's mix. "We did make a pure performance tyre when we did our initial F1 testing with Toyota," says Hembery, "but it makes processional racing. We think everyone would essentially pit on the same lap.
"But it's something we are prepared to look at. Maybe for 2017 we could do two different types of races - some with a pure performance tyre and others with heat degrading tyres. We would still be looking at doing between two and three stops but with a high performance tyre that would be achieved just through wear - which is the sort of tyre you'd make if you were in competition. Then in the other races we could have heat-degrading tyres. That way, we could do the comparison to see what sort of racing each produces. We need to understand what the sport needs."
At Sochi the inadvertent experiment was spoilt somewhat by the second Safety Car on lap 12 that caused some to stay out and others to pit for new rubber. But even among those cars that stayed out, there was still variation in how long they were able to make their tyres last. Valtteri Bottas was complaining from lap 24 that his rear tyres were worn out and he was brought in two laps later. By contrast Daniil Kvyat and Nasr were able to stay out until lap 33 and 34 respectively, with the tyres still performing well. The others were somewhere in between.
To get the best of both worlds - place changes and drivers being able to drive to their limit throughout - will almost certainly require some help from the concept of the cars rather than relying solely on the type of tyre Pirelli produces. It's a point that Hembery concedes. "At the moment all we are hearing is how much faster the 2017 cars will be, but we're still not hearing much about how to improve the overtaking."
A radical re-think on the aerodynamic traits of the car needs to be thoroughly researched before this next big change.     
MH