Lewis Hamilton feels Mercedes should have let him 'take a risk' in Mexico
Hamilton retains faith in Mercedes' decision making, but admits he wanted chance to "go for it" and not pit again; Wolff says team have no problem with the Briton questioning their strategy
By James Galloway
Last Updated: 05/11/15 11:43am
Lewis Hamilton says he wanted Mercedes to let him "take a risk" and not pit for a second time in an attempt to beat team-mate Nico Rosberg in the Mexican GP.
Rosberg emerged victorious from a race for the first time in over four months at the Autodromo Hermanos Rodriguez on Sunday, with the German only losing the lead to Hamilton during the two pit-stop windows.
The world champions had planned to stop their cars just once, but having experienced more wear on their soft tyres than expected during the first stint, chose to take advantage of the 30-second lead over third place and call both their cars in again with 25 laps to go for precautionary reasons.
As the lead car, Rosberg was brought in first on lap 46, with Hamilton then instructed to pit a lap later. However, Hamilton stayed out initially and questioned over the radio whether he really needed to stop again. After a conversation with race engineer Peter Bonnington, in which Hamilton made clear he thought it was the wrong decision, the world champion pitted the next time round and resumed in second place, where he finished the race.
Speaking afterwards, Hamilton admitted he felt Mercedes should have let him take a gamble.
"There was no risk, there was nothing for me to lose," Hamilton told Sky Sports News HQ.
"We have won the Constructors' Championship, so let me take a risk, let's go for it. But we did what we did and we still got the one-two so it is good."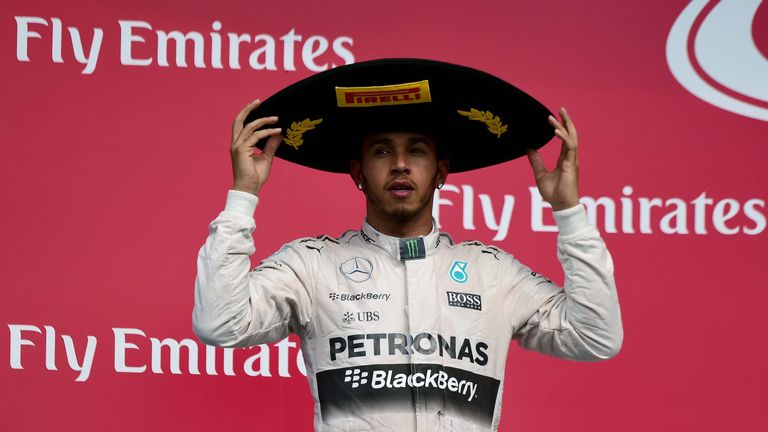 Hamilton's growing ability to manage strategy from in the cockpit has been in evidence on several occasions during his third title-winning campaign, particularly at the British GP in July when he timed the switch to wet tyres to perfection to win the race.
And while he feels he legitimately questioned Mercedes' strategy on Sunday, he says he retains full faith in his team's decision making.
"At the time, I just didn't agree with the decision to pit a second time, that's all," Hamilton said in Mercedes' later press release. "The team takes these decisions and I abide by them but I initially wasn't sure on this one.
"As it turned out, there was then a Safety Car anyway. I have full confidence in these guys and we still got the one-two as a team, so that's positive."
Although Hamilton initially ignored a direct instruction to pit, team boss Toto Wolff says the Brit was within his rights to contest the call - even if Mercedes weren't going to be swayed from the facts at their disposal.
"From our side, it was a simple precaution: after the first stint on the option tyre, we had seen higher than expected wear levels and one of Lewis' tyres was even down to 0% rubber," Wolff explained.
"The stint we were trying to do with the prime was already on the limit, and with that information in hand and a pit-stop gap to spare to the next car, it was the low-risk option to stop both cars again.
"Lewis obviously had a few questions about that and that's totally normal - race drivers have emotions and if they didn't focus on winning every time, they wouldn't be the talents they are. But we have the overview on the pit wall and Lewis followed the instruction to pit."
Mercedes' non-executive chairman Niki Lauda, meanwhile, has intimated it would have been unfair for Hamilton to have continued once the team had changed strategy and called in Rosberg.
"He can't [ignore it] because the strategy was changed from one stop to two because the wear was high," the Austrian told Sky F1. "We were so much in the lead that we could afford it, so if the team decides we have to do another pit stop both have to come in."