Brazilian GP talking points
What next in the Hamilton-Rosberg soap opera? Can Lewis break his Interlagos victory hoodoo? And which Finn will have the last word?
Last Updated: 12/11/15 10:12am
What will happen next in the Hamilton-Rosberg soap opera?
The 2015 battle for supremacy at Mercedes has descended into a soap opera - and there are still two more episodes to run.
After their first-lap collision and 'cap spat' in Austin, Nico Rosberg and Lewis Hamilton barely acknowledged each other in Mexico - with the world champion unable to resist a dig at his team-mate's expense following Rosberg's win.
Play the video at the top of the page to follow the story so far...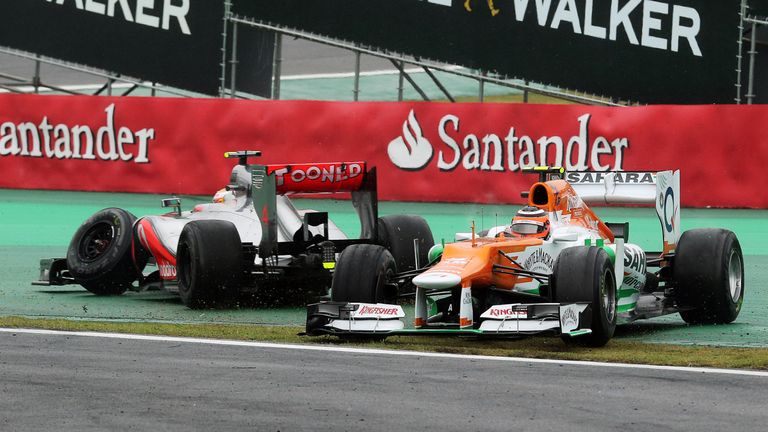 Can Hamilton break his Brazil hoodoo?
Things never seem to work out in straightforward fashion for Lewis Hamilton in Brazil. The recent additions of Austria and Mexico aside, it is the only race on the 2015 calendar that he hasn't won - despite eight attempts.
Only once, in 2012 in his final race for McLaren, has Hamilton qualified on pole at Interlagos, but even then he was embroiled in a battle with then team-mate Jenson Button for the lead of the race, with the pair switching position almost on a lap-by-lap basis. In the end, he retired from the race after a collision with Nico Hulkenberg. Had Hamilton gone on to win that race, he would have out-scored Button during their three years as team-mates.
Second place in 2014 remains Hamilton's best result in Brazil and represents only his second podium in the country. Indeed, even one of the most memorable moments in his career - winning his first championship at Interlagos in 2008 - came courtesy of a last-lap pass for fifth.
In theory, the layout of the track should suit Hamilton's style as it can lend itself to something resembling a karting approach. And the unpredictable weather, a regular theme due to the race's slot on the calendar, should again play to Hamilton's strengths.
Unreliability has played its part, most notably the loss of power in 2007 that arguably cost him the title and a gearbox problem in 2011, but it was an uncharacteristic driver error that cost Hamilton victory in 2014.
Perhaps part of it is mental. Having idolised Ayrton Senna growing up and formally sporting a similar helmet design, has Hamilton simply been trying too hard to win in Brazil?
"This was the home race for Ayrton, so it was a dream of mine to race in Sao Paulo when I was younger and I always feel his presence when I'm there," Hamilton said ahead of this weekend's race. "It's one of the few I haven't yet won myself. If I can change that this weekend, it would be a salute to him."
Conversely, Nico Rosberg knows what it takes to win in Brazil and after ending Hamilton's run of domination in Mexico, he certainly won't make it easy for his team-mate to break his Brazilian duck.
WE
Which Finn will finish with the last word?
"There must be further bad blood now between the Finns," remarked Martin Brundle in the Sky F1 pundit's latest column after Kimi Raikkonen and Valtteri Bottas' collision in Mexico, their second coming-together in three races. And just to add to the spice, Bottas is expected to be a leading candidate to replace Raikkonen at Ferrari in 2017, if the Scuderia opt against retaining the former world champion.
And something always happen in Brazil...
Interlagos, with its unpredictable weather and partisan crowds, has provided the setting for six title-deciding races in the last decade - with none more famous than 2008, when local boy Felipe Massa was champion for all of half a minute.
Watch the Brazilian GP live on Sky Sports F1. Race-show coverage begins at 2.30pm on Sunday with lights out at 4pm. Watch all three days of the Brazilian GP for £10.99 on NOW TV. No contract.