Sebastian Vettel expects 'good step forward' from Ferrari for 2016
Vettel optimistic Ferrari can get closer to Mercedes next season; Still chasing Rosberg for second place this year and denies car problem played role in his Mexico crash
By James Galloway
Last Updated: 12/11/15 2:34pm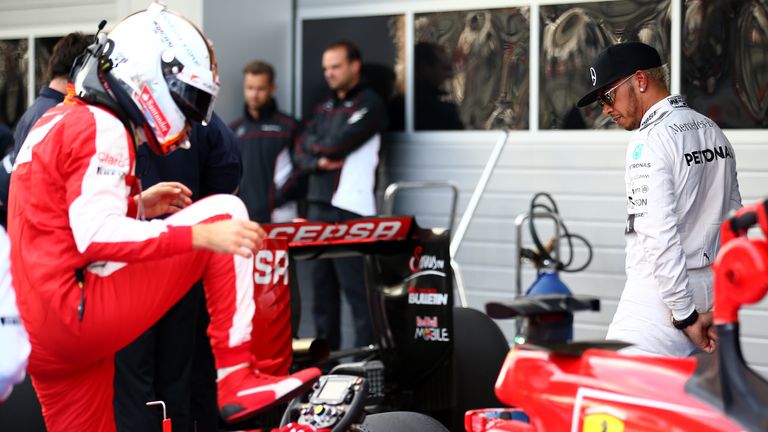 Sebastian Vettel says work on Ferrari's 2016 car looks "promising" as they set about trying to wipe out their remaining deficit to world champions Mercedes over the winter.
Vettel's first season at Maranello has proved more competitive for the team than most anticipated, with three race wins and a confirmed second place for Ferrari in the Constructors' Championship, but Mercedes have remained largely dominant en-route to their second successive world title double.
After a big performance jump from 2014 when they did not win a race for the first time in two decades, Ferrari technical director James Allison admitted recently the team "need to do as much again" if they are to get fully on terms with their Brackley rivals next season.
Speaking ahead of the penultimate race of 2015, Vettel reckons Ferrari are on course for a "good step forward" with their next challenger - although he acknowledges there are no guarantees until testing begins in February.
"It's always difficult to predict what's going to happen, but it is our target [to catch Mercedes]. I can see what's happening in the background, the work that has gone into this year and the work that is going into next year, back in the factory and in Maranello with all the people," the four-time champion said at the Brazilian GP.
"It looks promising and I think we should be able to make a good step forward. Now, obviously, the most important day is when you put the new car on the track and you see what it does.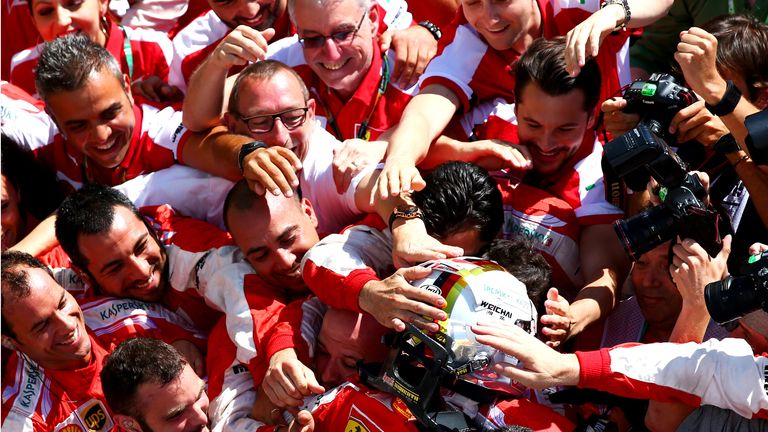 "But that's a still bit far away, for now we still have two races left and we want to do well and ideally get the best possible results here and in Abu Dhabi."
Mercedes are already anticipating a closer battle for the world titles with Ferrari next year and Niki Lauda, the team's non-executive chairman, claimed last week the Italian team had now matched the power outfit being delivered by the champions' pace-setting engine.
When Lauda's comments were put to him, Vettel played down the suggestion - but did welcome the Austrian talking about Ferrari in such positive terms.
"As a fact, we are not yet a match, otherwise this season would have been very different," Vettel said. "But as I said, I'm very happy with the season so far, with the progress we've made and also the things we have in the pipeline for the future.
"Niki is not usually the best one to trust - he changes his opinion very quickly! Sometimes it makes sense and other times it doesn't make any sense! The more he's talking about us the better it is for us because he can feel that maybe we're coming [for Mercedes], so hopefully that's good news."
Vettel remains in with a chance of splitting the Mercedes drivers in the final championship standings this year, although his prospects took a hit last time out in Mexico when he crashed out.
The uncharacteristic mistake and Nico Rosberg's win means the Ferrari driver trails his countryman by 21 points with just 50 to play for in Brazil and Abu Dhabi.
"There are two races to go, the last one didn't help, but as long as it's possible to finish second you want to finish second rather than third," Vettel said. "So clearly our target is to at least try and split the Mercedes' and split them the right way.
"The best way to try and do that is to do our job and try to achieve the maximum. We'll see what happens on Sunday."
The 28-year-old also stood by his post-race criticism of his own performance in Mexico after he crashed out of a race for the first time since 2010.
"There was nothing wrong with the car. As I said after the race, it was my mistake," he said. "I don't think I was very self-critical, I was just honest."
Watch the Brazilian GP live on Sky Sports F1. Race-show coverage begins at 2.30pm on Sunday with lights out at 4pm. Watch all three days of the Brazilian GP for £10.99 on NOW TV. No contract.