Lewis Hamilton on the defensive after latest qualifying defeat to Nico Rosberg in Brazil
World champion fails to appear for post-session photo call
By Pete Gill
Last Updated: 15/11/15 10:52am
World champion Lewis Hamilton has shrugged off his latest pole position defeat at the hands of arch-rival Nico Rosberg - even if his body language told a rather different tale after qualifying for the Brazilian GP.
Hamilton failed to appear for the post-session photo call immediately after Rosberg pipped him to pole at Interlagos by less than a tenth of a second. In a terse and tense press conference, Hamilton was repeatedly pressed about his downturn in qualifying form but maintained that Rosberg's fifth consecutive Saturday triumph was of no consequence.
"My main job this year is done now," Hamilton responded. "I've won most poles this year and the World Championship, so there's nothing really to read into it."
But after winning his third World Championship title last month, Hamilton has subsequently lost three successive battles to Rosberg - the German led his team-mate on both Saturday and Sunday in Mexico - and his latest defeat capped a troubled few days for the world champion after his unsuccessful early-morning drive around the streets of Monte Carlo on Tuesday.
But even though overtaking is notoriously difficult at Interlagos, this Sunday's battle may yet find Hamilton triumphant - four of the last six winners of the Brazilian GP have started from second on the grid.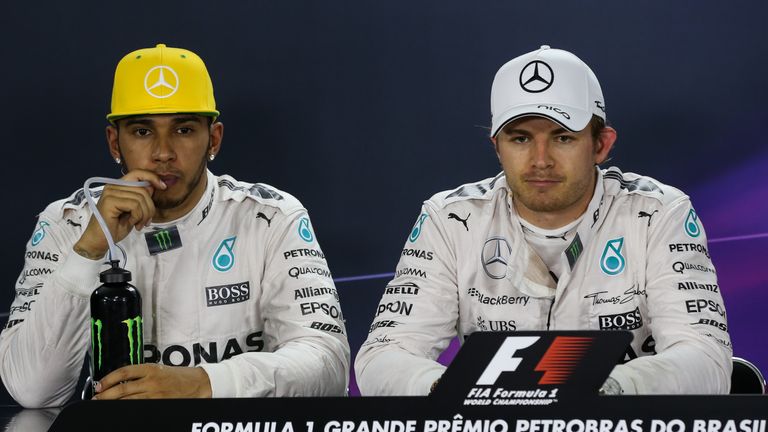 "That's definitely comforting," Hamilton, who has never previously won in Brazil, told Sky Sports F1. "The last race here I had a good shot at trying to win but I lost it with a mistake that I made. So the goal tomorrow is to avoid that and try to get ahead.
"It's a very short track. It's very hard to follow round here so it's not actually a great track to race at. It's hard to follow through Turn 11 which means you're far behind into Turn 12, and by the time you've got the DRS it's very hard to get up close. It's not the easiest place to overtake, but it's not impossible.
"When me and Nico are within a tenth of a second of each other the most likely option [to overtake] is going to be at the start, and then at pit stops, because on track it's very unlikely, if at all, it will happen."
For the time being, however, Rosberg, a subdued and shrunken figure all the while Hamilton was building up a 12-1 advantage in qualifying, is standing tall again.
"I don't know whether he's been riled by being humiliated in some sense by Lewis by being beaten and he's now actually more motivated than ever before," reflected Sky F1 pundit Damon Hill. "There's certainly some signs in Nico that he's not going to go down without leaving his marker. He may be ramping up for 2016 now - he certainly looks strong."
Hamilton's successful retention of the World Championship remains a trenchantly powerful rebuttal against any notion that Rosberg, if he can continue his recent form in Sunday's race and then at Abu Dhabi, will start 2016 with momentum on his side. But the impression that Rosberg has his mojo back is founded on rather firmer ground with the German's recent Saturday transformation quashing any doubts about his qualifying pace after Hamilton's mid-season run of seven consecutive poles proved decisive in their title fight.
"It does look like I've built up more single-lap pace now," reflected Rosberg. "It was my big weakness this year in the fight against Lewis because he was always starting in front of me and then you start on the backfoot.
"It was an area I had to work on so I've worked on it. But I don't have a precise explanation."
But nor did Hamilton have a consoling explanation of his own as the world champion made no attempt to suggest his latest defeat was a consequence of honing his race set-up. "I'm always trying to set up the car for both but I was trying to get the car as perfect as l could for a single lap," the Englishman admitted to Sky Sports News HQ.
The battle at Mercedes has got interesting again.
Watch the Brazilian GP live on Sky Sports F1. Race-show coverage begins at 2.30pm on Sunday with lights out at 4pm. Watch the Brazilian GP for £6.99 on NOW TV. No contract.