Sebastian Vettel crowned Champion of Champions at Race of Champions
German defeats Tom Kristensen in the final at Olympic Stadium
By William Esler at the Olympic Stadium
Last Updated: 23/11/15 10:03am
Sebastian Vettel was crowned Champion of Champions at the 2015 Race of Champions in London.
The four-time F1 world champion defeated nine-time Le Mans winner Tom Kristensen in straight heats to take the title at the Olympic Stadium.
The racing followed a best-of-three format and Vettel won the opening leg by half a second before drama struck in the second when Kristensen's ROC buggy sprung an oil leak. A change of cars was required and after cement dust was put over the oil, the second leg was contested in KTM X-Bows.
However, the Dane made a mistake at the very first corner, hitting the barriers and handing an easy victory to Vettel.
The German was in imperious form on Saturday, losing just one heat during the entire day's racing. His path to the final saw him knock out Petter Solberg in the last 16, Nico Hulkenberg in the quarter-finals and then David Coulthard in the semi-finals, with the Scot the only driver to beat the German in a leg.
"I'm very happy and honoured to win - but that took a while! A lot of world-class racing drivers have won this trophy. I've tried to win this many times and failed many times but finally I've succeeded," Vettel said.
"What the Race of Champions gives us is a lot of joy. When we were kids starting to race, we did it for pure joy and this sort of event is a good reminder of that. When you close the visor, ultimately victory is still what drives you. But I've tried to win this so many times, today was more like a surprise.
"We all know this format is very difficult because no one gets much time in the cars so you need to find your rhythm quickly. Today I had the feeling I found it straightaway. It was very cold but it was a great atmosphere so thank you very much to everyone for coming to watch."
Jose Maria Lopez, Pascal Wehrlein, Mick Doohan and Jolyon Palmer all went out in the preliminary round, losing to Ryan Hunter-Reay, Andy Priaulx, Bradley Philpot and Alex Buncombe respectively.
In the last 16, Hulkenberg triumphed over Daniel Ricciardo 2-0 to set up his all-German quarter-final with Vettel.
Felipe Massa also whitewashed Jenson Button 2-0, with Coulthard enjoying victory by the same score line over Susie Wolff, who brought her racing career to an end.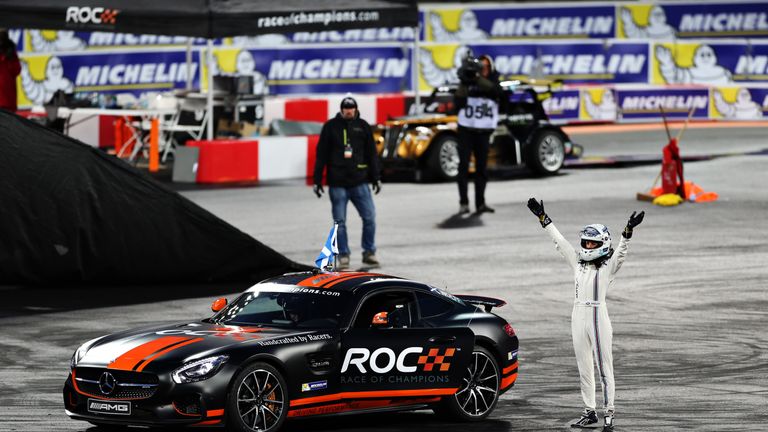 Kristensen defeated Nelson Piquet Jr, Buncombe knocked out Philpot, while England's Nations Cup victors Priaulx and Plato continued their run of form with wins over Hunter-Reay and Romain Grosjean respectively.
After Vettel quickly dispatched Hulkenberg 2-0, Coulthard beat Massa by the same score line to set up the first semi-final. Kristensen knocked out Plato to progress, while Buncombe beat Priaulx.
The Dane then prevailed 2-0 over the Briton to progress to the final against Vettel. However, once again the title eluded Kristensen, who finished as runner-up for the fourth time. 
"Seb is a deserved winner - he drove brilliantly and he showed that skill in the final. I gave my all and it was close but he's been really on it here," Kristensen said.
"Obviously I retired last year but it was great to come back and remind myself how it was to compete - and to stay on the track all the way to the final.
"ROC is all about fun and it was good to see so many people watching in the cold conditions. Apart from Seb, the main achievement today was by the people who have been here supporting this great event."