Nico Rosberg takes his sixth straight pole position at the Abu Dhabi GP
Mercedes driver takes top spot with a lap 0.4s faster than world champion team-mate; Raikkonen enjoys best qualifying performance of the season in third with Sebastian Vettel only 16th; Sergio Perez on second row
Last Updated: 28/11/15 5:40pm
Nico Rosberg continued his fine end-of-season form by taking his sixth straight pole position at the Abu Dhabi GP ahead of Lewis Hamilton and Kimi Raikkonen.
The Mercedes driver lapped the 3.4-mile Yas Marina circuit in a time of 1:40.237, with the margin to his world champion team-mate - 0.377 seconds - bigger than it has been during the recent qualifying sessions in which Rosberg has come out on top.
That's not to say the session was a walkover: Hamilton was fastest in Q2, for example, but said afterwards that he had struggled to find a good set-up on his car.
Speaking after going fastest on Friday, Rosberg played down his chances this weekend owing to the old engine he has been forced to run. He was down the order in the speedtrap but, like he predicted after second practice, maybe he just went quicker through the corners.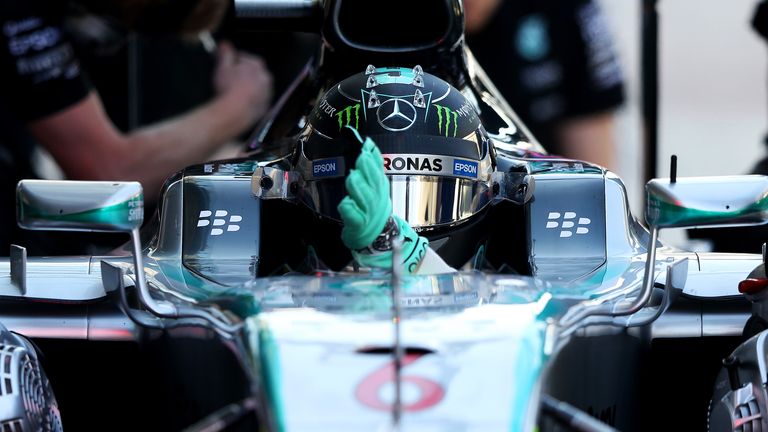 Certainly it looked that way on his final flying lap, with Rosberg mighty in the twisting final sector after Hamilton had shaded sector two.
"Before it was close in one direction, now it is quicker in this direction," Rosberg said afterwards. "At the moment I am quicker and very pleased about that and happy to be on pole again."
"I've been struggling with the car all weekend, we've been working really hard to make some changes, we've had to take something off the car," said Hamilton.
"But Nico was just really quick today and he did a great job in Q3."
So with Mercedes claiming their 18th pole out of 19 and also a 15th front-row lockout, Ferrari were next up - although not with Sebastian Vettel behind the wheel.
Instead, Raikkonen saved his best qualifying performance of the season until the last race, with Vettel down in 16th after he and the Scuderia made an error of judgement with tyres.
While both Mercedes went straight out on the faster supersofts, Ferrari used the softs. However, Vettel could not match his team-mate's pace; both stayed in their garages thereafter and while the Scuderia sent Vettel out on the red tyres right at the end of Q1, it was too late.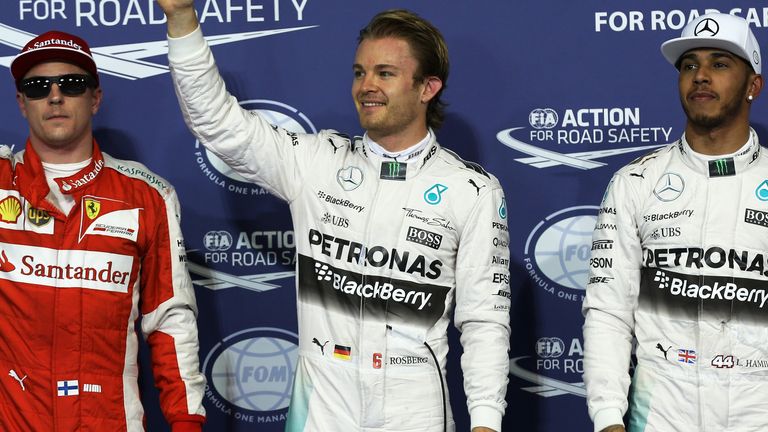 "No issues with the car. We thought that it would be enough to go through to Q2 with a lap on the softs but it wasn't," Vettel told Sky Sports F1.
"As a team we didn't do the right decision today and that has a big consequence. But the race is tomorrow."
Meanwhile, Sergio Perez lines up fourth in his Force India after maintaining his strong practice form, with Daniel Ricciardo next up with what Red Bull team boss Christian Horner described as a "mighty" performance.
Valtteri Bottas was sixth ahead of Nico Hulkenberg, with Felipe Massa, Daniil Kvyat and Carlos Sainz completing the top 10.
The Spaniard therefore confirmed his Saturday supremacy over Toro Rosso team-mate Max Verstappen, who lines up 11th ahead of Jenson Button.
As expected, the McLaren-Hondas were very slow on the track's two long straights, although Fernando Alonso's P17 can be put down to a puncture he suffered at the end of Q1.
The question now is whether, for the third race weekend in a row, Rosberg can finish the job - and, if he can, what impact it might have on both Mercedes drivers during the off-season.     
"You do like to have something to bounce on, because the gap between your last race and the next one - if you've had a bad one - it's a long winter," 1996 world champion and Sky Sports F1 pundit Damon Hill said.
"It's not so much an appendage to this season; it's more like a prelude to 2016."
Abu Dhabi GP qualifying
1. N Rosberg Mercedes 1:40.237
2. L Hamilton Mercedes 1:40.614
3. K Raikkonen Ferrari 1:41.051
4. S Perez Force India 1:41.184
5. D Ricciardo Red Bull 1:41.444
6. V Bottas Williams 1:41.656
7. N Hulkenberg Force India 1:41.686
8. F Massa Williams 1:41.759
9. D Kvyat Red Bull 1:41.933
10. C Sainz Toro Rosso 1:42.708
11. M Verstappen Toro Rosso 1:42.521
12. J Button McLaren 1:42.668
13. P Maldonado Lotus 1:42.807
14. F Nasr Sauber 1:43.614
15. R Grosjean Lotus No time
16. S Vettel Ferrari 1:42.941
17. F Alonso McLaren 1:43.187
18. M Ericsson Sauber 1:43.838
19. W Stevens Manor 1:46.297
20. R Merhi Manor 1:47.434
Watch the Abu Dhabi GP live on Sky Sports F1. Race-show coverage begins at 11:30am on Sunday with lights out at 1pm. Watch all the Abu Dhabi GP for £6.99 on NOW TV. No contract.