Jenson Button considered quitting F1 at the end of 2015
"I thought 'I'm not sure I want to do this anymore and be where we are'"
By William Esler
Last Updated: 10/12/15 3:08pm
Jenson Button admits he seriously questioned if he still wanted to be in F1 as McLaren endured a nightmare 2015.
The 2009 champion's future was a long-running saga over the summer and it was widely reported that he would announce his retirement at September's Japanese GP.
Instead, McLaren took up their option to retain Button, who is set to pass the 300-race start mark in 2016.
"Last year I wasn't sure if I'd be racing and it wasn't my choice," Button told Sky Sports F1.
"This year it was totally my choice and there was a moment where I thought 'I am not sure I want to do this anymore and be where we are'.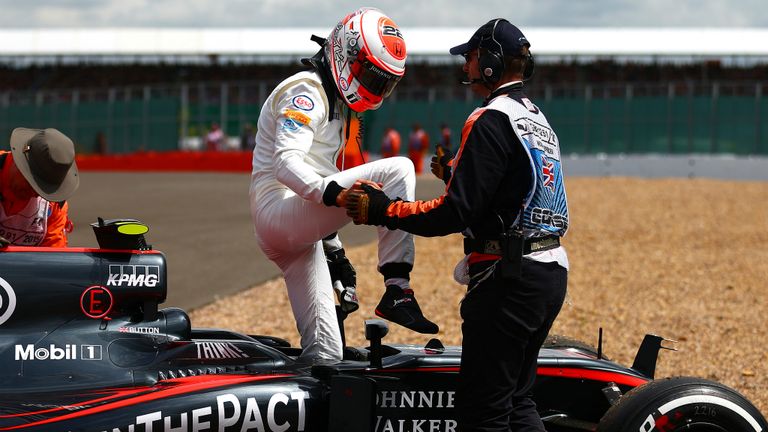 "Obviously, if we are where we are right now next year, it is not going to be that enjoyable."
Button had to fight hard to keep his McLaren seat for 2015 as the team deliberated whether to drop him or Kevin Magnussen to accommodate Fernando Alonso. But the Englishman could have been forgiven for wondering why he had bothered given the inadequate performance of the Honda engine on the Japanese firm's return to F1.
So what gave him the faith to remain with the team for a further season that could bring more misery?
"I spent a lot of time with the engineers and the aerodynamicists and I spoke more with Ron [Dennis] in the two months when I was trying to decide what to do next year than I have in my whole time at McLaren," Button explained.
"So a really good relationship there and we went through a lot of ideas for next year and spoke to the aerodynamicists and the engineers and got a real direction and understanding of where we are going and with Honda as well.
"So that got me excited, that got me pumped for next year knowing that there are big improvements on the horizon - and we need them."
Finishing ninth in the 2015 Constructors' Championship amounted to McLaren's worst performance since 1980. It was also the third successive season in which they have failed to take a race victory. Their last win came courtesy of Button at the 2012 Brazilian GP.