Pastor Maldonado's 2015 crashes: Was Crashtor always to blame?
With Maldonado losing his place on the 2016 grid, we look back at how often F1's most enigmatic driver was in the wrong last season...
By Sky Sports Digital
Last Updated: 01/02/16 5:00pm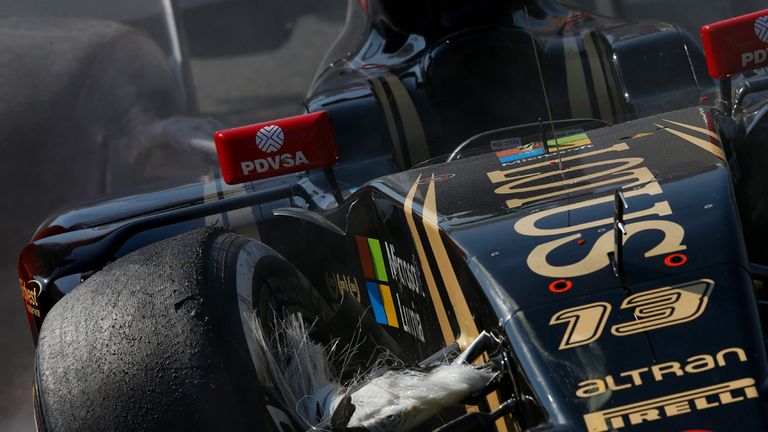 While you can never say never in F1, Pastor Maldonado's career in the sport is now at the very least on an indefinite hold after the Venezuelan confirmed he would not be on the grid for the 2016 season.
Rarely consistent, but equally rarely dull, Maladonado's five-season F1 stay proved tumultuous - and 2015 was no different.
But was it always the fault of 'Crashtor'? We take a case-by-case look…
Australia
Starting the season as it would go on, Maldonado's race lasts just two corners before he was tagged by Felipe Nasr, who in turn had been hit by Kimi Raikkonen at the first corner. As a result, the Lotus driver spins into the barrier on the outside of Turn Two.
Pastor's fault? No
Malaysia
The Lotus driver's race is compromised by a first-lap puncture caused by Valtteri Bottas. The Finn runs into Maldonado at the tight Turn Two, causing the deflation with his front wing and wrecking hopes of a points-scoring result.

Pastor's fault? No
China
Once again Maldonado's race day comes to an early end after Jenson Button spears into the back of his Lotus car at Turn One. Defending the inside line into the long right-hander, the McLaren driver makes a misjudgement and sends the Lotus driver spinning across the run-off area. Jenson later apologises, confirming that Pastor is blameless. But the less said about Maldonado missing the pit lane entry beforehand, the better.

Pastor's fault? No
Bahrain
Pastor's race is ruined by drama in the pit lane when his engine seizes up, but the South American had already done himself few favours by running into the back of Felipe Massa's car - thereby causing what the Williams team describe as "quite extensive" damage.
"I don't know what he did to be honest but he lost his braking point in corner four," said an unhappy Massa.

Pastor's fault? Yes
Spain
Breaking the cardinal sin of F1, the two Lotus drivers make contact at Turn Three as Maldonado attempts to sweep around the outside of team-mate Romain Grosjean. Don't they know that team-mates should never collide in F1?
The Frenchman had been slow after making a mistake at Turn One, but replays suggest Maldonado didn't leave his team-mate enough space before trying to cut back to the apex. The result is right-rear to front-left contact which caused the failure of Maldonado's rear wing support and another point-less afternoon.

Pastor's fault? Yes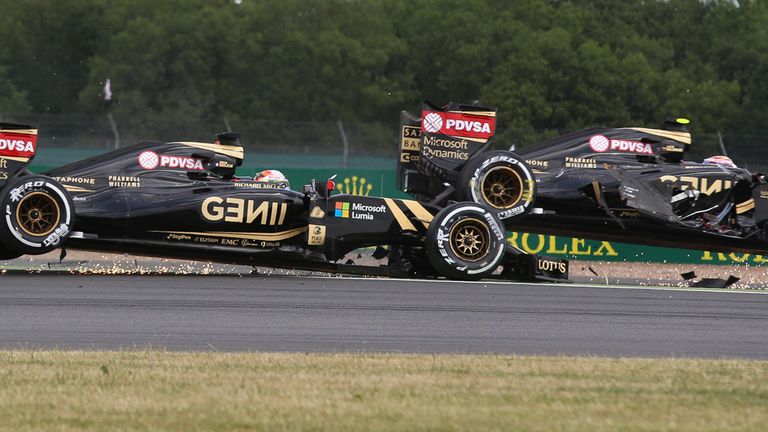 Britain
Another race to forget for the Lotus team as Maldonado retires after being clobbered by Grosjean on the first lap in a chain reaction instigated by Daniel Ricciardo's mistake. "There is nothing you can do in situations like these as it's all part of racing," says a frustrated Pastor. "There was nothing either of our drivers could have done," concurs Lotus deputy Federico Gastaldi.

Pastor's fault? No
Hungary
Pastor collides with Sergio Perez after running his Force India to the outside of the track exiting Turn One. "I'll tell you what Maldonado could have done, he could have put an awful lot more steering lock in," remarks Sky F1 Martin Brundle during commentary. 
More definitively, the stewards judge Maldonado guilty, handing him a drive-through penalty - plus two penalty points on his super licence - for causing a collision. A bad day then gets worse still as Pastor is penalised in the race for overtaking before the Safety Car line and speeding in the pit lane while serving his drive-through - which duly earns him another!

Pastor's fault? Yes
Belgium
The worst weekend of Maldonado's season? The Lotus driver features in not one but two costly incidents - and is at fault for both. The first occurs during Friday practice when he loses the rear of his E23 at the exit of Les Combes and spins off into a tyre wall.
Matters don't improve two days later when what is later revealed by the Lotus team to have been a 17G impact with the kerbs at Eau Rouge results in yet another race retirement. The team's decision to disclose the details of the incident suggest they were not impressed either.

Pastor's fault? Yes
Italy
Maldonado is nudged off the track by Nico Hulkenberg's Force India at first chicane, the impact with the kerb breaking his car's floor. The result is instant retirement but it's difficult to see what Maldonado could have done differently.

Pastor's fault? No
Singapore
"I should have known really that he was mental," says a frustrated Jenson Button after losing his McLaren's front wing when he drove into the back of Maldonado, who was slow through Turn 17 after a stout defence though the previous corner had forced him into the run-off.
Looking at the replays it was a bit too stout, though, with the McLaren almost alongside the Lotus. "I was on the inside of him and he just tried to drive me straight off the circuit," Button complained.

Pastor's fault? Yes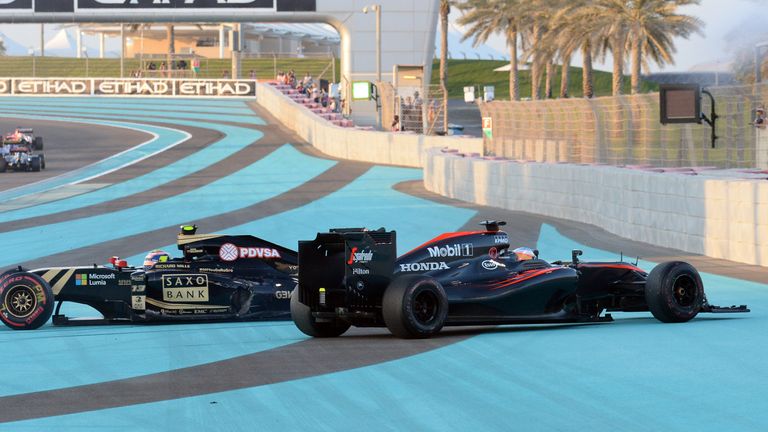 Abu Dhabi
Maldonado arrived at 2015's final round in the most consistent points-scoring form of his career with four top-10 finishes in the previous four races - yet what could now turn out to be his F1 swansong lasted just one corner. Starting 13th, the Venezuelan was taken clean out by Fernando Alonso at Turn One, whose McLaren had been tagged by Felipe Nasr's Sauber.
Although Alonso was outraged as to why the stewards punished him and not Nasr, Maldonado was clearly the innocent party of the three. "Imagine if it that incident had been the other way round, it would've been big news then!" joked Pastor afterwards.
Pastor's fault? No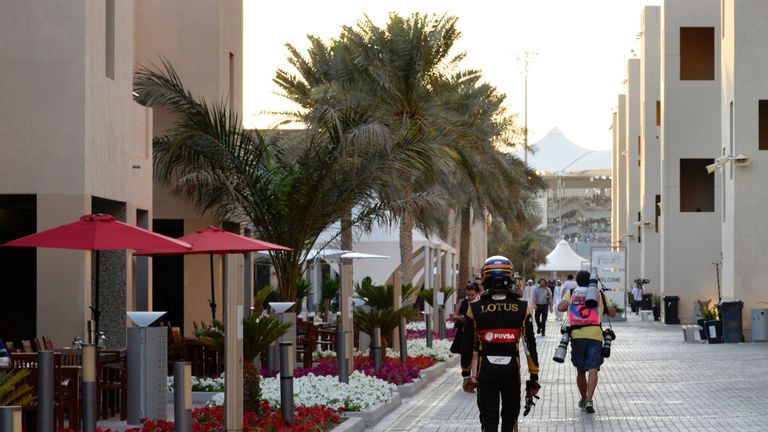 The Verdict
While Maldonado wasn't exactly always blameless, the numbers above suggest it was not always his fault.
Then again, bad boys do tend to go looking for trouble and F1's most recent bad boy is clearly no exception. It seems that, in F1, every generation produces its anti-hero: as fast as anyone on his day but also with a propensity for aiming it at the scenery just a little too often.
But, with the bottom falling out of his much-maligned Venezuelan oil funding, that erratic form may well have finally cost Pastor his F1 career.
The first Barcelona test starts on Monday February 22 and the Sky Sports F1 Digital team will be providing live commentary from dawn until dusk on all four days of both Barcelona tests while Sky Sports News HQ will also deliver live updates from trackside.