Red Bull chiefs coy on 2016 chances
Adrian Newey expecting McLaren and Toro Rosso to move forwards
By James Galloway
Last Updated: 08/02/16 12:46pm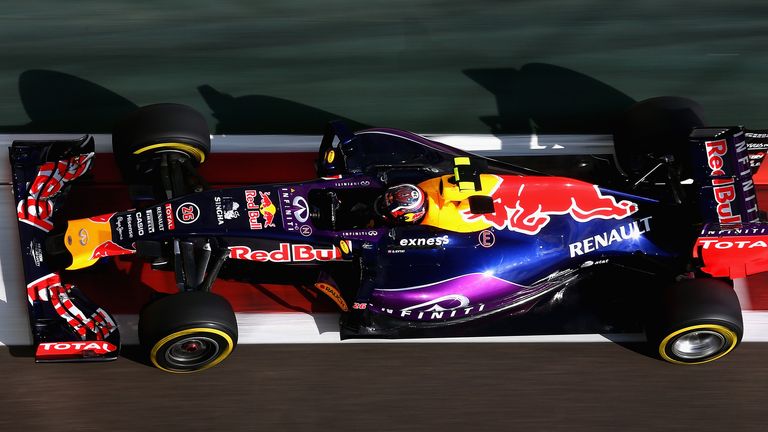 Adrian Newey admits it is "difficult" to predict where Red Bull will be in F1's pecking order in 2016.
Having drawn back from their threat to quit the sport, the energy drinks company remain on the grid with their two teams for the new season, although their once all-conquering senior team are not expected to be in the world championship fight.
Christian Horner, Red Bull's team boss, has already warned they face a "transitional" season after a late decision to stay with Renault engines.
The Milton Keynes-based squad slipped to fourth in last year's Constructors' Championship and Newey, Red Bull's chief technical officer, has hinted they could face challenges from teams who finished behind them in 2015.
"I wouldn't like to make predictions," Newey told Sky Sports News HQ.
"But Honda I'm sure will be making a good step forwards for McLaren. Even Toro Rosso having a one-year out-of-date Ferrari engine will have a good step on their performance. So it's very difficult for us to forecast exactly where we're going to be."
Although Red Bull's engines are again being supplied by Renault, the friction which soured the relationship over the last two seasons means the power units are being badged under the name of the team's new sponsor, watchmaker Tag Heuer, rather than the French manufacturer.
Renault have since re-entered team ownership by buying Lotus but last week played down their works teams' chances in the new season.
Newey, who now divides his time at Red Bull between F1 and other projects, says his chassis team are "working hard" to try and make up for the engine shortfall on the new RB12.
"It's very clear at the moment that whilst both chassis and power unit are important, there is a greater potential for differentiation in the power unit than a fairly restrictive set of chassis regulations," he said.
"It's going to be difficult but there are still opportunities to make a difference with the chassis and we'll be working hard."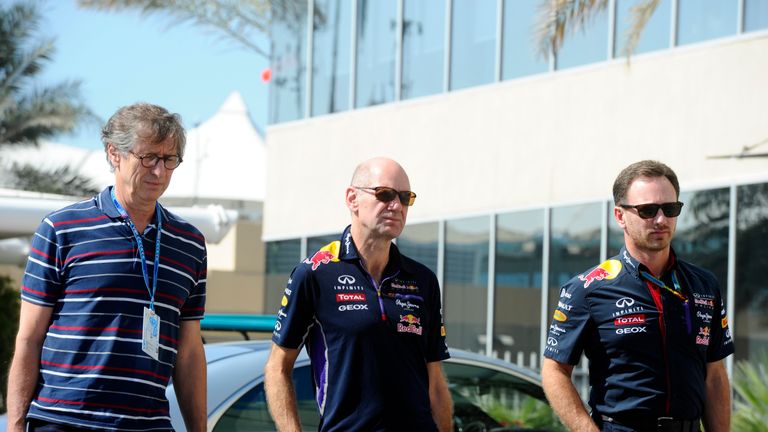 Renault's attempts to catch up to Mercedes and Ferrari are being assisted in 2016 by engine guru Mario Illien.
A tight-lipped Horner, speaking at the Zoom charity auction, replied when asked about Red Bull's prospects: "Wait and see. There's always hope. Mario's doing a great job."
Moves are afoot to open up engine development in 2017 with the current token system being made redundant. However, Newey is concerned this could lead to a "spending frenzy".
"More spending, simple as that," Newey said.
"If you look back on the original technical working group meetings and minutes from 2012-13, the agreement at that point was that the engines would be frozen but teams that were behind would still be allowed to keep developing. That's not happened.
"So it becomes a spending frenzy...the numbers being spent by the big manufacturers are eye-watering and so I think potentially for companies such as Renault who aren't prepared to spend that sort of money, it means actually the gaps get bigger not smaller."
Red Bull are holding a 2016 livery launch in London next week, although the RB12 car will not be revealed until the opening day of pre-season testing on February 22.
The first Barcelona test starts on Monday February 22 and the Sky Sports F1 Digital team will be providing live commentary from dawn until dusk on all four days of both Barcelona tests while Sky Sports News HQ will also deliver live updates from trackside.